Let's Continue the Celebration
March was Women's History Month and here on our blog, we wanted to help appreciate, celebrate, and acknowledge some of the fabulous women entrepreneurs and business owners in our community! They help make downtown Victoria special.
Here is a list of the wonderful women-owned businesses that we featured this month. Click on them to learn and read more!
Milk and Honey Brow Bar
WEBSITE | FACEBOOK | INSTAGRAM
Milk and Honey Brow Bar is a friendly space with West Coast Beauty Bar style, owned by the wonderful Shai! The brow bar's goal is to enhance what you have and embrace the unique and natural you! They offer many services, including waxing, tinting, lashes, and laser hair removal. They also have beauty and make-up bags, brow kits, and gift cards.
Click here to read more!
La Roux Patisserie
WEBSITE | FACEBOOK | INSTAGRAM
La Roux Patisserie is a beautiful shop filled with delicious French-inspired desserts, including Creme Brulee, macarons, and so many other tarts and cakes! Located in Chinatown on Fisgard Street, the shop is owned and run by the wonderful Rebecca and her fabulous all-women team!
Whether you want a place to meet someone special, pick up something sweet on the way home, or order something for a special occasion, like a wedding cake, La Roux Patisserie is the place to go!
Click here to read more!
Sapphire Day Spa
WEBSITE | FACEBOOK | INSTAGRAM
Sapphire Day Spa opened in 2005 with the goal of providing authentic, meaningful self-care and mindfulness-rooted treatments and services. They strive to integrate body, mind, and spirit in their spa experiences. The spa's name comes from sapphire gemstones, which symbolize sincerity, truth, and constancy and have long been called the "the celestial gemstone", fulfilling dreams and promoting healing of the body.
Heidi Sherwood, the owner of Sapphire Day Spa, is honoured to contribute to the health and wellness of our community and to develop the spa into the amazing place of transformation, support, and healing that it is today.
Click here to read more!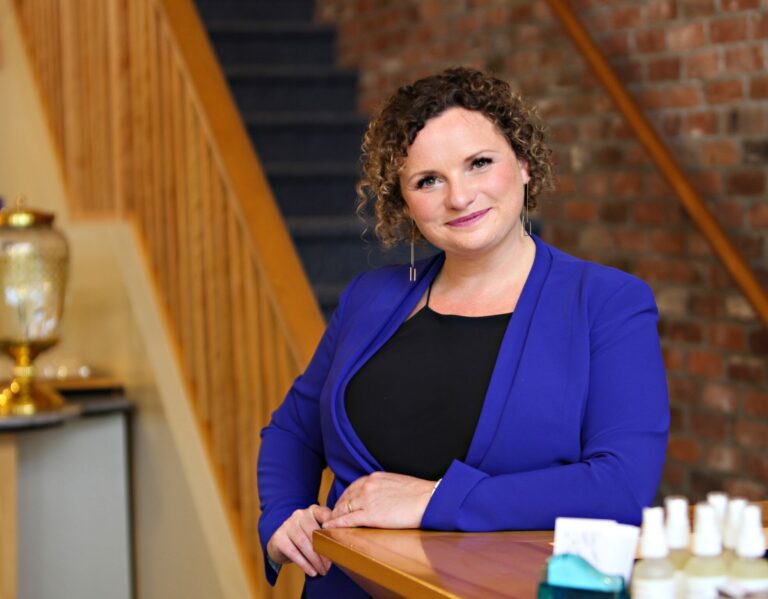 SALT Shop
WEBSITE | FACEBOOK | INSTAGRAM
SALT Shop was founded in 2016 by the wonderful Jess Wilson. They sell clothing, housewares, and wellness products like fragrances and skincare, all with the ocean in mind. They are passionate about connection, community, and ocean conservation, and every choice they make reflects that. They choose eco-conscious fabrics, which are locally designed and sewn in Vancouver. They design their products with long-lasting and multi-use in mind. They want to help us live better for ourselves and for the planet we call home.
Click here to read more!
Barber & Fritz
WEBSITE | FACEBOOK | INSTAGRAM
Barber and Fritz is both a beautiful hair salon and a fantastic haircare brand. Ila Meens started out by making her own hair care products then opened the salon, where she helps you and your hair feel fabulous! Whether you are looking to find a new style, refresh a favourite one, or try one of the hand-bottled, small-batch hair products that will have you falling in love, Barber and Fritz is the place to be!
Click here to read more!
Smoking Lily
WEBSITE | FACEBOOK | INSTAGRAM
Smoking Lily is both a lovely clothing store and a beautiful clothing brand, owned by the wonderful Trish Tacoma. All of their creations are designed, sewn, and silk-screened here in Victoria. Their goal is to be a zero fabric waste company, making use of every piece of fabric they bring in. For example, their kids' line and many of their accessories are made entirely out of leftover bits from their other projects.
Click here to read more!
Brown's the Florist
WEBSITE | FACEBOOK | INSTAGRAM
Brown's the Florist has a full and rich history, having first opened at the end of the 19th century. With Natasha, the current owner at the helm, they are still going strong today! They offer a beautiful selection of potted and cut flowers, including orchids, tulips, and roses. They also sell plant accessories and soil. Can't make it down to the store? Not a problem! Order online or over the phone and ask about getting your flowers delivered!
Click here to read more!
Pure Lovin' Chocolate
WEBSITE | FACEBOOK | INSTAGRAM
Pure Lovin' Chocolate is a fabulous vegan chocolate shop owned by Cyndy and Leah. If you are looking for a little treat for yourself that also has a love for animals and the environment, this is the place to come! Their chocolates are also organic and gluten-free. Whether you're a fan of caramels, cremes, pure chocolate, mint chocolate, or something else, they have what you crave! They also offer gift cards and free local shipping!
Click here to read more!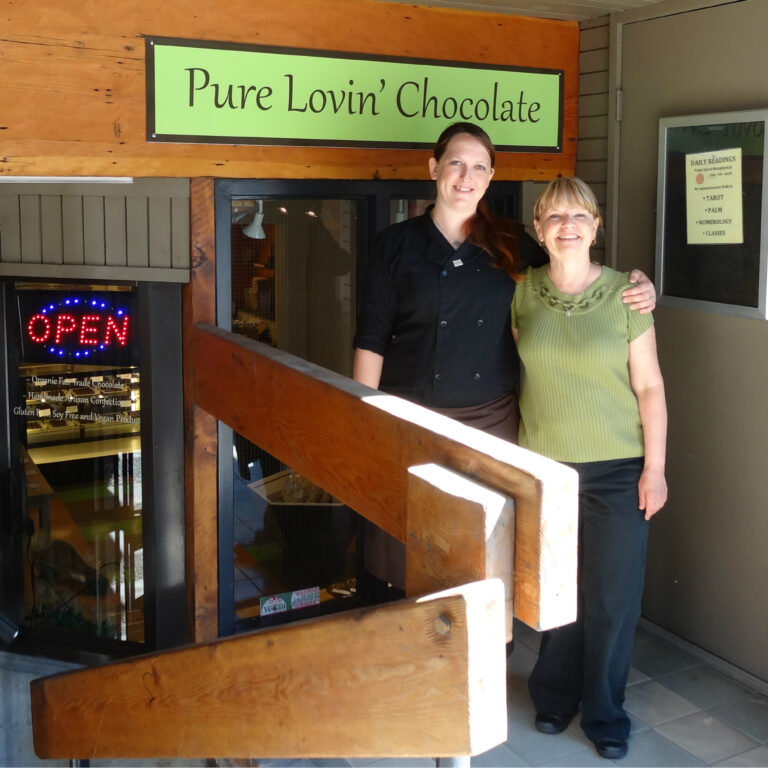 Frances Grey
WEBSITE | FACEBOOK | INSTAGRAM
Frances Grey is a beautiful clothing store, filled with fashion and style. Run by the wonderful Lara, this shop is a treasure trove you won't want to overlook. They offer a fantastic selection of rocker tees, blouses, dresses, jumpsuits, accessories, home decor, and so much more! They also have an online store.
Click here to read more!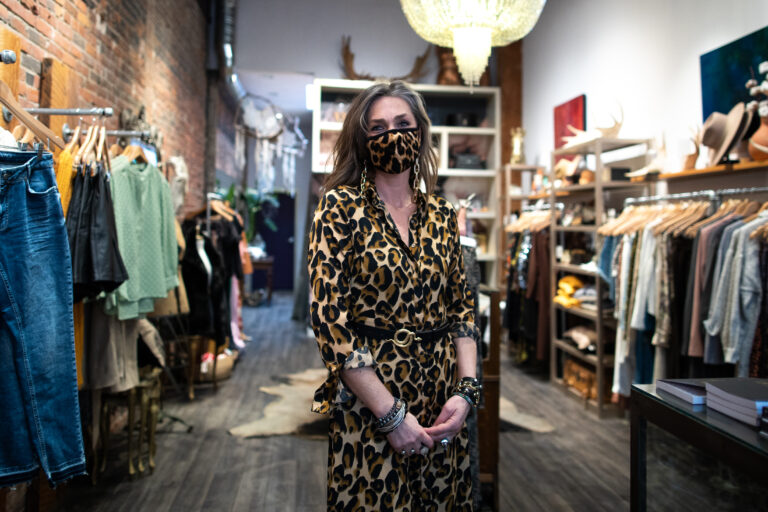 Bernstein and Gold
WEBSITE | FACEBOOK | INSTAGRAM
Bernstein & Gold is a beautiful women's clothing store, owned by Claudia Knoglinger and Erin Cooper and established in 1992. They offer a wonderful selection of designer and lifestyle brands from around the world, including jewellery, footwear, leather goods, and skincare products. If you're looking for clothing in a contemporary, trend-conscious style, this is the place for you!
Click here to read more!
Other Women's History Month Blogs:
At the beginning of March, we also collected some of the features on women-owned businesses that we've written over the past months. March is Women's History Month was the first collection of blog posts we made! We also highlighted the features we did in October in partnership with Talking Shop in a post called Looking Back on Our Talking Shop Spotlights!
As we head into April and the rest of the year, let's remember how fantastic our downtown business owners are and celebrate and support them however we can!