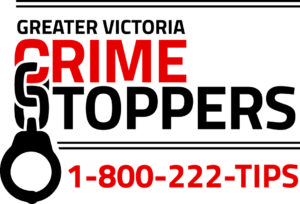 Graffiti vandalism transforms the look and feel of downtown Victoria. It impacts residents, organizations, businesses, and property owners.
The faster graffiti is removed, the less desirable your property becomes to vandals.
The Downtown Victoria Business Association works closely with the City of Victoria, the Victoria Police Department, and Greater Victoria Crime Stoppers to identify and charge graffiti vandals.
The best way to stop the spread of graffiti (tagging) is to remove it as soon as it appears.
Three steps to stop the cycle of graffiti vandalism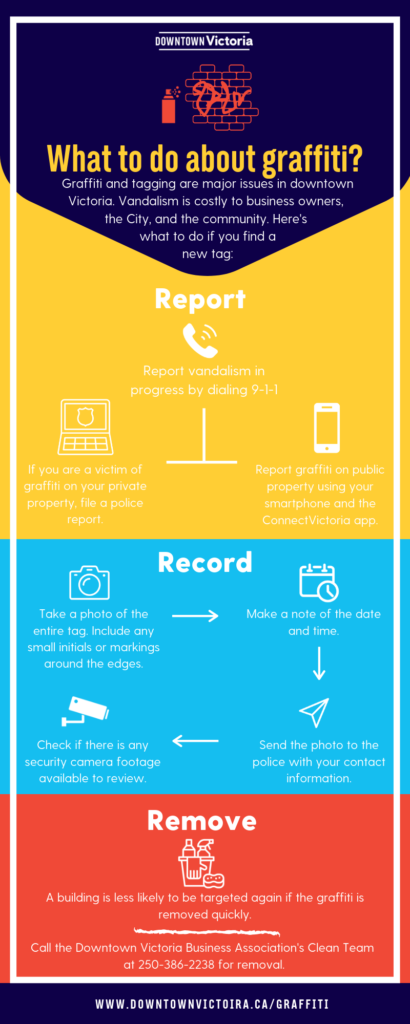 Report
Report vandalism in progress by phoning 9-1-1.
If you are a victim of graffiti on your property, file a police report.
Report graffiti on public property using your smartphone and the ConnectVictoria app
Record
Document the graffiti by taking a picture of the entire tag or word from directly in front of the surface and include any small initials or markings around the edges of the tag
Make a note of the date and time
Forward a copy of the picture to the police with your contact information
Check to see if there is any security camera footage available to review
Remove
Your building is less likely to be targeted again if the graffiti is removed quickly.
Contact the DVBA Clean Team at 250-386-2238
In the course of its daily work, our Clean Team does its best to remove graffiti tags. If a tag has been overlooked, please call our office. If you have a large tag on a painted surface that you would like covered over, the Clean Team will do the painting if you provide the paint.
Did you know the DVBA removes on average over 1,000 tags from City streets and buildings every month? That's over 12,000 a year!
Contact List to Clean Graffiti
Call 911 immediately if you witness a graffiti crime in progress.
Police non-emergency: 250-995-7654
City of Victoria Graffiti: 250-361-0466
BC Hydro boxes or poles: 800-224-9376
Canada Post Boxes: 866-607-6301
City of Victoria Parks: 250-361-0600
Pattison Outdoor for Bus Shelters: 250-413-3212
Bylaw Complaints: 250-361-0215