The Tuscan Kitchen
October is Small Business Month! To celebrate, we are introducing numerous amazing downtown business owners all month long. We talked to each owner to learn more about their business and individual experiences making downtown a vibrant community.
Meet Mauro and Gerri from The Tuscan Kitchen!
Inspiration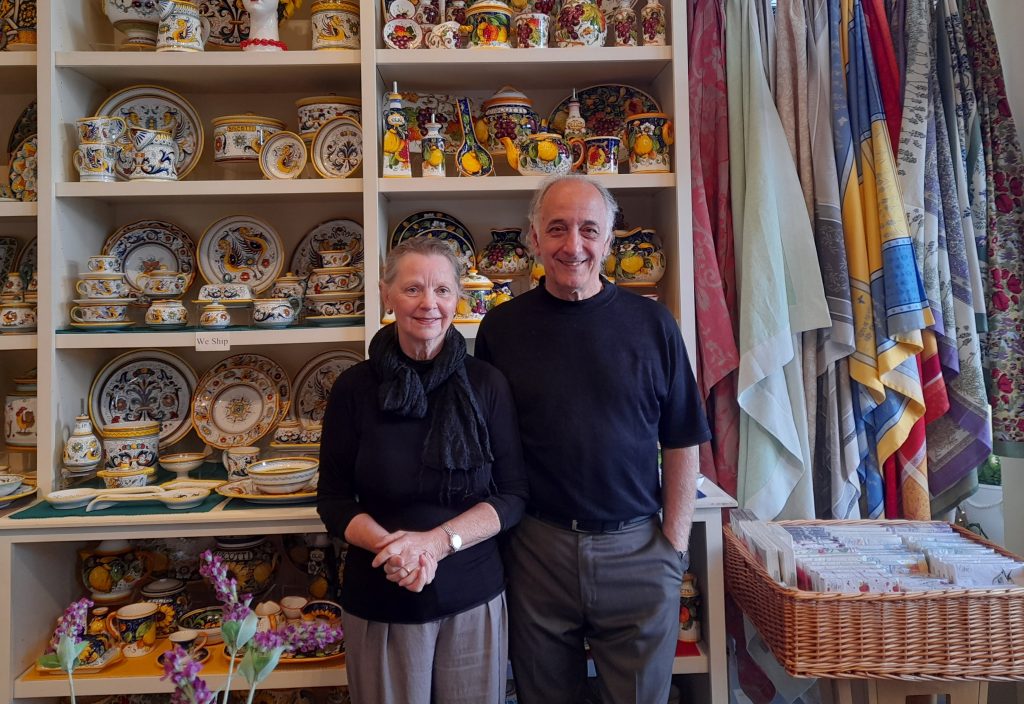 In 1997, after six months of drafting a business plan, Mauro and Gerri Schelini took their passion for Italian cuisine and artisan craftmanship and opened The Tuscan Kitchen in Cordova Bay. In 1999, they expanded the store to the current downtown location at 653 View St at the Bay Centre. The inspiration behind the business is to share their love of all things Italian with their customers, from richly-coloured Italian majolica to quality tabletop items, all creating the perfect atmosphere for a fine, hearty meal with family and friends. This coming December, they will be celebrating The Tuscan Kitchen's 25th anniversary.
Sense of Downtown
Having both the local and tourist markets is a major benefit of being downtown. They explained that they need traffic for the business to succeed, which they would not get if they were in other areas of the city. In terms of the business environment downtown, they look forward to seeing more smaller independent businesses that are willing to work hard pop up.
"It needs to be entrepreneurial people that have something to offer."
Real, Colourful, and Passionate
When asked what makes The Tuscan Kitchen unique, Gerri and Mauro's first answer is authenticity. The ceramics they sell are genuine pieces they import directly from Italy that customers can pick up and feel, curated and classic. Their products are also colourful – including their line of herbs and spices and other products like linens from France.
The success of the business lies in the couple's passion for the presentation of the products. Gerri also emphasized how important customer service is if a business wants longevity. "Our customers would agree that we try to give back after service," she further shared.
Advice for Entrepreneurs
Firstly, Gerri and Mauro say a business plan is handy for starting your own business! They also emphasized the importance of treating staff well, as you cannot operate a successful business without good staff. Having experienced mentors is also critical to help guide decision-making.
The last piece of advice Gerri gave is to find good working partners. She explained that it is difficult to organize all areas of a business operation without support.
"Everything takes time. You have to be patient, nurture your business, and take advice from experienced people."
____________________
Make sure to visit The Tuscan Kitchen at 653 View Street!
Thank you to Mauro and Gerri for participating in Small Business Month and sharing your voice as a beloved downtown Victoria business owner! View our other blog posts for more incredible local business interviews.