Herald St. Brew Works
October is Small Business Month! To celebrate, we are introducing numerous amazing downtown business owners all month long. We talked to each owner to learn more about their business and individual experiences making downtown a vibrant community.
Meet Mike from Herald St. Brew Works!
Something New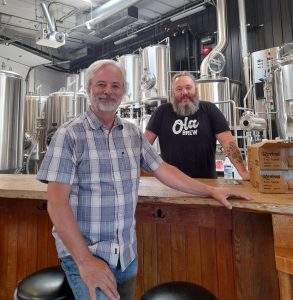 Mike and his wife opened their first restaurant together in 2002. It was a neighbourhood pub. That's where they started to learn about craft beer, in response to increasing customer demands for different beers on tap. Later, they had a second location in Colwood for a while. Then got the idea for a craft beer bar, so they opened the Drake Eatery. With the success of the Drake (eight-year anniversary this year!), they had many brewery visitors from elsewhere in the world, especially on the West Coast of California, Oregon, and Washington, as well as the visitors' common question: "why don't you have a brewery?" With this question in mind, the couple started to look at the idea of brewing their own beer, and that's how Herald St. Brew Works began.
Engaging and Experimental DNA
When asked how he would describe Herald St. Brew Works, Mike said the word that always pops into his mind is "immersive." They want the customers to feel like they are sitting in a brewery, so that is why there are no walls hiding the brewing equipment and process. Therefore, on a brew day, customers will smell the yeasty scent of brewing beer. The immersivity also creates a two-way learning environment – beer enthusiast customers learn more about the process, and Herald St. Brew Works staff have a better understanding of the beer they serve.
What makes Herald St. Brew stand out from other breweries is that it was designed to be a destination brewery, from the beginning they were not planning on distributing their beer. Although the model slightly changed due to the pandemic, they still don't do any core brands. The recipes they use in the brewery are one and done. This creates an interesting experience for their brewers, keeping them motivated to experiment with recipes, and also encouraging customers to return to try new flavours.
COVID and Growing
They originally planned on opening in June 2020 but ended up delayed until mid-December 2020. It was a long, drawn-out process and they didn't have presales to apply for government support, but they made it through.
"We are really happy with the response on the beers that we are doing and the response to the space that gets more and more people here."
Mike is looking forward to seeing the business gradually build and being better able to manage costs, which is the biggest challenge as the business grows. They are also hoping to keep spreading the word because they will see two to three groups of people come back to the brewery after the markets where they put the booth to get exposure.
Sense of Downtown Community
"What I think a charm in the community is the coffee shops, the bakeries, the delis that are independently operated."
Mike explained that these shops are operated by people who really care about what they are doing and thus present good values, which inspired him to start the Drake Eatery on different independent operations.
With this unique sense, he wants Herald St. Brew Works to be a place where people just want to hang out together, share beers and enjoy the inviting environment instead of serving any age-specific or gender-specific demographic. "We certainly want to be respectful of our neighbourhood and the community and support the community as best we can," Mike highlighted.
Commitment to the Community
It's important for Mike and his business partners to create a welcoming environment for locals since they want locals to feel comfortable in the space and know that the staff is going to do their best to make the brewery a safe place. The thought then transforms into the idea of doorless washrooms that might sound crazy for first-time visitors. However, this open space is their promise of a friendly environment. They work with Bread & Butter, a peer-driven collective aimed at providing resources to hospitality-based business owners in B.C., to put a poster outside washrooms to remind people what behaviours are acceptable and what are not and what they do to keep a safe space for all.
Suggestions for Starting a Business
For those who want to start their own business, Mike suggested that to be patient, be cautious about saying and doing and be really passionate about what you are doing. Passion is the only thing that will carry you through: you are going to lose sleep, not eat well, and think about your business idea all night. The last suggestion Mike gave is to be realistic by doubling the budget that you come up with in your business plan.
____________________
Make sure to visit Herald Street Brew Works at 506 Herald Street!
Thank you to Mike for participating in Small Business Month and sharing your voice as a beloved downtown Victoria business owner! View our other blog posts for more incredible local business interviews.