Two Otters Science & Nature Company
October is Small Business Month! To celebrate, we are introducing numerous amazing downtown business owners all month long. We talked to each owner to learn more about their business and their individual experiences in making downtown a vibrant community.
Today, we meet Teri from the new Two Otters Science & Nature Company!
____________________
Inspiration Behind Two Otters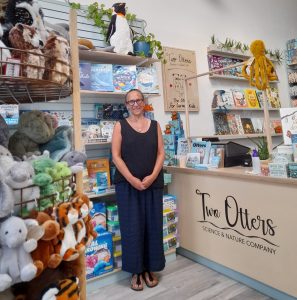 For Teri, Two Otters represents a culmination of 32 years in the toy and gift industry, allowing her to cherry-pick all pieces she loves in curating the store. The secrets of staying in the industry lie in seeing how children interact with toys in different phases of development as well as her love for the art of retailing. Teri loves what she does and enjoys the challenge of retailing that staying relevant, keeping the business contemporary, and adapting to changing and dynamic business landscapes.
"It's like a bad puzzle. It's very satisfying when all the pieces come together, although it doesn't stay together for long because it's always changing."
Despite Teri's experience and love for the industry, opening Two Otters was challenging. The store concept, lease, and branding were already in motion in March of 2020, with everything planned ten days before the initial lockdown hit. Due to the unexpected pandemic, the idea went to the back burner until the start of this year. Now she feels grateful she had time to regroup while dealing with her personal affairs.  "It's funny how you make decisions intuitively," she shared.
Unique Traits
Teri describes Two Otters as a toy store focused on science and the natural world. She explained that this store is more aligned with her personal aesthetic while their stores (Oscar & Libby's and Kaboodles) use bright and vibrant colours. While designing the space, she wanted a calm place where colourful products pop, and appeal to children.
Sense of Downtown Community
Teri shared that the small business community, the entrepreneurial spirit, and the creativity in this city are incredible. Besides, she loves the diversity of businesses downtown! Not only the types of businesses like restaurants, services, lawyers, accountants, therapists, and tech companies but also the age ranges of business owners are diverse.
"Downtown has a lot of incredible eateries and shopping places that you cannot find anywhere else in Victoria, and I think that's the particular reason people want to support their independent retailers." 
With the ideas and energy in the downtown community from a wide range of businesses, there is a lot of learning from other business owners. Teri thinks it's great to collaborate with other businesses because it's easy to be isolated in your own business and deal with staffing or supplier issues alone.
Advice for People Wanting to Start a Business
Some advice Teri gave for those who want to start their own business include doing the research, knowing the market, budgeting higher costs than you think, and having cash reserves that can steer you through tough times.
"Youthful enthusiasm and exuberance are awesome but make sure that you are realistic in terms of money needed to run the business."
She further suggested to cut cash projections in half, and be prepared because you never know what comes next, like the pandemic. As the old saying goes, save a percentage of your income. "Nothing is guaranteed," Teri summarized.
Looking Forward
Now, for Teri, it's more a big picture for Two Otters as they are out of crisis mode. To play the long game for the store, issues she must deal with include supply chain to secure enough inventory before the start of the Christmas season as well as managing staff stress. Aside from some challenges she faces, she is looking forward to seeing more parents bring their kids to the store!
____________________
Make sure to check out Two Otters Science & Nature Company at 803 Fort Street!
Thank you to Teri for being a part of Small Business Month and sharing your voice as a beloved downtown Victoria business owner! View our other blog posts for more incredible local business interviews.