Hazel's Ice Cream
October is Small Business Month! To celebrate, we are introducing numerous amazing downtown business owners all month long. We talked to each owner to learn more about their business and their individual experiences in making downtown a vibrant community.
Today, we meet Sam from Hazel's Ice Cream!
____________________
Inspiration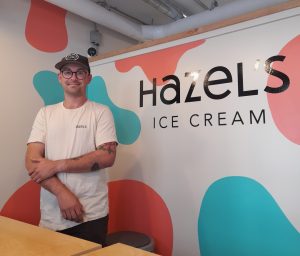 Over the past five years, Sam went from studying geography at UVic, to working with kids, animals, and food, to working on a flower farm. Near the end of his time working on the farm, he was ready to transition out of the field. So, he embraced the idea of starting a business.
He remembered a conversation with his father about opening an ice cream business years ago. They sat down together, talked about the idea again, and eventually, decided to take the plunge. This was the beginning of Hazel's Ice Cream.
Although COVID made getting a storefront complicated, they figured out how to operate and start the branding, product line, and procure a business license.
____________________
Defining Hazel's
According to Sam, Hazel's brand is "sprinkles." Family and fun are other important elements of the business. Thoughtfulness is also part of the brand and reflects in what they offer.
"Although our flavours are simple, we believe in recreating flavours and comfort foods in a new way"
Sam explained that they make every decision with intention even when it feels simple. For example, they are proud of offering gluten-free, dairy-free and peanut-free ice cream bars. With a background in farming, Sam mentioned that sustainability is rooted in the business.
This thoughtfulness in creating their products ties back to their community. They endeavor to be an inclusive business that brings people in to enjoy ice cream. Sam shared a story about when a family of five walked up to Hazel's mobile. One of the kids was diary-free and they were so appreciative that they did not have to find the kid an alternative treat, they usually did.
"It's the simple and thoughtful side of our business where everybody gets to be involved that is the most exciting. Ice cream is about taking a moment for yourself and we love being a part of that."
____________________
Sense of Downtown Community
As a new business downtown, Sam said that they are still on the way to learning about what it is to be a part of the downtown community. They enjoy working with the Downtown Victoria Business Association and feel excited about all the support in the last few months and the relationships with other businesses downtown. They opened their location April 15th and they are expanding their production and looking forward to exploring the community more.
____________________
Make sure to check out Hazel's Ice Cream at 1029 View Street #103!
Thank you to Sam for being a part of Small Business Month and sharing your voice as a beloved downtown Victoria business owner! View our other blog posts for more incredible local business interviews.