This week is not only the start of June but also the start of Bike Month. Some things are better on two wheels, like exploring a new place and appreciating the beauty of mother nature. Beginning your morning by cycling boosts your mood and offers a sense of accomplishment to go along with your day. No matter whether you are new to biking, a seasoned rider, or a daily cycle commuter, downtown Victoria is a great place for all to enjoy riding!
This June, let's ride around downtown Victoria together!
However long you would like to spend cycling downtown, there are some spots along the riding to enjoy!
Short Route
From Legislative Assembly of British Columbia to Merchant Quarters General Store | Full Route Map
If you just want to spend an afternoon riding downtown, try out this route! Before hitting on the road from the Parliament Buildings, take a few minutes walking around the buildings and if possible, take a free tour inside. After the short visit, head toward Belleville Street, turn left onto Government Street and keep left onto Wharf Street. Along this route, you can enjoy the beautiful coastal view.
Keep going on Wharf Street, you will pass Store Street and turn right onto Fisgard Street, where you will have the chance to visit the oldest Chinatown in Canada. Stop by any store or restaurant and spend a couple of minutes exploring the unique Asian community. After Chinatown, head toward Blanshard Street which has many choices for a quick stop to grab a refreshing drink.
Keep going on Blanshard and turn right onto Burdett Ave, and continue onto Humboldt Street. You will see the Maritime Museum of BC on your left side. The museum now is holding an exhibition about the 2SLGBTQ+ community worth visiting and learning about. The route will end before heading into the Wharf Street again. Shop at Merchant Quarters General Store or have treats/dinner at 10 Acres Commons, before heading back home.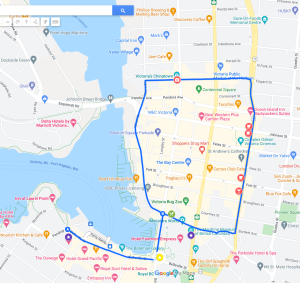 Long Route
From Legislative Assembly of British Columbia to Emily Carr Statue | Full Route Map
Spending a whole day on two wheels is great fun! Referring to the short route on the left side, this longer route also starts from the Parliament Buildings, goes along Belleville Street, and turns left onto Government Street/Wharf Street/Store Street to enjoy the coastal scenery.
To lengthen the route, turn right onto Pembroke Street and turn right onto Blanshard Street to explore the northern area of downtown. The adventure continues on Pandora Avenue and Cook Street to explore the eastern side. Before turning left onto Douglas Street, hunt for the restaurants you are going to have lunch or dinner that day or add to the bucket list to try.
The route takes you down Douglas St before turning right back to Belleville St and ending the trip. Some spots worth visiting are outlined in the short route such as the Maritime Museum of BC. I encourage you to continue the downtown exploration by appreciating the Emily Carr Statue and the gorgeous Empress Hotel!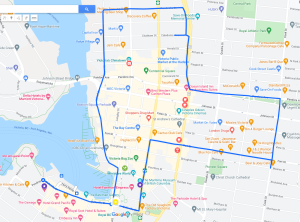 Share This Story, Choose Your Platform!