Foxy Box offers the "quickest, most affordable and most fun Brazilian available." The Foxy team is committed to dispelling the discomfort of hair removal by cultivating a warm and inclusive environment. The owner, Kyla, has a cheerful spirit that is positively infectious. Read on for valuable nuggets of wisdom from this strong and ambitious local business owner.
Question: Tell us a bit about why you chose to locate Foxy Box in downtown Victoria?
I chose downtown Victoria because it's the most beautiful place with the population we require.  With tourists crowding the streets during summer and year-round government and professional babes, it's exactly where we need to be.
All around town
I started Foxy Box in 2016 in the vibrant block of Lower Johnson, where the boutique owners were young, trendy entrepreneurs who came together for block parties, to coordinate seasonal window displays and just to hold each other up.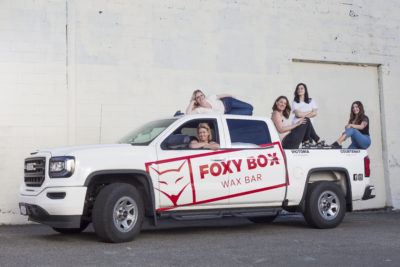 After outgrowing the tiny 10×10 room on Johnson, I moved to Fabulous Fort Street. This new area offered a different, but still awesome, vibe. Here my business attracted more government employees and business professionals.
HOME at last
Again, I quickly outgrew that little space and moved to our current (and forever) home: a 2400 square foot, six-treatment-room storefront on Gordon Street. I wanted a storefront and I liked being more discreet on a sneaky side street. The bonus was negotiating a great lease rate because this block had a lot of vacancies when I moved in. I like to think we played a hand in bringing the block to life.
"I guess you can say that I've left my little foxy-footprint all around the downtown core."
Question: The theme for International Women's Day last week was #balanceforbetter.  How does this apply to you?  
Balance is CRUCIAL for sustainability in every facet. Personally, this means allowing space to check in with myself and make sure I'm taking care of my mental wellbeing. I practice yoga and work out to keep my mind and body nourished and healthy. It's important as a business owner to remember to take 'me time'. Working hard requires recovery and when we forget to take it, burnout is sure to happen. Plan your next getaway, make time for exercise or nature or whatever fuels your soul.
"And remember, balance entails stopping and reflecting on how far we've come rather than always looking towards what's next."
Question: What words of wisdom or advice can you share with others about starting and running your own business?
Prepare (as much as you can)
Great question! There are so many words of wisdom and advice, where do I start? Nothing can fully prepare you for the wild ride of business ownership. My advice would be to prepare as much as you can. Mostly, I mean to be financially prepared for your venture—you can't prepare for the rest.
set goals, reflect, AND ask for help
Set goals. They can change, but set them and check in on them quarterly.  Ensure you have support, whether it's best friends, family, or a partner to cheer you on. Breathe through hard times and celebrate the good ones. Don't forget to check in on YOU: take days off and reflect on how far you have come. And reach out to fellow entrepreneurs. We all want to see each other succeed. Never feel bad asking for help. The entrepreneur world is supportive, we need to have each other's backs.
More from Foxy Box:
———————————————————————————————————————-
Here at the DVBA, we are evolving in response to the needs of our members and our community. That's why we are moving towards a more people-focused blog, like this one.
Know of any great community members or business owners we should profile in our online articles? Email becca@dvba.cldevs.org and let her know.