Boho Tribe
October is Small Business Month! To celebrate, we are introducing numerous amazing downtown business owners all month long. We talked to each owner to learn more about their business and individual experiences making downtown a vibrant community.
Meet Stefanie from Boho Tribe!
Inspiration behind Boho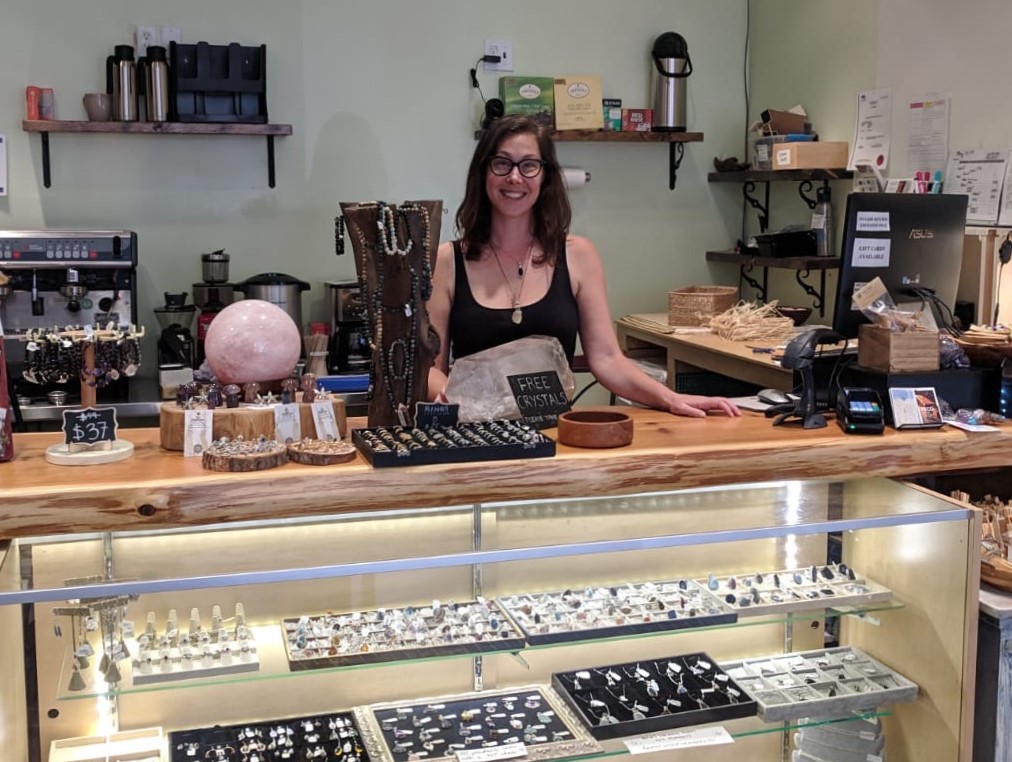 After studying at the University of Victoria for a couple of years, Stefanie could not find courses that resonated with her creative spirit. She decided to change her path and pursue a fashion design diploma in Vancouver. After graduating, she and another woman she met in her program started an accessories company.
Around that time, she when backpacking around Europe and Southeast Asia for seven months. Travelling opened her eyes to not just culture, but colours, textiles, fabrics, and jewelry. Upon returning, she managed a restaurant while pursuing another diploma, this time in wellness counselling. Her final project focused on bringing crystals, jewelry, and wellness together. She created one-on-one sessions, tuned into someone's energy, and then designed jewelry pieces to support them.
Seven years ago, she felt called to Victoria. Two years later she met her now business partner and joined Boho Tribe. Stefanie took over the design aspects of the business: "It's amazing to have a space where I can share elements I love so much."
Vibes in Boho
A central part of Boho Tribe is their passion to help people find their supportive pace. It's important for Stefanie that when people come in and hold crystals, they can have a moment of relaxation and tranquility. As she shared: "It's all about creating that community, connection, and upliftment." With this unique vibe, she describes Boho Tribe as a lighthouse in Victoria. What she wants to do is to make it a special experience when guests come in, they feel like entering a state where they are accepted and understood.
"It's not like a business strategy, but it's like my heart."
Stefanie further shared that the Boho Tribe team constantly work on having good vibes by cleaning the space energetically and pouring love into everything they do. She encourages people to come in if they want to find a piece of mind and be themselves.
"It's like an oasis downtown. Come in, enjoy yourself, relax for a few minutes, touch some crystals, and just reset."
Boho Tribe offers an eclectic, curated mix of products, as Stephanie brings in different beautiful products like tea blends, oil blends, and sprays that can help anchor people. With a community mindset, Stephanie creates supportive business practices in the store. For example, some of their profits go directly to indigenous organizations. They also support local artists by collaborating on projects.
Sense of the Downtown Community
Stefanie shared that the best part of having a business downtown is meeting amazing people! They joke that they have a store to make friends. Although COVID forced them to cancel some events, people they supported and met are still in their lives. As mentioned, she loves being able to give back, that's why they have free crystals often for those who cannot afford to purchase. "I want them to have a little something to make their day or lift their spirit," she said.
Moving Forward
When asked about what their next steps are for the business, Stefanie shared that they are finding more unique specimens of crystals and getting some larger show stopping pieces in. They are excited to add new projects to the store to connect with and engage people in this kind of mental inspiration. One of the projects they did and plan to continue is a crystal lovebomb of the city, where they will hide quartz hearts around town and put clues on Instagram.
Suggestions for Entrepreneurs
Stefanie's biggest takeaway from running a business is to follow your heart and dreams even though they might not make sense to others. As she shared: "I feel like our dreams are there for a reason, and those are part of who we are and part of the way we want to express ourselves in the world." Another piece of advice she gave is to take it one step at a time. She also mentioned that being an entrepreneur doesn't only gain much freedom and flexibility but also gives you the opportunity to show your uniqueness.
____________________
Make sure to visit Boho Tribe at 550 Yates St!
Thank you to Stefanie for participating in Small Business Month and sharing your voice as a beloved downtown Victoria business owner! View our other blog posts for more incredible local business interviews.