Cyclebeat Club
October is Small Business Month! To celebrate, we are introducing numerous amazing downtown business owners all month long. We talked to each owner to learn more about their business and individual experiences making downtown a vibrant community.
Meet Sally from Cyclebeat Club!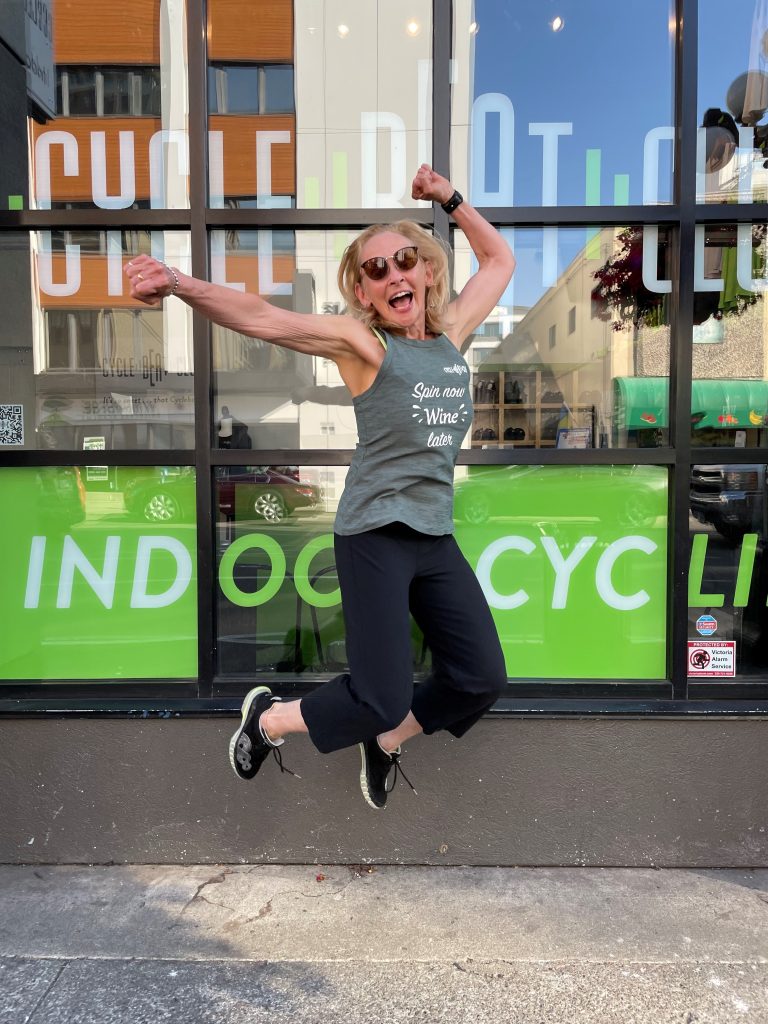 Sally and the Beat
Sally has lived in Victoria since the age of ten. Ever passionate about fitness, she began working in the industry decades ago in positions such as fitness director of various facilities. She always wanted to own her own studio. She remains as enthusiastic about fitness now as she was in her 20s! Sally was once 175 pounds; she shares her story openly during her classes. She credits her fitness community for helping get her to a size where she feels healthy. Now, she loves sharing her love of cycling.
Sally takes pride in Cyclebeat Club because it's a "true ride" experience. It's the same as riding outside, except with an instructor, community, great music, a disco ball, and refreshing cold towels offered after the ride. Sally loves seeing people out cycling around our city, and hopes that as the weather changes, those same cyclists will come to her studio.
What differentiates Cyclebeat Club, according to Sally, is that it's the only studio that does heart rate monitoring. Everyone's heart rate shows up on an 80-inch screen. This is helpful for the instructors as they can see how everyone is doing. When a new person joins, instructors pay extra attention to their progress. Additionally, by seeing each other's heartrate, some more competitive cyclists get a little extra motivation. After the class, each person receives a summary via email so they can track their progress. Other ways the studio is different include those refreshing, cold towels available after class, as well as the fact that Cyclebeat Club supply the shoes, and have high quality bikes equipped with computers. Importantly, Cyclebeat is for people of all shapes and sizes and ages. According to Sally, the reviews reflect this. People report feeling comfortable while working out at her studio.
"We don't want anyone to feel intimidated. We love people coming in and sharing this experience!"
Why Downtown?
Sally appreciates her business' downtown location because it's the center of our city's hub. With development, more and more people are moving downtown, and Sally wants to be there for these new downtown locals. As a self-described "older soul," Sally says she can offer education and can help people reach their fitness goals. For Sally, being downtown means creating community amongst community.
Sally says they sometimes partner with nearby businesses for giveaways. Coffee shops, like Shine Café, Macchiato, Habit, and other businesses like Zambri's, Big Wheel Burger, Cactus Club and Hotel Z Tofino, these smaller places have been very generous. As she says, "being a small business is tough!" Any opportunity to support one another in having their business seen by new people is welcomed. When it comes to small business, every little bit helps.
Advice
"Number one is passion of course! You must be so passionate about what you want. And focused."
Her second piece of advice to those considering becoming a business owner is to try to get as much help and information from your friends and family. "There were a lot of little things I didn't know!" says Sally,  "you just kind of learn from your mistakes."
Finally, Sally's last nugget of advice is not to give up!
____________________
Make sure to visit Cyclebeat Club at 719 Johnson Street!
Thank you to Sally for participating in Small Business Month and sharing your voice as a beloved downtown Victoria business owner! View our other blog posts for more incredible local business interviews.