Sorensen Books
October is Small Business Month! To celebrate, we are introducing numerous amazing downtown business owners all month long. We talked to each owner to learn more about their business and individual experiences making downtown a vibrant community.
Meet Cathy from Sorensen Books!
One for the Books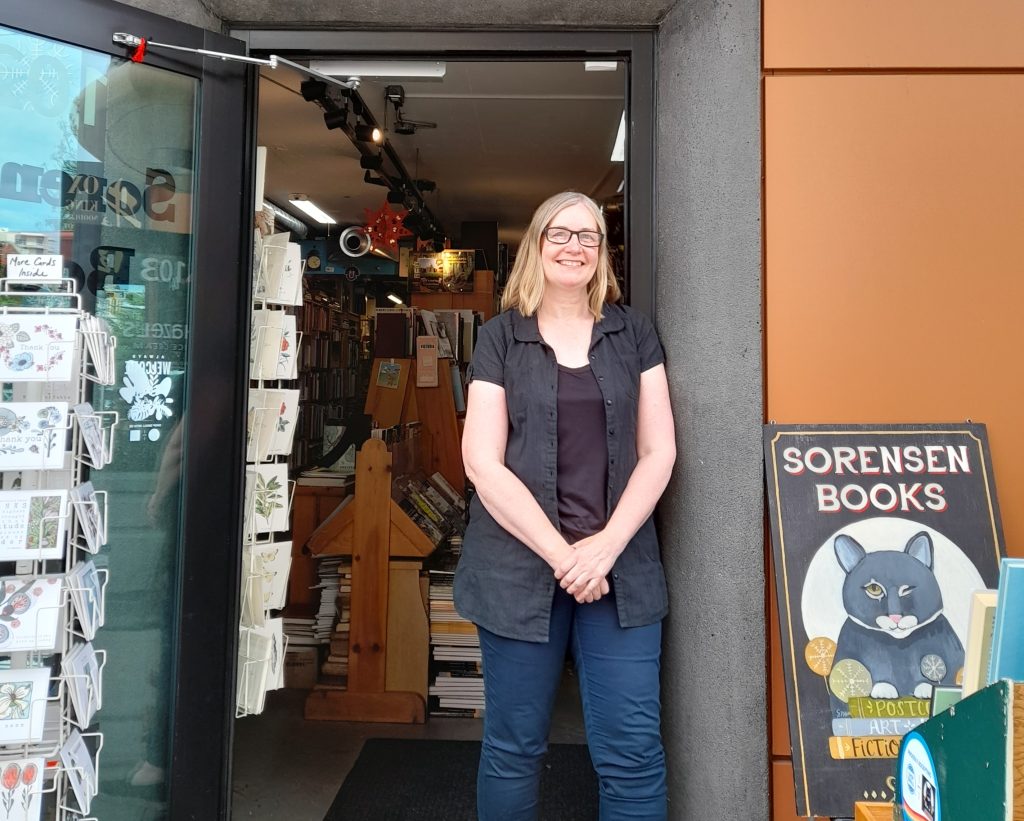 Cathy's journey in books started in 1991 when she worked in a secondhand bookstore in Kelowna. After moving to Victoria, she worked for several other bookshops. In 2005, she took over the lease from Hawthorn Books and changed the name to Sorensen Book. For Cathy, all paper products tell different stories, that's why she sells products like photographs and postcards in the store.
Many people think working in a bookstore means reading all day. However, according to Cathy this romantic idea only exists in movies. In reality, owning a bookstore takes a lot of work behind the scenes like buying books, organizing the bookshelves, balancing the finances, and so on. "You can't, as a bookseller, just sell what you love," she further shared that it's important to listen to customers and be willing to curate the stock based on their interests.
As she sells a lot of books directly to customers, she has to remember which customer is interested in the books she gets. As a result, this bookstore creates personal connections for Cathy.
"It is sort of a living organism in a way. It's always moving, changing, and growing."
Bookstore Vibes
For Cathy, the atmosphere of Sorensen Books is hard to put into words. It is a place of discovery and comfort for customers. Customers help create the feeling of the store, as she describes, "without customers, this is just an empty cave."
Books help Cathy connect with customers deeply: "When you look at someone's library, you see their whole life from where they started, where they ended up and everything in between." She explained that it's a personal experience and she works to build trust. She hopes people feel respected when they come into the shop.
Sense of the Downtown Community
The best part of having a business downtown for Cathy is that she can walk to work. She enjoys seeing people who live and work nearby and she loves being immersed in this community. Besides the big downtown community, there is also a little bookshop community. Every shop is connected and helps each other. If Cathy doesn't have the right book for a customer, she can direct them to another store. Cathy shared that community love as well as customer support is the key to keep small businesses downtown alive.
"Downtown Victoria survives because people here shop, live, and work. They support us and we cannot thank them far and wide enough!"
Moving Forward After the Pandemic
The pandemic made Cathy work harder as she had to take additional care to operate her business. There were a lot more steps involved in buying inventory, creating space for physical distancing, and increasing the cleaning routine for the store. It was sometimes stressful, but she learned that she can't please everyone.
Cathy discovered what the store meant to her during the COVID pandemic and thus can now make the bookshop even better. Specifically, Cathy keeps improving inventory, quality controlling, and maintaining the atmosphere for her customers.
More to Share
Cathy mentioned that Victoria is a book-loving community where books are everywhere including libraries, bookshops, and thrift shops. This demonstrates our city's commitment to the written word.
When asked about how to develop a reading habit, Cathy shared that the key is to make time. A lot of people are busy, so she suggests that every night turn off all your devices, sit in your favourite chair, make yourself your tea, put a timer on and read for 15 minutes. Eventually, you will get in the habit of reading consistently.
Cathy also suggested finding what you are interested in outside of your work, like reading a travel memoir, history book, or a collection of poems about the place where you want to travel. The last suggestion she gave is to stop reading if you are not interested in a book. Simply find another book you enjoy. There is no need to read the whole book, Cathy recommends giving a book three nights to entice you before deciding whether it's worth finishing.
____________________
Make sure to visit Sorensen Books, located at 102-1029 View Street!
Thank you to Cathy for participating in Small Business Month and sharing your voice as a beloved downtown Victoria business owner! View our other blog posts for more incredible local business interviews.