Puzzle Lab
October is Small Business Month! To celebrate, we are introducing numerous amazing downtown business owners all month long. We talked to each owner to learn more about their business and individual experiences making downtown a vibrant community.
Meet Tinka and Andrew from Puzzle Lab!
Inspiration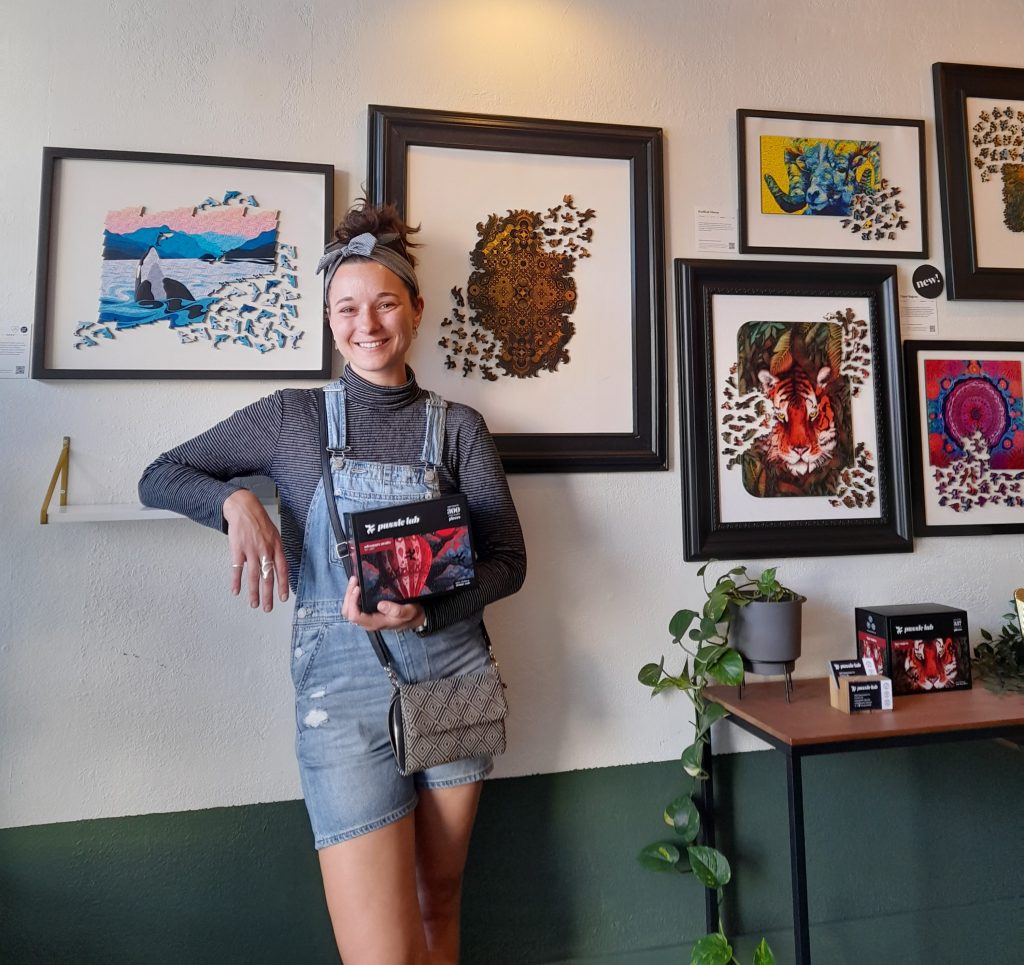 Tinka and Andrew both studied architecture at the University of Waterloo and came to Victoria for internships. They then started a creative studio doing all kinds of design, including physical installation, graphic design, website design, and branding. Every phase of business that they experienced increased their learning until boom! They had everything needed to start this puzzle business.
In October 2020, Andrew saw an ad for a wooden jigsaw puzzle on social media and found it intriguing. They gave themselves six weeks to launch a test version of product, harnessing their design experience to create unique puzzles.
Upon launching the product, they contacted an acquaintance in public relations to help with writing a press release. The release got them onto local and national news, and the Puzzle Lab has been busy since.
"It's pretty rare, but we are into it. Puzzles are fun to design and make."
Sense of Downtown
 "We have always been downtown people."
When it came to opening a store, it made sense for the couple to choose downtown where all the visitors to the city come. When asked about what part of downtown they like most, Tinka shared her love of Lower Johnson. She likes the architectural environment created by the old buildings around downtown, as well as all the squares and alleyways. Anytime Tinka has visitors, she takes them through the alley tour to engage people in exploring the little hidden corners of the core.
All About Puzzles
"Our tagline is 'permission to be puzzled.'"
According to Tinka, the Puzzle Lab is quirky, modern, and fun. They endeavour to bring new, fresh, vibrant life to puzzling, getting people interested again in this hobby. They are proud of the whole business; from the puzzles they make to the store concept – a gallery of puzzles. They are also proud that they used all the skills they learned over their seven years owning a creative studio to develop this digestible product that expresses all they enjoy simultaneously.
The puzzles they make also support local artists. They contract with Canadian artists, mostly from the island and a few from the East Coast, who receive a percentage from every puzzle sale. Among all the puzzles, they have three puzzles in the catalogue which they call "Puzzles with a Purpose." The most popular one is "Rise", a puzzle where every piece is an orca, and Puzzle Lab donates $20 from each sale of this puzzle to the Orca Conversation Fund at Raincoast Conservation Foundation.
"We support ourselves while raising money for good causes."
Exciting Business Future
With the growing business, the couple shared their next steps in the coming years. Once they have enough machines to sustain the store, they will consider opening a store in Vancouver. Eventually, they hope to have four stores in Canada. Expanding to the East Coast is their five to six year plan, and they would like to have a fabrication facility on that side of the country, too. They hope that in five or so years, they can explore selling puzzles in Europe, using connections from Tinka's family there.
Advice for Entrepreneurs
When Tinka and Andrew started their business, they did not understand what it means to be a business owner. They knew they didn't want to work for other people, and they were creative, so they gave entrepreneurship a shot without any training in business operations. It took them a long time to sort the steps out. Given their experience, they suggest whoever wants to start a business should sign up for some boot camps to have an idea of what to expect.
Their second piece of advice is not to be attached to your first, or even your fifth, idea. Be open to shifting concepts, that is what led them to make puzzles. If they were attached to being a design agency, they would not have come across this brilliant idea, let alone realize it.
Thirdly, they recommend taking big risks and doing your research. Before they started the Puzzle Lab, Andrew did extensive research on the market to understand competitors, the growth rate of the puzzle market, and the street traffic data.
Finally, they shared that every successful business owner they met has a story about how they were in a situation where they didn't know where they would go next, but they just trusted themselves, and their ideas worked out. "You will test your limit, and everything will go wrong," shared Andrew, "you have to have the faith in yourself that you will figure it out."
____________________
Make sure to visit Puzzle Lab at 1322 Government Street!
Thank you to Tinka and Andrew for participating in Small Business Month and sharing your voice as a beloved downtown Victoria business owner! View our other blog posts for more incredible local business interviews.