Gage Gallery
October is Small Business Month! To celebrate, we are introducing numerous amazing downtown business owners all month long. We talked to each owner to learn more about their business and individual experiences making downtown a vibrant community.
Meet Shannon from Gage Gallery!
Artful Inspo
"I think there's art everywhere and everyone has a way of expressing it."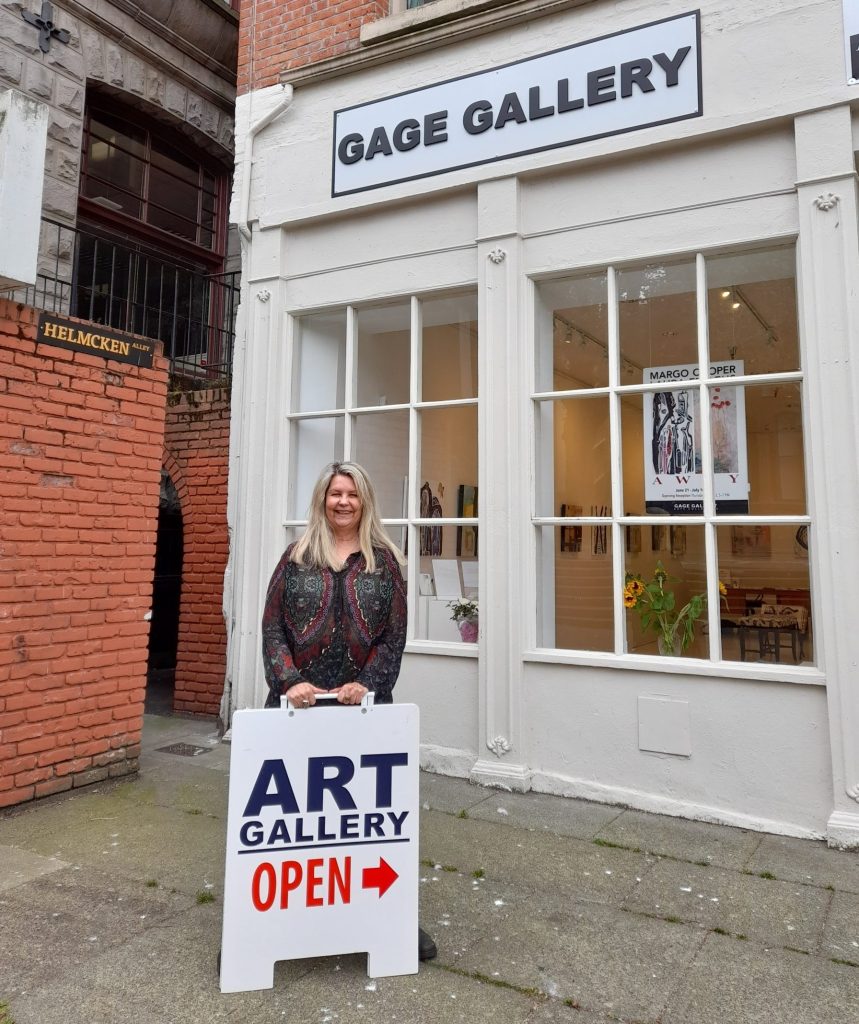 Gage Artist and storyteller Shannon Holms was drawing since she could pick up a pencil. After leaving her full-time career in marketing, she now has space and time to focus on her art. Her marketing experience is helpful in her role at the Gallery in helping to attract visitors.
Gage Community
The Gage Gallery is eight years old. Recently voted as one of the top three "best" art galleries in Victoria, the name, "Gage," is derived from old French, meaning "deposited as a pledge of performance." This term helps explain the gallery's business model: an artist-run gallery, also known as a collective, comprising 22 artists. The exhibit in the main gallery changes every three weeks while Gallery 22, formerly called the Members' Gallery showcases art from all 22 members. In the summer, Gage has a special courtyard gallery below the steps in front of the door where different artists sign up to offer demonstrations.
According to Shannon, the Gage is a wonderful community which represents Victoria as it is operated by local artists. She says, "this would be the place where you may want to spend your hard-earned money to support local artists."  Commissions are low compared to most private galleries making our art more affordable and a great option for those who want to purchase original art.
Engaging Through Art
Many characteristics of the gallery make the Gage Gallery unique, especially how the gallery connects with the community. Visitors get to talk to an artist six days a week. Every day, there is an artist in the gallery interacting with the public. There are also 'artist talks' where you can learn about how artists prepare for a show, their inspiration, and how they evolve their craft.
In addition to these talks, another unique aspect of the Gage Gallery is community engagement. For example, two of the resident artists (Gabriela Hirt and Ilka Bauer) collected postcards from around the world with suggestions on how to mitigate climate change. They then hung the postcards from the ceiling.  As another example, Shannon worked on a project called BC Health Care Heroes where she painted portraits of healthcare workers and wrote their stories about the first phase of the Covid pandemic. These community engagement activities demonstrate how art can be socially responsible and powerful within the community.
As Shannon said:
"These shows demonstrate how art can engage society about important topics while also celebrating those people who are contributing."
Sense of Downtown Community
When asked about how it feels to be a downtown business, Shannon shared that she feels pleased to be part of the downtown community! She loves supporting their neighbours as well in any way that they can. She further explained that Gage is fortunate to be in Bastion Square as the location allows them to interact with both locals and tourists and have friendly relationships with all the other nearby businesses.
____________________
Make sure to visit Gage Gallery at 19 Bastion Square!
Thank you to Shannon for participating in Small Business Month and sharing your voice as a beloved downtown Victoria business owner! View our other blog posts for more incredible local business interviews.