Whisk Victoria
October is Small Business Month! To celebrate, we are introducing numerous amazing downtown business owners all month long. We talked to each owner to learn more about their business and individual experiences making downtown a vibrant community.
Meet Elaun from Whisk Victoria!
A Story of Resilience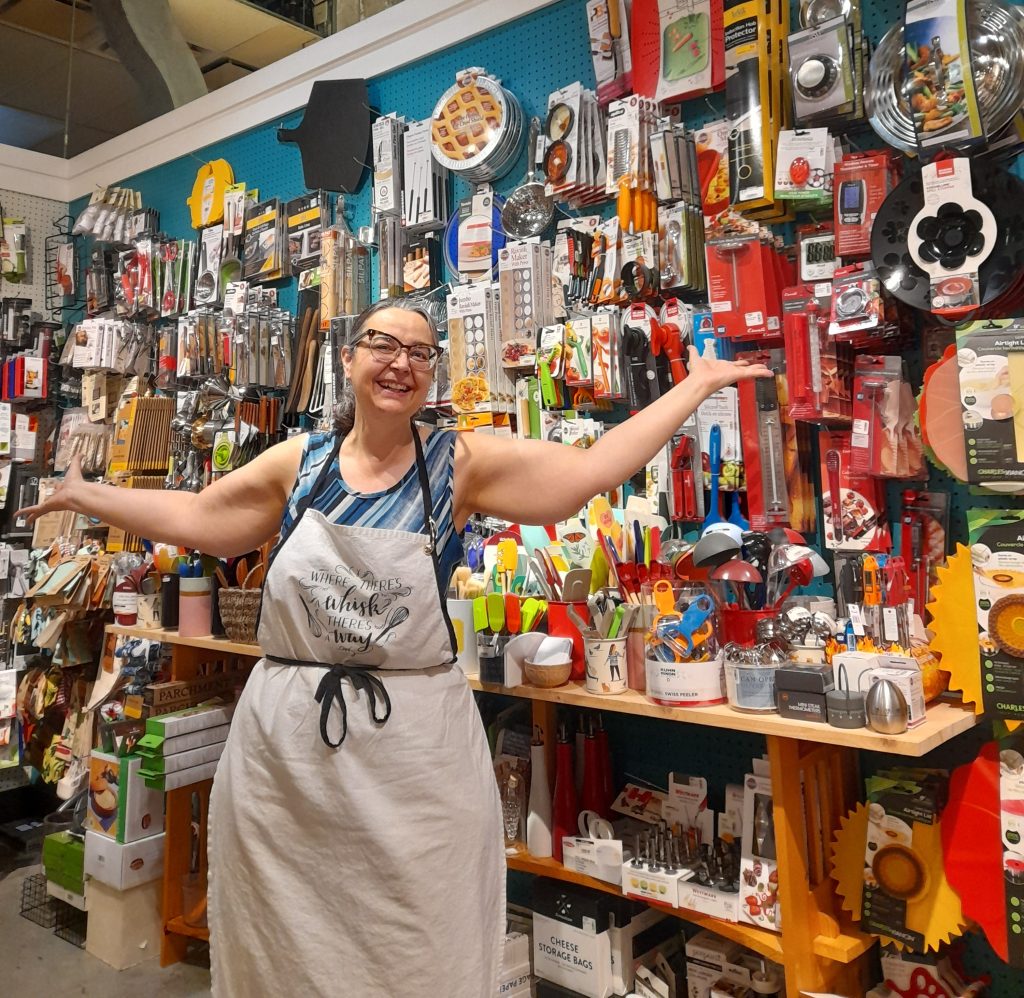 Elaun was the communication manager at a seniors' recreation facility for 13 years. She began planning to move to Vancouver Island from Edmonton eight years ago. At that time, Elaun visited the Island twice a year on vacation with her then husband. When her marriage broke down five years ago she thought that dream was over, but three years ago returning on the ferry from another vacation she realised she could do it on her own. She decided right then to take the plunge and move. After leaving her job, she sold her house and relocated to Victoria. She googled businesses for sale and found Whisk Victoria!
Elaun + Whisk
Cooking and baking were always Elaun's passion. She loves kitchen gadgets, she used to wander through a big kitchen store in West Edmonton Mall and admire all the products. She combined this interest in kitchenware, her background in Fine Arts, and her certificate in professional communication management and dedicated herself to her new business venture.
"We (women) are powerful, resilient, and capable."
Whisk Victoria is a small but mighty store downtown carrying all kinds of kitchen products that solve common problems. Most people know don't realize they need these useful products until they see them. According to Elaun, her store is "is functional, colourful, and fun. There is not lack of whimsy in Whisk Victoria!"
Sense of Downtown Community
"I live downtown. I work downtown. I am part of the community."
Elaun especially loves the walkability of downtown Victoria. She enjoys the influx of tourists from all over the world, talking to them, and sometimes speaking French. She appreciates her relationships with other stores downtown – she doesn't consider them to be competitors, they are all a part of the community. If she doesn't have the products customers need, she sends people over to Cook Culture a few blocks away, and vice versa. "It's not necessarily a competition," she summarized.
Stepping Up
Elaun is working on getting the living wage employer certification. This will certify that she pays all direct and contract staff the living wage rate for the region. She wants staff to feel encouraged, supported, and feel proud of where they are because when staff take pride in what they do, they do a better job. Besides supporting the staff, the business also supports different charities and foundations and Elaun herself volunteers in her spare time.
"I am not in the business to make millions of dollars. I am here to support people, my community."
Advice for Starting a Business
"The number one rule is that if you don't even start, nothing is going to happen," Elaun shared. She says if you want to have a business, take the risk, believe in yourself, and set goals and work towards them.
____________________
Make sure to visit Whisk located in the Victoria Public Market!
Thank you to Elaun for participating in Small Business Month and sharing your voice as a beloved downtown Victoria business owner! View our other blog posts for more incredible local business interviews.