The Umbrellatorium & Canery
October is Small Business Month! To celebrate, we are introducing numerous amazing downtown business owners all month long. We talked to each owner to learn more about their business and individual experiences making downtown a vibrant community.
Meet Lyra and Veronica from the Umbrellatorium & Canery!
The Perfect Match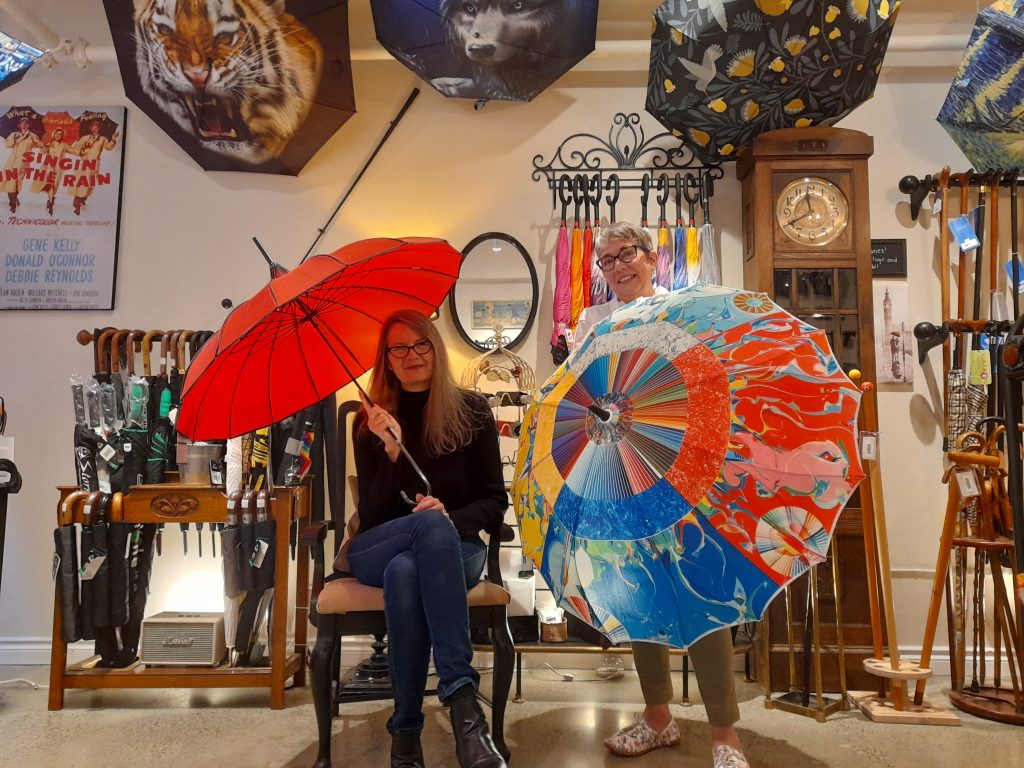 While noticing beautiful umbrellas and wondering where to find them, a business idea – an umbrella shop – came to Lyra's mind. At the time, she worked in the home health care industry, where she met her business partner, Veronica. They were both trained in cane fitting and often heard complaints about finding canes that don't look institutional. Veronica proposed the idea of starting a business together and Lyra responded by suggesting incorporating her umbrella shop idea. Now, with 30 suppliers from across Canada, the United States, England, Spain, and New Zealand, The Umbrellatorium & Canery is in their sixth year!
COVID and Beyond
The Umbrelllatorium & Canery struggled a bit during the pandemic, but with the help of government programmes, Lyra and Veronica were determined to carry on. Luckily, they received a lot of local support and visits from people travelling within Canada.
Tradition + Speciality
Specialty and tradition are the two words Lyra and Veronica chose to describe the shop. It is unusual to have a shop devoted to umbrellas, making the Umbrellatorium a specialty shop. It's traditional in its retail style, being in operation over six years. The traditional aspect also extends to customers' annual visits. Some people make it a tradition to come back to the shop every year and buy another umbrella as a commemoration of their visits. Lyra and Veronica love connecting with customers over umbrellas!
Lyra and Veronica have similar sensibilities around customer service. They treat people the way they want to be treated when going into a shop. They care about customers, they used customer feedback for decision-making around what umbrellas they brought in from the beginning of the business.
"If you are part of a corporation, you have to meet those quotas which become the focus, whereas we want to focus on our customers and customer service."
Sense of Downtown Community
Lyra and Veronica said they love having a business downtown because they are surrounded by heritage buildings, which is the real vibrancy in Chinatown. They also believe downtown is so vibrant thanks to community support. For example, other shops in Fan Tan Alley will send people looking for umbrellas and canes to the shop while they also recommend local shops to customers.
Advice to Those Wanting to Start a Business
"Be passionate about what you are doing and about what you decided to do," said Lyra. Veronica advised not to be discouraged by naysayers. According to the pair, it's wonderful having your own business although it can be a lot of stress: they spent three and half months planning, researching, and figuring out all the effort they needed to make the leap. Their final piece of advice is to be careful with your money because you have to spend money to make money.
____________________
Make sure to visit the Umbrellatorium & Canery in Fan Tan Alley!
Thank you to Lyra and Veronica for participating in Small Business Month and sharing your voice as a beloved downtown Victoria business owner! View our other blog posts for more incredible local business interviews.