Status Barber Shop
October is Small Business Month! To celebrate, we are introducing numerous amazing downtown business owners all month long. We talked to each owner to learn more about their business and individual experiences making downtown a vibrant community.
Meet Troy from Status Barber Shop!
Inspiration Behind Status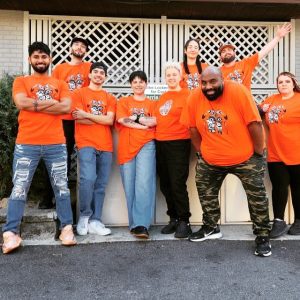 Growing up in Nova Scotia, Troy played basketball and football and was awarded a scholarship to attend Western Connecticut State University. He spent two years in the US before transferring to the University of Victoria. After realizing his credits weren't transferrable, he instead found a job at Esquimalt High School as a teacher's assistant coaching basketball for five years. As the guy cutting hair in the locker room, Troy always had a passion for barbering.
Troy's inspiration behind opening Status stemmed from the community-focused aspect of barbershop culture. At the time, there was no identifying place for African American males to get a haircut. He realized there was an opportunity to reach out and connect with young people. For Troy, there's no better place to connect than a barbershop because he gets to speak his own language. As his grandfather always says:
"A barbershop is a black man's country club."
He further explained that a barbershop is always a place linking back to civil rights and for people to have conversations about politics and to work. "[Status Barber Shop] is a positive and visual influence for a lot of African Canadians here in Victoria," he said.
Pride in the Shop
Troy described Status Barber Shop as inclusive, quality, community-oriented, fun and loving. "A good haircut will get you in the shop, but great service will keep you coming back," he shared. Troy outlined three aspects of his business that make him the proudest. First, he feels proud when he sees the evolution of other barbers who come under his wing and move on to do great services with the mentorship program in the store. He is also proud of the connection he has within the community as well as of the trendy space he provides them, including leather couches, TV, and a place to eat.
Finally, Troy is proud of the inclusive space he created. As the first multicultural full-service barber shop in Victoria, Troy emphasized that whether customers are black, white, Asian, LGBTQIA2S+, big, tall, or small, they are welcome.
"Hair has no gender."
Sense of Downtown Community
From his experience in Victoria for 25 years, Troy said he continues to witness growing diversity in the city, especially the downtown core. It brings him immense joy to see people of all colours and races coming downtown and finding success in their careers and ventures. He feels it moves the needle on racism and stereotypes in our region.
Advice for Starting a Business
"Take the risks if you want to be successful at anything. Move forward. Be strategic about it. Do your research and find out what other people are doing in your profession. Bet on yourself and go for it because you know you are good at what you do."
For young people, Troy recommends developing financial literacy. Because the biggest failure in most businesses occurs when people are not prepared financially, it's best to put invest time or work a regular job and to support your passion on the side. He suggests that take the leap as you are young and there's a lot of room for error. If you are passionate and have great products or services to offer, good reputations go a long way in this small city.
More to Share
"Don't support me because I am black. Support me because I am a good business owner, and this is a good business."
Troy emphasized that he is as valuable as other businesses in this town, and he has deep roots here. With the quality services, he is looking forward to expanding to the West Shore while keeping the authenticity of the store.
____________________
Make sure to visit Status Barber Shop at 4-1010 Yates Street!
Thank you to Troy for participating in Small Business Month and sharing your voice as a beloved downtown Victoria business owner! View our other blog posts for more incredible local business interviews.