The Vicious Poodle
October is Small Business Month! To celebrate, we are introducing numerous amazing downtown business owners all month long. We talked to each owner to learn more about their business and individual experiences making downtown a vibrant community.
Meet Socrates from The Vicious Poodle!
Inspiration Behind Vicious Poodle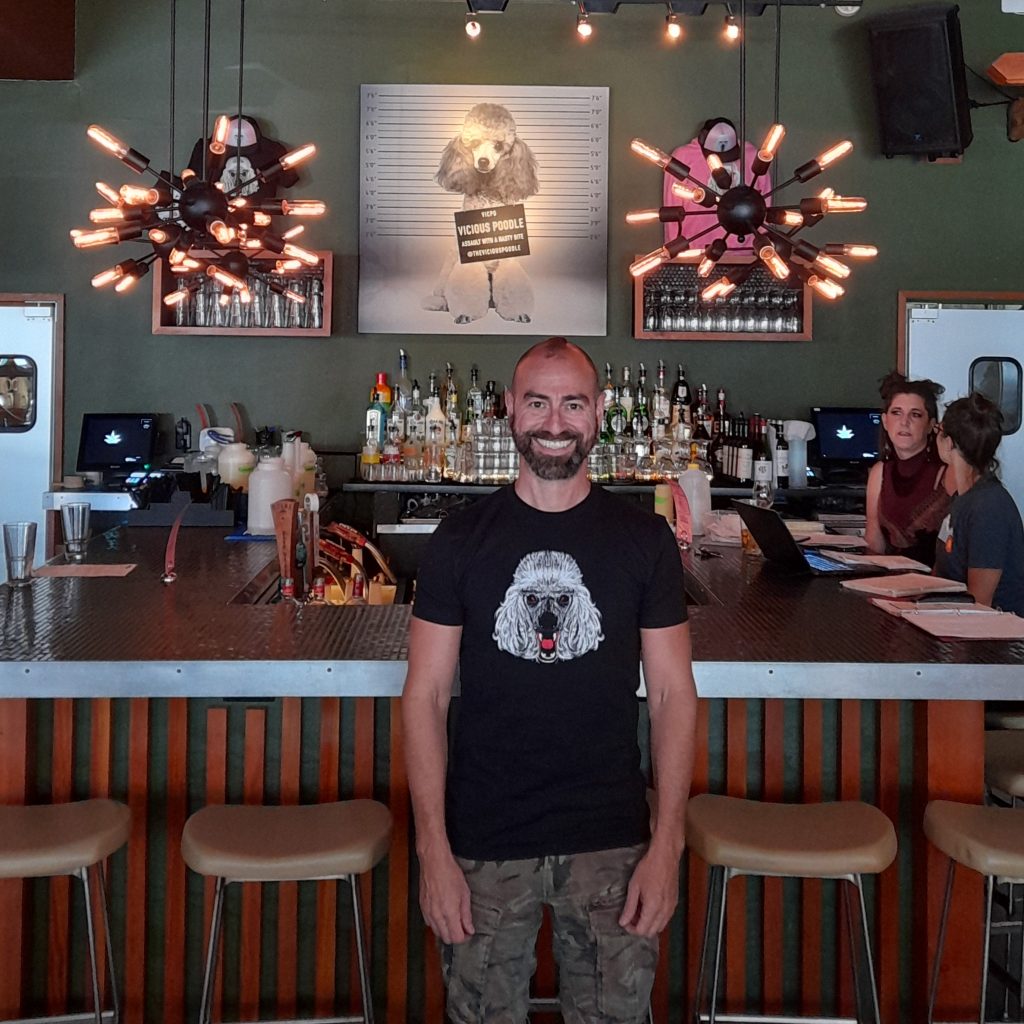 Socrates grew up in a family of restauranteurs and he frequented gay bars in New York City for almost 10 years. Upon moving back to Canada and settling down in Victoria with his family, he wanted to do something for the community. At the same time, the LGBTQIA2S+ community was hungry for something different. As a gay man, Socrates wanted to serve his community by opening an inclusive space. He brought everything he knew forward and started Vicious Poodle, to be complementary to Paparazzi Nightclub, the legendary LGBTQIA2S+ downtown nightclub.
Vicious Poodle Vibes
His experience in New York working at a gay bar in a gay neighbourhood brought Socrates a sense of freedom and belonging. He wanted to create a place with similar vibes for his community to work in and patronize. The sense of community not only exists amongst the Vicious Poodle staff, but also in the operations. Socrates wants his restaurant to be open to everyone in the community and thus they don't have cover charges and don't close for private events.
Another important feature of the Vicious Poodle is providing a venue for queer artists to perform, whether through drag, singing, and/or comedy. Socrates expects that they will get busier as the city continues to grow, more people move here, and their base expands. They just want to make sure they keep what they do, which is creating a space people love.
Sense of Downtown Community
Since Socrates has an urban sensibility, downtown Victoria just made sense for him and his business. He likes the walking culture and aesthetic lifestyle downtown where everybody gravitates. The art scene for him is also important, especially for a gay bar.
"It has to be downtown."
The community and the energy of downtown amaze Socrates and align with him and the business. Even when they could not do shows during the pandemic, the drag queens would visit once a week for dinner. The local performers also came up with the idea of filming shows in the space while it was empty, and they showed the films on the screen to keep the local drag scene alive.
"The community has really rallied behind it."
Advice for Entrepreneurs
The top suggestion Socrates gave to those wanting to start their own business is to make sure they have a good amount of money. Being properly financed is important as there is so much red tape and regulatory costs. "Do your research. Don't try to go in on a total shoestring," he advised.
____________________
Make sure to visit The Vicious Poodle at 726 Johnson Street!
Thank you to Socrates for participating in Small Business Month and sharing your voice as a beloved downtown Victoria business owner! View our other blog posts for more incredible local business interviews.