Green Muse Herbs
October is Small Business Month! To celebrate, we are introducing numerous amazing downtown business owners all month long. We talked to each owner to learn more about their business and individual experiences making downtown a vibrant community.
Meet Anna from Green Muse Herbs!
Growing Green Muse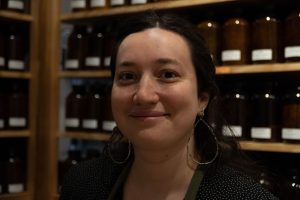 Anna practically grew up in community gardens alongside her mother, Sandra. In the last 10 years, Anna divided her time between health care and creative practice after studying at Pacific Rim College. The mother-daughter gardening time as well as her experience in the herbal industry inspired Anna to open Green Muse Herbs with her mom after a long-time herb shop closed in their community. The intent of Green Muse Herbs, according to Anna is:
"To speak metaphorically, I just want to build the soil of a community and support practitioners and tea drinkers."
Business Philosophy 
Anna likes to call Green Muse Herbs a community herb shop. What differentiates them from others is their animist philosophy. As they build their business, they consider the greater web of life. They look at the whole supply chain and work to build a better, more sustainable, people-centered, and life-generating path to get the herbs to customers. What Anna is most passionate about is sourcing the herbs, working with local growers, and offering pathways for others to work with herbs.
"We have our own roots in an engaged relationship with our medicine, our food, our drink, and our community."
Sense of Downtown Community
When asked about what part of downtown she likes, the first answer that popped into Anna's head was the alleyways. Green Muse Herbs first opened in Waddington Alley, Anna's dream location. She also likes the current location on Fort Street, she finds many customers come from Cook St. Village and Fernwood now. Anna's favourite part of operating a business downtown is that she gets to be in the community with some of her admired shop owners. It's exciting to meet these community members and folks coming from all over the world and sharing their passions!
Exciting Future
Anna is passionate about creating circular systems and pathways that feed into each other and raise the water for everyone to float and swim better. Therefore, she wants to find ways to support harm reduction in the community.
In addition, Anna hopes to work with bike delivery companies to deliver orders to customers' doors by bike as well as setting up care packages that customers can send to their friends when they are sick.
Anna also wants to develop more infrastructure to support farmers from vegetable farming to herb farming, or to support herbalists to get into herb farming.  She would like to continue working with farmers to create an herb farm cooperation like their partnership with the South Island Farm Herb and some food security organizations.
Besides partnerships with farmers, she is excited to continue relationships with indigenous plant nurseries. Currently, when someone buys a locally grown tincture, a dollar goes to the nursery. This supports their land healing work and aligns with Anna's belief that any conversations around land and growing should include coastal Indigenous peoples.
For Anna, relationships are an important component of her business. It's the relationship of growing the plant that changed how she interacts with that plant, how she uses it for medicine, and how she engages with it in other ways. As a result, she tries to build the business around all these elements in relationships and to offer more educational opportunities. She now works on having some practitioners in the shop for private care if customers want more than what she can offer.
"I want to build the shop that has well-oiled channels to serve customers so that we can ride these waves of instability."
More to Share
As a queer person, Anna hopes the queer community sees them as a safe place to visit for health care. She further explained that she wants everyone to come in a way of feeling welcome, soft, healing, nothing too aggressive or stimulating.
"I want it to be like a sanctuary, an inner-city sanctuary."
____________________
Make sure to visit Green Muse Herbs at 1038 Fort Street!
Thank you to Anna for participating in Small Business Month and sharing your voice as a beloved downtown Victoria business owner! View our other blog posts for more incredible local business interviews.