Mint Upholstery
October is Small Business Month! To celebrate, we are introducing numerous amazing downtown business owners all month long. We talked to each owner to learn more about their business and individual experiences making downtown a vibrant community.
Meet Marisa from Mint Upholstery!
Journey to Upholstery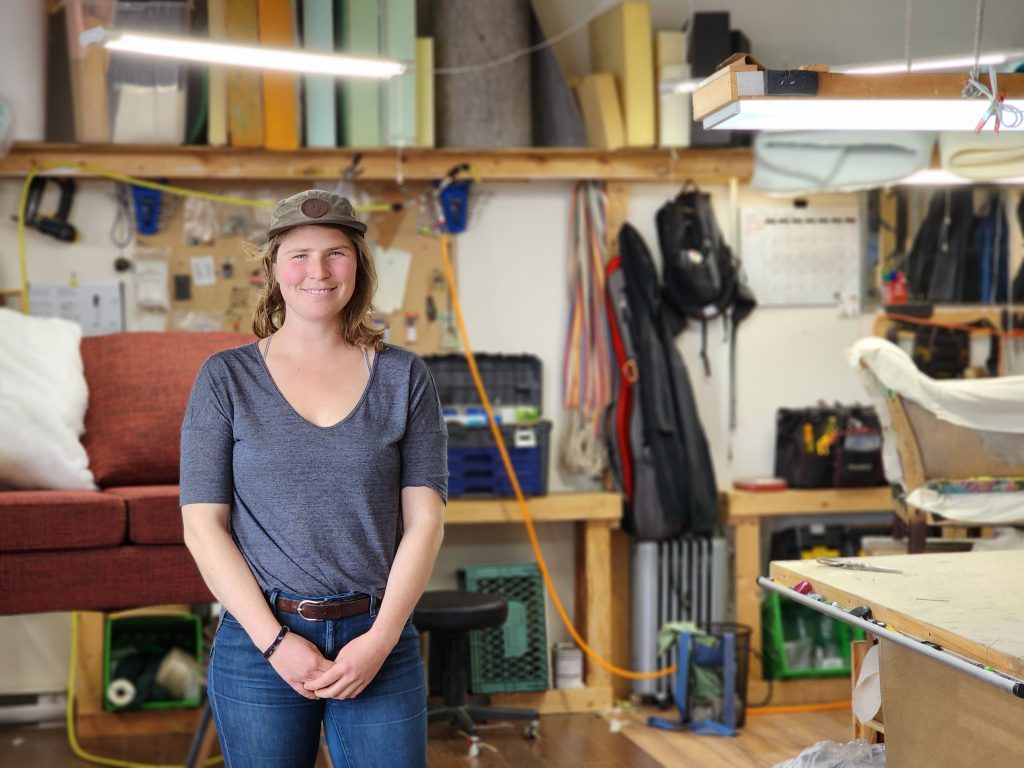 Marisa first learned to sew from her grandma when she was a kid. Throughout adolescence and high school, she took sewing lessons. She is a tactile, crafty person who loves to work with her hands. When she moved to Victoria, she met an upholsterer, but the work didn't interest her at first. She moved from one career to another until she finally tried upholstery and loved it! Marisa apprenticed with a lovely woman for four years in Whippletree Junction, Duncan. When the time came to transition away from apprenticing, she found a space downtown and opened Mint Upholstery! She opened Mint in August/September 2021.
Why Downtown?
When asked why she chose downtown for her business, Marisa said she appreciates the accessibility and central location. Her business serves people living all over Victoria so it's convenient that her studio's location is near the city's transportation arteries – it's easy for customers from Vic West to zip across the bridge, for example, and the studio is located between Douglas and Blanshard Streets. She also likes downtown, and her location in northern downtown especially, for the great resources in its vicinity. Along with nearby Gala Fabrics and McGeachie's Foam and Upholstery, they have a little upholstery district in Mint's area of downtown. As Marisa said, "it's a good resource hub and library of knowledge that surrounds me." When looking to get out of the studio during her workday, Marisa enjoys exploring downtown: "There's always events happening! Which is great when I need to get out on a walk." Finally, Marissa mentioned her appreciation for all the options for food downtown. She frequents Bangkok Thai around the corner in the winter for a delicious warm bowl of soup.
Advice for New Business Owners
Marisa's main advice for those starting a business is don't be afraid to ask. If you get rejected, you're still going to be in the same spot as you were. Worst case scenario, you're told "no" and you will find another way. Even if the person you are asking can't give you exactly what you want, they might point you in the right direction or help you build community. Work together, refer other people, and get referrals. Help each other out!
"We need everybody to make a great community – people are the fabric of society!"
____________________
Consider Mint Upholstery the next time you need something upholstered!
Thank you to Marisa for participating in Small Business Month and sharing your voice as a beloved downtown Victoria business owner! View our other blog posts for more incredible local business interviews.