MONA Consignment
October is Small Business Month! To celebrate, we are introducing numerous amazing downtown business owners all month long. We talked to each owner to learn more about their business and individual experiences making downtown a vibrant community.
Meet Deanna and Courtney from MONA Consignment!
All About Passion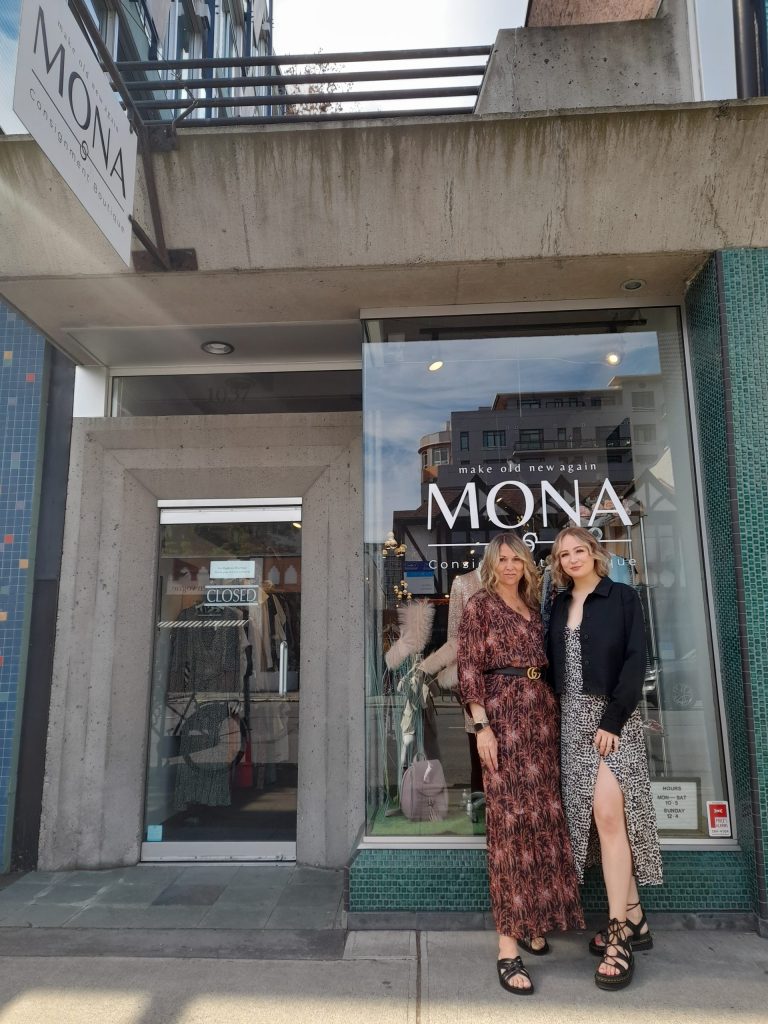 Deanna has worked in the hospitality industry for over 20 years and has been an entrepreneur for the better part of her adult life.  Courtney has a passion for buying clothes and up-cycling them to sell online. With a shared passion for clothes, these two decided to take their passion and expertise to the next level. Enter MONA!
Before the pandemic, these entrepreneurs started the "Bin Project." They delivered bins of second-hand clothes to customers' houses, allowing the customers to choose
what they liked. In December 2020 MONA became a brick & mortar store on Fort St.
The Bin Project evolved into MONA Consignment. They teamed up with their third partner, David, the CFO of MONA who is the whole reason they have the space they are in now. His diligence behind the scenes makes MONA run seamlessly.
Deanna and Courtney maintain a high passion for what they do; they know people like to shop curated boutiques with stylish items that are up to a few years old and in good condition, no rips, tears, or stains.
"MONA is an acronym for Make Old New Again"
MONA's Vibe
Besides the clothes, MONA's owners sell local items in the store: all the jewellery is handmade by NINO Designs which consists of Deanna and Karin Holdegarrd. They also carry candles and oils by Moshkwa Soap Studio made by Lindsey Leblanc a local Victoria maker. On the wall at MONA there is gorgeous art by Patrick Robin Art, a Vancouver artist.
Selling local goods combined with quality consignment clothing is unique, but what makes MONA really stand out is the customer service. Deanna and Courtney are skilled at reading the room and are honest about their customers' choices. They would rather not make a sale if a customer doesn't find the right piece, and have them return another day to find something great.
In talking to Deanna and Courtney, they shared that it's absolutely amazing when women become engaged in the trying-on process. They see boutiques as a way to empower women. When women walk in unsure of what type of clothing suits their body type, if they are willing to try things on they normally wouldn't, they will often walk out with a big smile and increased confidence.
"Our favourite part of owning the store is when it's full of women encouraging other women, sometimes strangers, with the clothes they try on. It's nothing short of phenomenal!"
A Sense of Community Downtown
When asked about a sense of community within downtown Victoria, Deanna and Courtney shared their love for the Fort Street community. The first thing they emphasized is community support – neighbours take care of each other, and they even have a group chat on Instagram to check in with everyone. A wonderful thing for them is that if there is anything that isn't a fit MONA's vibe, they often send it next door, to the neighbouring consignment store. Moreover, as there are a lot of women entrepreneurs on the street, they feel proud of being part of the community.
Sustainable Mindset
Supporting local and living sustainably is challenging, but these two business owners are committed to living aligned with their values and encouraging others to do the same. For them, MONA is their way to support local and reduce waste. Their bo8om line is clear: "Nothing we have in the store goes to the landfill. It's donated, given to someone who is in need, or sold to customers". They support their community by donating clothes to the James Bay community closet, by donating money to food banks, libraries, and daycares, and by helping women who are going back into the workforce.
"It's just beautiful to be able to be sustainable and not to generate a carbon footprint."
Looking Forward
Consignment is an interesting business model and these two believe it will continue to grow. MONA is already outgrowing its current location. With over 500 consigners and a growing customer base, they are considering opening a second location. They might also add a men's section in response to increasing customer requests. This is just a thought at the moment.
____________________
Make sure to visit MONA Consignment at 1037 Fort St!
Thank you to Deanna and Courtney for participating in Small Business Month and sharing your voice as a beloved downtown Victoria business owner! View our other blog posts for more incredible local business interviews.