Eva Schnitzelhaus
October is Small Business Month! To celebrate, we are introducing numerous amazing downtown business owners all month long. We talked to each owner to learn more about their business and individual experiences making downtown a vibrant community.
Meet Max from Eva Schnitzelhaus!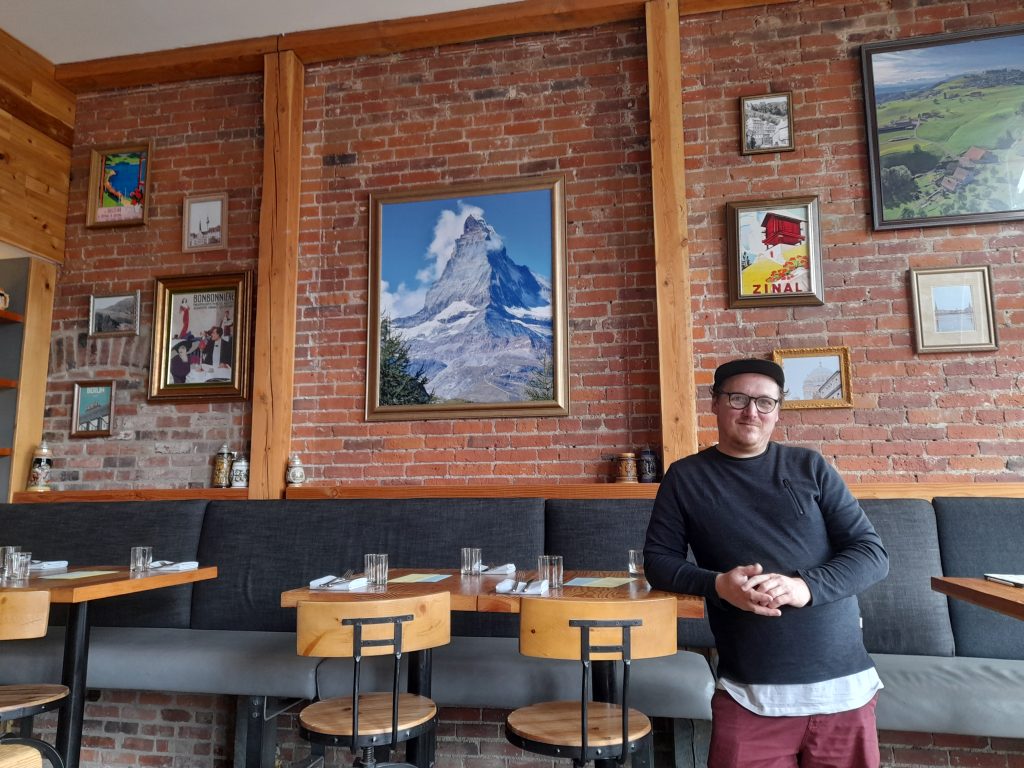 Background for this Schnitzelhaus
Max has worked in restaurants for two decades. While working at a different restaurant, he met his current business partners. Ten months ago, they decided to open a restaurant. His partners have German heritage, so the choice to open a German eatery was simple. Besides, there are no other German restaurants downtown, making it a great opportunity.
Operating during the Pandemic
"There's always points of discontent and differences working for other people, so I wanted to see if I could run the business and make it work myself."
Although starting a business during the pandemic was a little worrisome, the decision ended up playing in their favour. People wanted to go out and try new things, especially as the food they offer is very wintery and suited for cold, wet Novembers. "It was a bit of a gamble, but I think it paid off in some ways," shared Max.
With Eva in its first year of business, it's hard to evaluate success. So, they are just trying to keep doing what they are doing: stay steadily busy. They add a couple more items to the menu and try different fun recipes to generate traction. Eventually, they want Victorians to automatically think "Eva!" when they crave delicious, German fare.
Ongoing Business
Eva is unique because it offers German food, and behind the scenes, the uniqueness continues. The way Max and his partners run the business stands out from other traditional restaurants. They try to make Eva an efficient business by being conscious of every management decision regarding labour and cost. It's like a puzzle, always looking to make money for everyone in the business and provide the customers with a great experience in the meantime.
Sense of Downtown Community
According to Max, having a business downtown is interesting, especially in the summer. There is a lot of foot traffic around town, so it feels good to see lots of people in the streets and offers Eva more exposure. He also shared his thoughts about the downtown core: "15-20 years ago, downtown Victoria was a place where you would go out and have dinner and go to shops. But now the downtown core is getting more populous, so it goes both ways." With the busy food scene, he is eager to see people come downtown and have a good time at Eva.
Advice for those Wanting to Start a Business
When asked for some advice for anyone who wants to operate their own business, Max shared two key thoughts: be ready to work hard, and do not view ownership as a piece of paper. He further explained that for him, ownership is being on-site, making decisions, inspiring people, and working together with everyone in the business. "Don't blame others for failures and think carefully before opening.", emphasized Max.
"It's your vision. Make it thrive."
____________________
Make sure to visit Eva Schnitzelhaus at 509 Fisgard Street!
Thank you to Max for participating in Small Business Month and sharing your voice as a beloved downtown Victoria business owner! View our other blog posts for more incredible local business interviews.