Board with Friends Cafe
October is Small Business Month! To celebrate, we are introducing numerous amazing downtown business owners all month long. We talked to each owner to learn more about their business and individual experiences making downtown a vibrant community.
Meet Alyssa and Nick from Board with Friends Cafe!
____________________
Passion is Key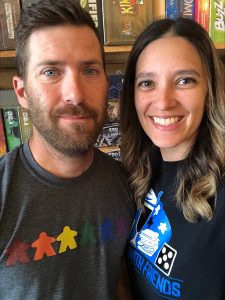 Ontario transplants, Alyssa and Nick, recalled the moment 2.5 years ago that marked the start of Board with Friends. According to Alyssa: "Nick just said, why don't we just open up a board game cafe since we've been talking about it for a long time? Now is our opportunity!"
The idea of Board with Friends is rooted in the owners' backgrounds. Alyssa started out with a degree in food nutritional sciences from Ontario. She was in the culinary industry for 12 years while doing senior care full time. Nick worked as a carpenter for almost 17 years and is still doing it full-time. He grew up in a family that loved playing board games. Every family gathering like Easter, Thanksgiving, and Christmas, was about food and games.
Combining Alyssa's passion for food and Nick's passion for board games, Board with Friends Cafe came to life after three months of discussion.
Did you know…
When you walk into Board with Friends, you might feel amazed by the sight of board games from floor to ceiling. There are around 1,600 board games in the store and about 2,000 in the online store from five different distributors throughout Canada!
Vital to the cafe's success is the sense of family. Alyssa and Nick treat customers like friends; they often remember names and favourite games, and they offer great service every time. They believe the connection with someone in the store is the reason people will come back.
"They are not coming here to get drunk. They are coming to enjoy the games."
These owners focus on teaching customers how to play board games to ensure they have fun.  As a result, Alyssa and Nick have to play games that they haven't played in a while during downtime or a night at home.
The Pandemic Effect
It's hard to promote social interactions when health officials everywhere are telling everyone to avoid being social. Board with Friends opened right when the pandemic started and thus could not get government subsidiaries. Luckily, the cafe stayed afloat with smaller groups coming in. Now, people visit in larger groups. Alyssa and Nick are grateful they were not affected by the vaccine passports. Everything just worked out with customer groups who are very respectful and friendly and want more board games.
"Good vibes bring good people."
Sense of Downtown Community
When asked about their thoughts about the downtown community, Alyssa and Nick shared that Downtown is constantly changing. They like that there are always new places to fall in love with. One thing they love is just coming downtown and seeing the heritage buildings. Finding hidden gems in Victoria, especially the downtown core, makes these two feel good. They emphasized: "You have your staples that everyone knows like MEC, but when you start looking on the little streets and you go into more of the heritage piece of Downtown, you see so many great little spaces and that is the heart that we know about."
"This is a growing ecosystem of small businesses and not big stores, which is great and fantastic. And that's what downtown should be."
Final Thoughts
Alyssa and Nick shared advice for those who want to start their business. The first one is having to be on your toes and ready for anything: you should be prepared for the headaches, blood, sweat and tears that you're going to put into your business. They also shared that you should know what you are doing before you do it.
"Open the business because you're passionate about it, not for the money."
In terms of the goal for the following years, they are looking forward to expanding to Langford. But for now, they want people to check out their cafe for the community and enjoy the different services and products they offer in the hospitality industry!
____________________
Make sure to visit Board with Friends Cafe at 705 Johnson Street!
Thank you to Alyssa and Nick for participating in Small Business Month and sharing your voice as a beloved downtown Victoria business owner! View our other blog posts for more incredible local business interviews.