Le Petit Saigon
October is Small Business Month! To celebrate, we are introducing numerous amazing downtown business owners all month long. We talked to each owner to learn more about their business and their individual experiences in making downtown a vibrant community.
Today, we meet Kim from Le Petit Saigon speaking on behalf of her family's business. Let's read what she shared!
____________________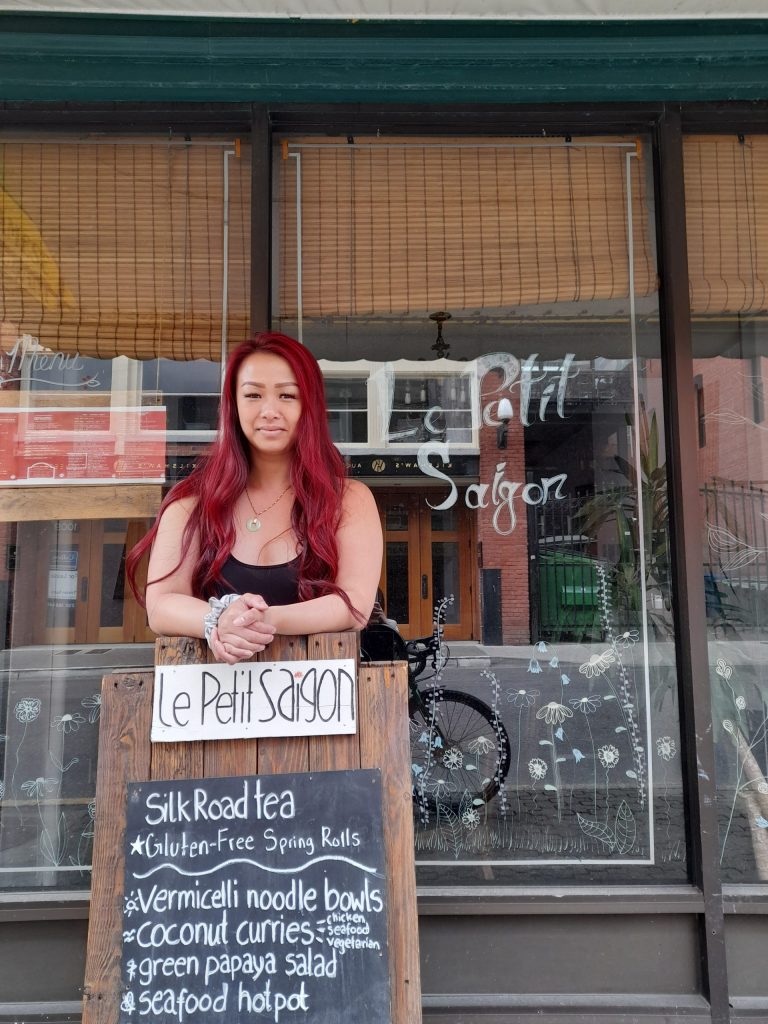 Why Not?
Operating a business can be rooted in a great mission, but it can also be as simple as asking "why not?" For Kim, this is how she decided to take over the family-run business Le Petit Saigon. When the opportunity to take the restaurant over from a family member, Kim knew that it was her time to step in and step up. She already had four years of experience as a waitress at the restaurant, and she knew her mom was a great cook, so Kim thought it would be great to keep the business in the family. After all, why not?
Kim's mother and father moved to Canada in 1980 from the Southern countryside of Vietnam with Kim's sister who was 4 at the time. Together, they grew the family and settled here in Victoria where Kim has lived her whole life.
____________________
A Twist on that Homey Feeling
Kim described Le Petit Saigon to be unique. The people working there want to make personal connections with customers, rather than memorizing a template conversation like robots. Both the servers and customers can be themselves; she wants the staff to have fun interacting with people while customers feel welcomed and enjoy the cosy atmosphere. What makes the culinary experience at Le Petit Saigon so personable is that usually when a customer visits two or three times, the staff often remembers them.
Kim is proud of the loyal servers who have worked alongside her for years. She describes them as family. Together, they celebrate Christmas and birthdays with dinners and desserts where they gather, tell stories, and laugh.
Part of Le Petit Saigon's uniqueness stems from the homey feeling, including their homemade meals. Very little is pre-made at this Vietnamese restaurant, Kim's mother makes almost everything from scratch every day. "You can call here home, and you will come home happy", emphasized Kim. When you visit, Kim wants you to feel comfortable just like coming home: you can joke, laugh, chat and do whatever you want without judgment.
____________________
The Sense of Downtown Community
When asked about the feeling of having a business downtown, Kim said she feels fortunate to be here as Le Petit Saigon gets lots of loyal customers and connections with other business owners. When asked about the feeling of having a business downtown, Kim said she feels fortunate to be here as Le Petit Saigon gets lots of loyal customers and connections with other business owners. For example, Kim expressed that neighbouring business owners are available when she needs advice and to share knowledge.
Le Petit Saigon does not put much into advertising; some of the customers who have lived in Victoria for a long time are not aware of its existence. Kim shared that most of the time people will not come down the street, let alone stumble upon the restaurant. It is the power of word-of-mouth that bring groups of friendly customers in, and the good food and great service continue to bring more great customers.
The sense of community goes beyond the relationships with business owners and spreads to the customers.
____________________
Time Passes, Love Remains
Thinking about the far-off future is not a priority because every day at Le Petit Saigon brings something different. "We always think of day by day and week by week," Kim emphasized, "and just be happy that we can still be here keeping everyone happy."
____________________
Make sure to check out Le Petit Saigon at 1010 Langley St!
Thank you to Kim for being a part of Small Business Month and sharing your voice as a beloved downtown Victoria business owner! View our other blog posts for more incredible local business interviews.