Becoming Design Office
October is Small Business Month! To celebrate, we are introducing numerous amazing downtown business owners all month long. We talked to each owner to learn more about their business and their individual experiences in making downtown a vibrant community.
Today, we meet Ross from the Becoming Design Office!
____________________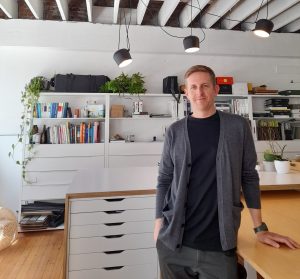 You might not be familiar with the name Becoming Design Office, but you have probably seen their work, such as; the KWENCH logo or Hoyne Brewing Co.'s Down Easy label. As a brand design agency with a team of five, Becoming was launched two and half years ago by founder and creative director, Ross Chandler, who had previously been an independent designer for almost nine years. As his venture evolved, his insistence on creating visual works aligned with the client company's bottom line remained, which is now naturally woven into the team's DNA.
"We take a research-based and collaborative approach to creating brands, with each element supporting the identified business goals."
Ross emphasizes that Becoming Design does not just create brands. Instead, the team helps companies reach their goals through design which can include brand repositioning, communications, website design and development, and packaging & product design.
"Our business owners are usually motivated and creative, so working alongside those people and helping them achieve their goals is really fun for us."
Becoming Boutique, Becoming Collaborative…
When asked if he could describe Becoming, Ross chose "boutique." He explained that although the word is overused, Becoming is a boutique design communications studio. With a small team, it specializes in strategic brand creation and works with each company's strategists to consider the complete project lifecycle, making sure the team delivers the high-quality materials the company deserves.
Located on the second floor of 738 Fort Street, the office shares the space with three other design studios, Hansenbuilt Designs, Fold Architecture and Ancord Design Company. The coworking concept allows the Becoming team to regularly collaborate and share similar design sensibilities and learnings. One of these collaboration projects is KWENCH, whose brand identity was designed by Becoming and interior design finished by Hansenbuilt. Being part of this incredibly collaborative working environment and having the chance to work with other talented and creative people provides strong motivation for the whole Becoming team, including Ross.
The Sense of Downtown Community
"We're really fortunate to be here on Fort St. because of the small business culture". Ross shared his love of working in downtown Victoria, thanks largely to the well-built relationships with business neighbours: Russell Books, The Papery the next door, and Crust Bakery which is always the place to get afternoon treats. "Working in downtown Victoria is the absolute best. I love these neighbourhoods downtown. All of them have wonderful things to offer!"
"Small and creative businesses really add so much richness to the urban landscape and just make a city like Victoria that much more desirable."
For Ross, small business is critical, especially in the downtown core. Small business becomes a defining part of the culture of a city. Businesses like Becoming bring interesting employees to an area that is highly densified, and good things happen when you bring good people together in any community. 
____________________
Becoming Design Office is located at 738 Fort Street Second Floor
Thank you to Ross for being a part of Small Business Month and sharing your voice as a beloved downtown Victoria business owner! View our other blog posts for more incredible local business interviews.