Victoria Community Acupuncture + Spa
October is Small Business Month! To celebrate, we are introducing numerous amazing downtown business owners all month long. We talked to each owner to learn more about their business and their individual experiences in making downtown a vibrant community.
Today, we meet Joleen from Victoria Acupuncture + Spa!
____________________
Background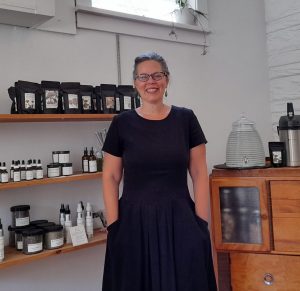 At first, Joleen pursued a master's degree in English and Literature, but the academic world was not the right fit for her. After dabbling in a few different areas, she experienced health issues, which ignited her interest in herbal medicine and acupuncture. This led her to buy the Victoria Community Acupuncture six years ago. Joleen was always interested in making her own products, experimenting with herbal concoctions, and figuring out alternative ways to deal with health issues. She concluded that it was a great challenge, and it was the right place and right time to take over the business.
"It's never too late to just change your life entirely and go in a completely different direction."
VCASPA Vibes
"We want people to feel like they are walking into their own living room, but it's clean, calm, and peaceful."
Joleen shared that Victoria Community Acupuncture is not a clinical environment. Instead, she created a calm, welcoming, and peaceful atmosphere. She explained maintaining the same vibes and creating a space for everyone is where they see the business going in the next following years.
Sense of Downtown Community
When asked about what part of the downtown community she likes, Joleen said it's nice to know other business owners on the street and feel the camaraderie. She loves the central location of her business, lots of people live and work in the area. It's also great for her to see the changing and preserving sides of downtown: there are new businesses coming into the area and more tourists back in town as well as people who were there six years ago when they took over the clinic.
COVID and Beyond
COVID affected the Victoria Community Acupuncture in a few different ways. According to Joleen, the pandemic made people realize how much they enjoyed alternative health when the clinic closed for a while. As a result, when the clinic reopened, customers were excited to come back for treatment because they were not able to access health care and the clinic was able to help with various problems.
Joleen is looking forward to seeing people spend more time on their health and self-care as it's important to treat both the body and the mind at the same time. People might have realized the connection further during COVID since they were isolated at home and didn't have access to the same health care they normally would. Covid took a toll on many people, but Joleen feels her clinic can help.
More to Share
Joleen encourages people visit, take a peek, get a tour, and ask any questions instead of walking by the spot and wondering what's inside. There are still many people coming in for their first acupuncture experience She loves to open these new customers' eyes to a new world of alternative remedies.
In terms of what type of people can get herbal care and acupuncture, Joleen emphasized that everyone should come in and try! These treatments can help people with various issues, especially long-term chronic issues, hormonal issues, and menstrual cycle pain and challenges. They offer help to people in any stage of life and in areas that sometimes Western treatments don't work, like IBS or digestive issues. Joleen further recommends people stressed out use massage, acupuncture or reflexology to destress!
____________________
Make sure to check out Victoria Community Acupuncture + Spa at 1016 Fort Street!
Thank you to Joleeen for being a part of Small Business Month and sharing your voice as a beloved downtown Victoria business owner! View our other blog posts for more incredible local business interviews.