Did you know May is Asian Heritage Month? This year marks its 20th anniversary and provides a great opportunity to learn more about the contributions, culture, and history of Asian communities to Canadian society. The theme of Asian Heritage Month this year is "Continuing a legacy of greatness", highlighting the rich and diverse aspects of Asian heritage and the commitment to fight against anti-Asian racism.
As a person belonging to the Asian community and currently living in Victoria, I am pleased to have the chance to reflect on my identity and understand the resilient history of Asian-Canadians this month. Downtown Victoria has great resources, spots, and events that can lead me, as well as you, to walk into the vibrant communities of Canadian society.
Now, are you ready to celebrate and dive into the Asian-Canadian culture with me?
Dating from 1858, Victoria's Chinatown is the oldest in Canada. The newly opened Chinese Canadian Museum in Fan Tan Ally allows you to discover the deep history of Chinatown and the experience of Chinese Canadians from a historical perspective. The current exhibit highlights the history of many businesses around downtown. Below are some examples of businesses from the exhibition, but I strongly urge you to visit the museum to discover so many more!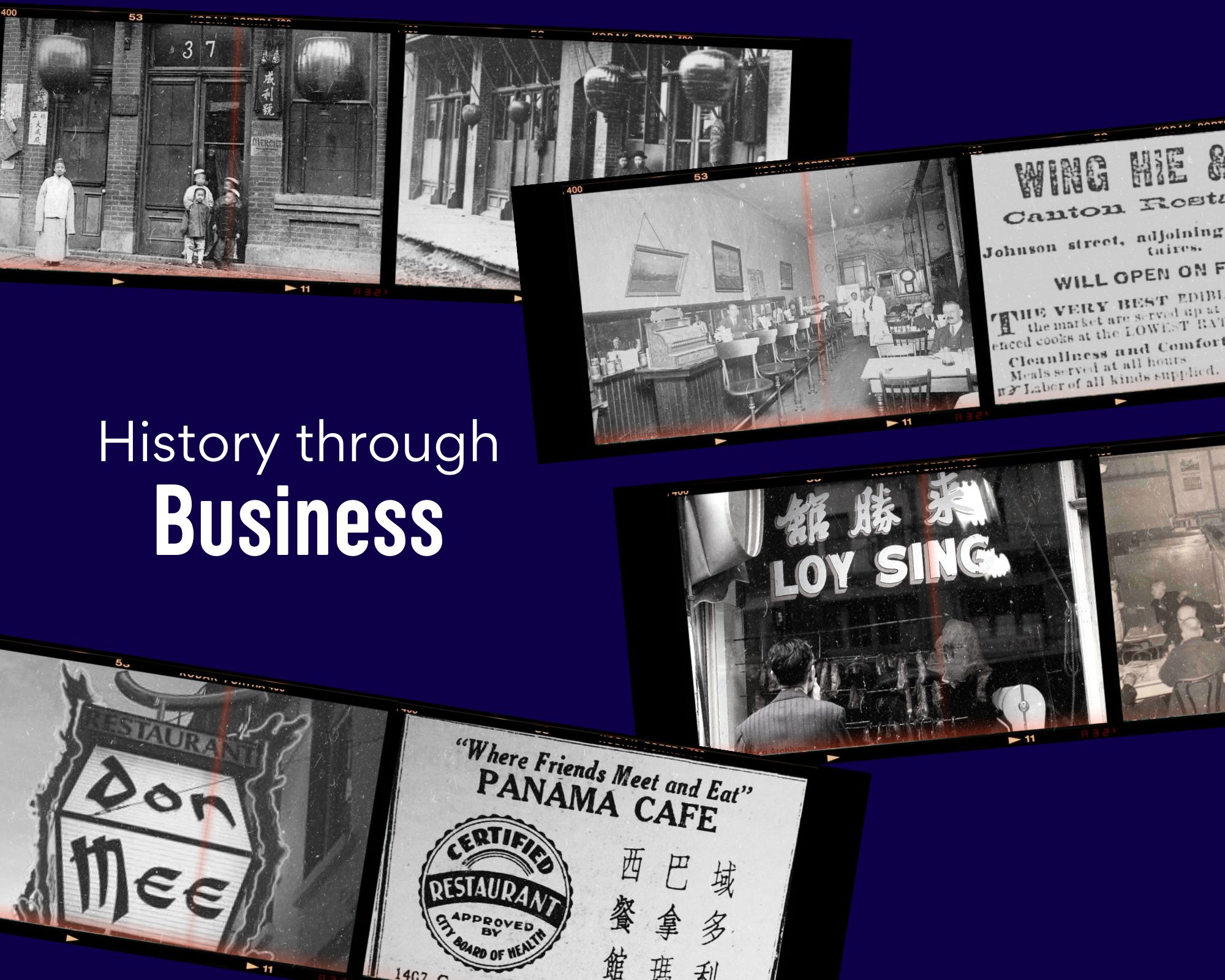 Loy Sing Co
554 Fisgard St | 1889 – Present
This butcher shop has been open for over 130 years (since 1889) and is the oldest continuously operating Chinese business in North America. Loy Sing Co is the place to go for BBQ pork and budget-friendly meals. The incredible legacy stands on selling fresh whole roast pig daily and the knowledge about the specific foods and styles of preparation that are important for Chinese culture.
Don Mee
538 Fisgard St | 1940 – Present
Today Don Mee is the longest standing Chinese restaurant in Victoria and remains a popular place to enjoy dim sum and other traditional Chinese dishes. Throwback to the history, Lee Gan opened a feed store with the same name "Don Mee" on Government Street in 1922 and branched out with a street-level butcher store at 538 Fisgard Street in 1924. In 1940 he expanded the business by creating an upstairs dining room, which later became Lee's only operation in the 1960s as he consolidated operations in the restaurant only and closed the feed store, butcher shop and other businesses.
The Panama Cafe
1407 Government St. | 1917 – 1967
The Panama Cafe was operated by the Chen family for over three generations from 1917 to 1967. Before closing permanently, they moved from Johnson Street to Government Street. The cafe catered mainly to non-Chinese customers. Every day it prepared a new menu, whose selection appealed to the restaurant's clientele which included white businessmen and shipyard workers who were in Victoria for wartime work. A special characteristic of this 50-year old cafe was that it is one of the few places where the name of the restaurant appeared in Chinese characters (巴拿瑪), using the Chinese name for the country Panama.
Foo Hong
564 Fisgard St. | Early 1950s – 2009
Foo Hong, a classic chop suey restaurant, closed in 2009. They once served a limited menu featuring westernized Cantonese dishes. From 1972 to 1975, it gained notoriety as one of Premier Dave Barrett's favourite places to eat and hold meetings. The location is now taken by I Kyu Noodles, a newer place for authentic Chinese meals.
Share This Story, Choose Your Platform!