MisMacK products are Canadian-made, cruelty-free, vegan, multi-use, and gluten-free. We are so excited to welcome MisMacK Clean Cosmetics and their team to the downtown Victoria community! We interviewed MisMacK owner, Missy, to find out more about this great new business.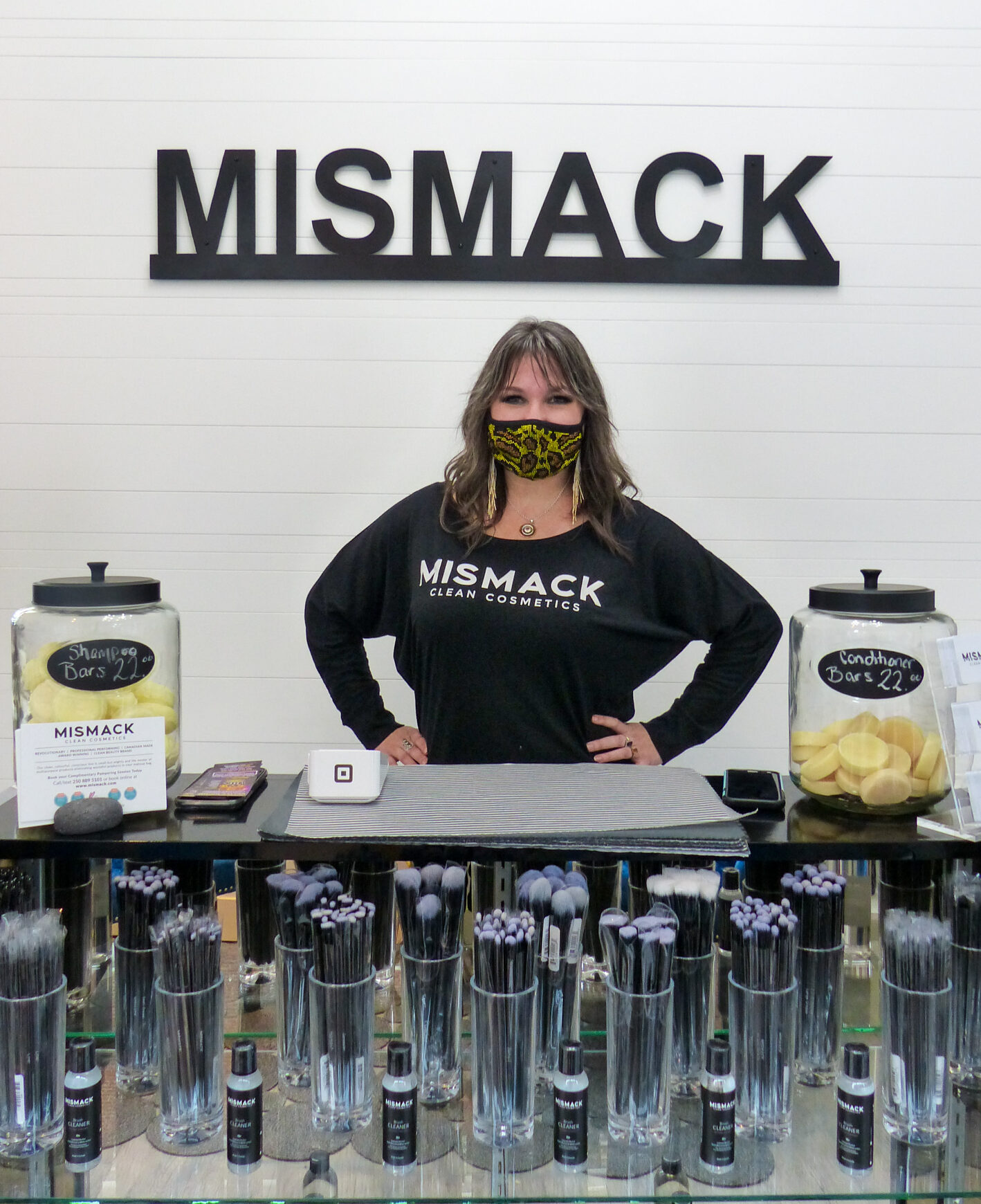 MisMacK Clean Cosmetics
Can you tell us about you and your business?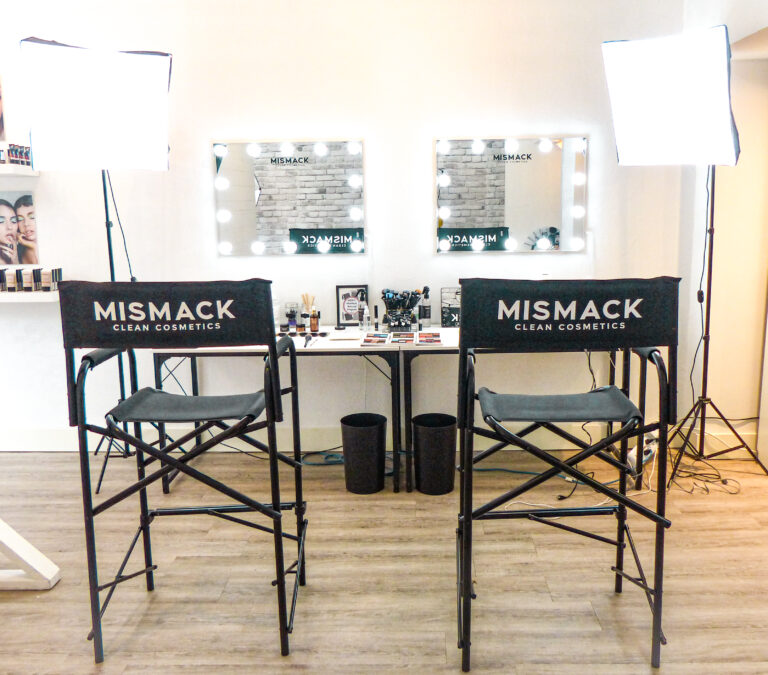 I'm Missy MacKintosh! I'm the founder and CEO of MisMacK Clean Cosmetics. We are the most revolutionary clean cosmetic beauty line on the market. But we're much more than just makeup. We're truly changing and shifting the culture behind the beauty scene and empowering, not just from the outside but from the inside through our educational experiences. I built and designed all of our products from my basement outside of Salmon Arm, in Canoe, down to our package design – you name it, working directly with two female chemists. We launched in 2019, then Covid hit. Originally, I was focussing on wholesale and once the world shut down, I focussed on direct to consumer instead. Within the first week, I offered online Zoom lessons. We had people from Boston, to Winnipeg, to Newfoundland joining in on these lessons.
We grew it out of our basement in Canoe to our first storefront in Salmon Arm in April. Then we opened our second storefront in Victoria on September 2nd! So we're super excited!
How did you decide on downtown, and specifically Broad Street, for MisMacK?
Funny story. Heather Nightingale was my boss when I worked at Makeup Forever way back in the day before Sephora took over the world. She was the top sales executive with Sephora for Makeup Forever for over 20 years. She taught me everything I knew at a young age. When her chapter closed she called me, I flew to Victoria, gave her line "Meet at Pagliacci's!" I remember looking at this location and being like, "that's the dream! Having a store, my own MisMacK store on this little block." Once our original store was doing so well in Salmon Arm, I told Heather she should have her own store! We decided to do it if the right space opens up – but not going to force it. This space came up and we kept coming back to it. The stars aligned and now we have this downtown store for Heather.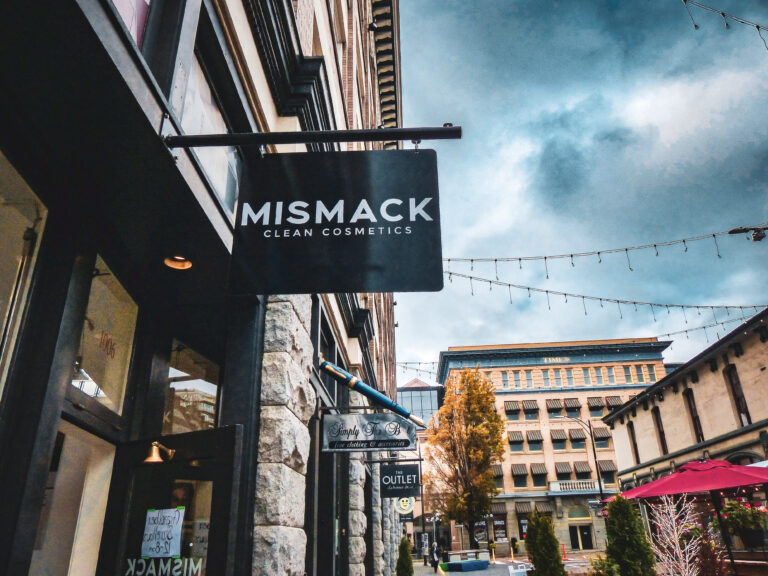 The funny thing is, Heather and I both still work as professional makeup artists and are working in the craft all day, every day. She was working for Hallmark and they were using our space the day that we got the signed lease. She was on set filming in here! So serendipitous!
What is the most inspiring thing about being a small business owner?
I think, for me, it's the look on our clients' faces when they leave. I just had a lesson with someone in the Salmon Arm store, and she was coming to tears with the confidence she felt, just with a two-hour, private one-on-one lesson with me. She learned how to apply makeup properly.
Realizing I did that – my little brand is empowering so many people on so many different levels – gives me goosebumps! That's the best part about building my business.
What are your favourite downtown businesses (other than your store)?
Pagliacci's is dear to my heart, especially now being on the same block. Just sitting, looking out the window and remembering "Oh my gosh! That was the dream!" I also fell in love with a consignment store up on Yates (The Patch) that reminds me of Artie's store off of Cruella, only three times the size! And, Jim from Simply the Best is really "simply the best!" he's been here for 40 years!
What challenges did you face/are you facing from the pandemic?
MisMack wouldn't be in two beautiful storefronts if it wasn't for the pandemic. It truly forced me to pivot, like all of us. I would not have gone direct to consumer and built two amazing, unique, brand concept stores if it wasn't for the pandemic. We're really grateful to be here, and it's just the beginning!
Before the pandemic, I was one of the finalists for Best Youth Entrepreneur with Small Business BC. Last year, I was a finalist in three categories! I was doing pitches days before opening the Salmon Arm store. It will be cool to see what happens this year!
Why should Victorians support local businesses like yours?
When you're supporting a small business in a local community, you're supporting their family behind it, and you're supporting a dream. There's no corporate chain, no major investments behind us, this is us putting our pennies into this to help make this community what it is. I think Covid has helped that. People are helping support local as much as we can.
With MisMack you're supporting female local businesses all along the chain, from our female chemists in Canada, to our local printers and graphic designer who is female, and all local to the communities where the stores are.
Check out MisMacK Clean Cosmetics located at 1006 Broad Street and follow online: