Tesseract 2.0
Welcome to Small Business Month! Through October, you will be introduced to some amazing local downtown Victoria business owners. We interviewed each owner to learn more about their business and what it is like to operate downtown. 
Today, meet Gary from Tesseract 2.0. Let's read more about what he has to say! 
____________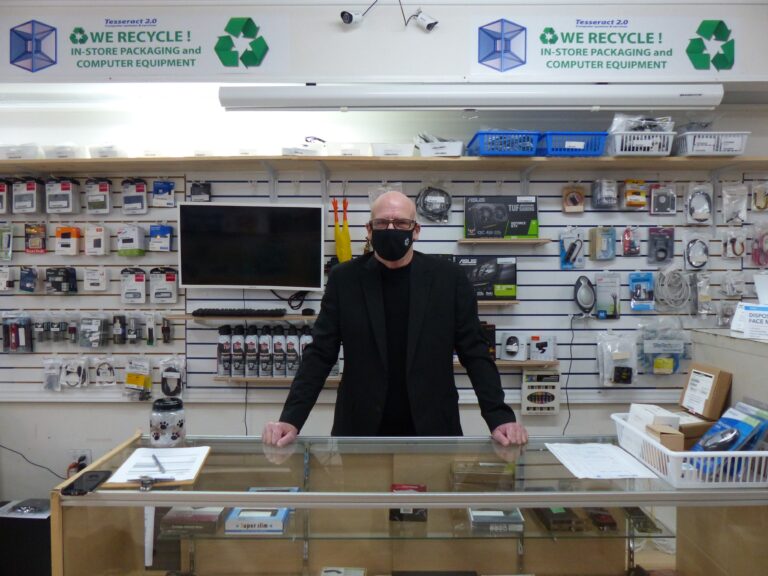 What's the history behind Tesseract 2.0?
"The first Tesseract opened in the late 80s on Douglas Street right across from Hotel Rialto in the City Centre Mall. In the late 90s/early 2000s, it moved to Vancouver and Yates and became Tesseract, doing business as CompuSmart. Sadly in 2008, that had to shut down. In early 2010, my former business partner approached me and asked, would we like to open a store? We looked at about 20 different spaces, we picked the most expensive one at the time in Victoria. We opened in December 2010. Right now, I'm in the process of looking for a much larger space!"
What's the best part about being a small business?
"The ability to make decisions for the store without having to listen to corporate partners and/or corporate management, knowing what's best for our customer, and working with the customer directly."
What has been the impact of the pandemic on your business?
"We were very very lucky in that we worked with our lawyer right away to make sure we were designated as an essential service—we kept computers running for everybody that had to start working from home. It was, frankly, a windfall for us. We are doing better than ever and what enabled us to do is to transition and donate more money to charity. We had a charity of the month program where X number of dollars from every computer sale went to a charity. We did that with five different charities. We also decided to go out and find six restaurants where we bought gift cards. With every computer, people got a gift card. We kept a number of restaurants in money. It was not a lot but we did our part. For example, we helped Steven at Chorizo & Co., Frankie at Frankie's Modern Diner, John Canton at John's Place, and Pagliacci's (one of my favourite places!)"
Why should locals support small businesses?
"As we are seeing in the news right now, ninety-some-odd percent of businesses are small businesses. These businesses are the backbone of British Columbia's economy. Without those small businesses, where are you going to drink your tea? Where are you going to have your coffee? Are you going to keep buying from the corporate giants that suck the lifeblood out of cities? The major players out there aren't there for you, they are there for a profit. As a small business, we're here for a profit, but our money stays in Victoria. The locals reap the benefits of locals shopping here!"
____________________
Make sure to check out Tesseract, located at 1001 Douglas Street, Unit G11
Thank you to Gary for being a part of Small Business Month and sharing your voice as a beloved downtown Victoria business owner! View our other blog posts for more incredible local business interviews.