VI Plant Shop 
Welcome to Small Business Month! Through October, you will be introduced to some amazing local downtown Victoria business owners. We interviewed each owner to learn more about their business and what it is like to operate downtown. 
Today, meet Bethany of VI Plant Shop. Let's read more about what she has to say!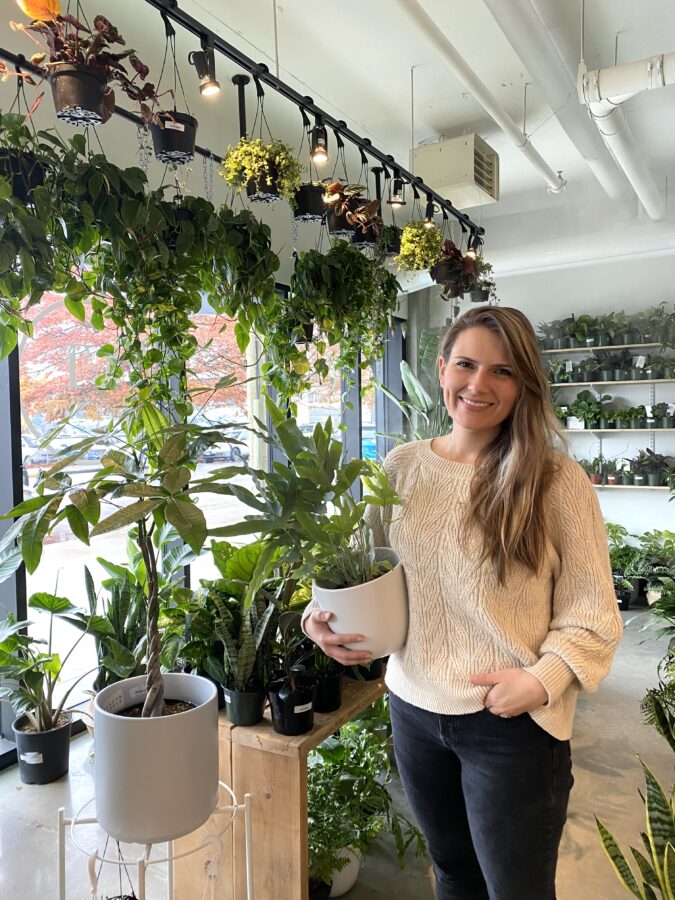 ____________________ 
The Inspiration behind VI Plant Shop
With a background in marketing, Beth has always had a passion for all things plants. When she wanted to expand her personal collection of houseplants during the lockdown, she realized that the plants she wanted were not easily accessible. Many people either buy plants online or purchase them from big box companies. Not wanting to jump through these internet hoops and overly priced items,
she saw an opportunity to solve this problem that other people might also be facing! Bethany wanted to create a space where individuals could receive beautiful plants at a great cost while also becoming more knowledgeable about plant care. 
____________________ 
Plants, Plants, Plants!
"We bring in a variety of pet-friendly, low-light, and low-maintenance plants…we believe there's a perfect plant for everyone!!"
Bethany explained all the various plant options she provides in VI Plant Shop. She ensures everything is clearly categorized for customers so they have a seamless shopping experience. Not only that, but she also explained the importance of the pet-friendly plant section! It is important to note that shoppers with animals such as cats should be careful when buying certain plants as toxins can be harmful! She provided her expertise in which plant options that are safe depending on the shopper and what their space looks like at home. This in-person experience allows Bethany and her staff to really understand the customer's needs and give them proper direction. 
"A really big reason why I wanted to open a retail plant store was the opportunity for face-to-face interactions with customers to really understand their needs and what their environment looks like at home." 
____________________ 
Sourcing Local
Bethany explained when sourcing the plants she mostly remains local! She works very closely with a family-owned grower and distributor in Saanich that supplies her with her beautiful plants. As demand has been rapidly increasing for bigger and diverse plants, she also sources additional options from the mainland. 
"When you are supporting our business you are also supporting local greenhouses as well! Without them, we wouldn't have a business, it's about looking at the whole supply chain!" 
____________________ 
Plant Recommendations
Bethany recommends first-time plant parents try more low-maintenance and low-light tolerant plants. These types are considered to be more "bullet-proof" in terms of ease in care and placement of where the plants should go inside your house! Her tops picks are ZZ plants, Snake Plants, Golden Pothos, and Heartleaf Philodendrons. If you are a first-time plant buyer, these are the perfect beginner plants! 
____________________ 
Sense of Community
When Bethany first opened her shop, she was amazed at how welcomed she felt by other downtown owners and employees! This inviting neighborhood made Bethany feel right at home when first opening on the block. 
"The businesses that have welcomed us are excited that new shops  are moving into the area because it is good for everybody!" 
____________________ 
Exciting Future Projects
Bethany shared two very exciting projects that she will be working on! The first is expanding their monthly subscription boxes to include more tiers of options for people! This way, you can receive a monthly plant and optional accessories that suit their needs.. The next project Bethany is excited about is supporting other local businesses who want to green their space. Any offices or restaurants for example can reach out to Bethany and her team to come into their space and provide their input and of course, plants! Given this team has years of plant care knowledge, businesses can count on them to amplify their environment. 
____________________ 
Make sure to check out VI Plant Shop on 515 Chatham Street!
Thank you to Bethany for being a part of Small Business Month and sharing your voice as a beloved downtown Victoria business owner! View our other blog posts for more incredible local business interviews.