Chorizo & Co
Welcome to Small Business Month! Through October, you will be introduced to some amazing local downtown Victoria business owners. We interviewed each owner to learn more about their business and what it is like to operate downtown.
Today, meet Stephen and Dave of Chorizo & Co. Let's read more about what they have to say!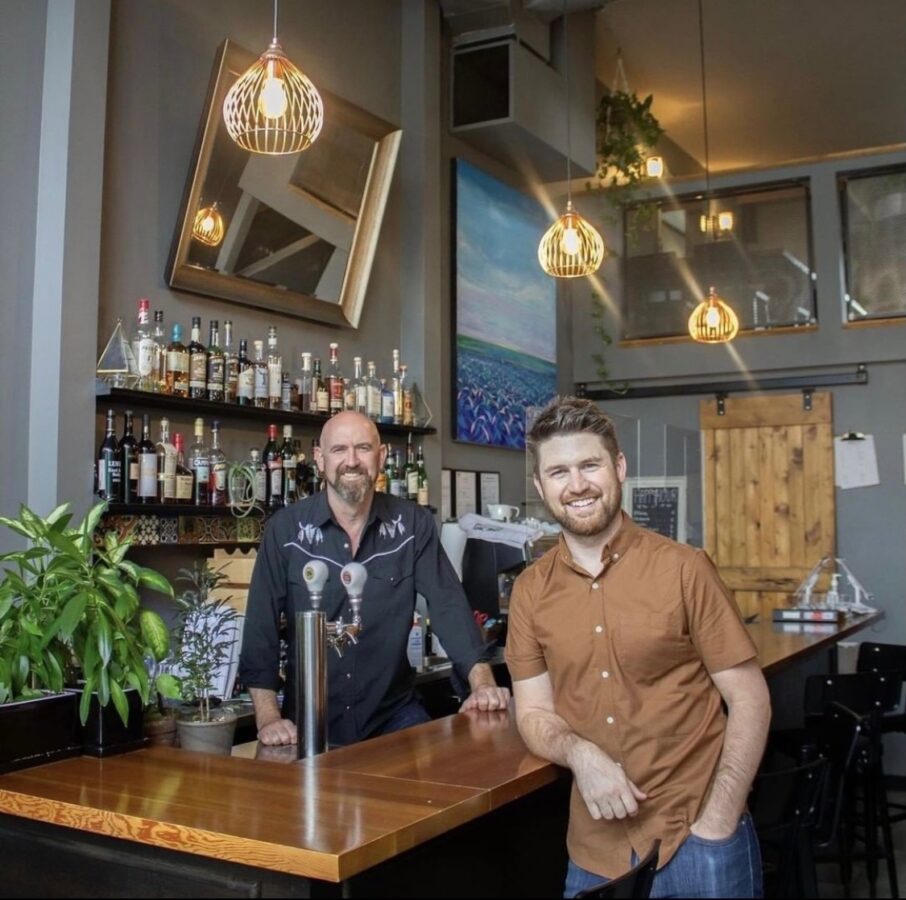 ____________________
Motivation Behind Chorizo & Co
Working together at a Fernwood restaurant for many years and combining their skill sets, it was only natural for Dave and Stephen to open up a downtown business. With their vast industry experience and much time to build a solid business plan, they were able to open Chorizo & Co's doors in the Fall of 2018. A desire to create a small and warm space with a beautiful bar was the vision these two co-owners wanted to make for guests! Moreover, incorporating Spanish-inspired tapas and beverages into this space was a major inspiration!
"We wanted to stay loyal to our philosophy and stay loyal to our ideas of good food."
As soon as the current space was available for viewing, both Stephen and Dave were instantly drawn. They were mesmerized by the overhanging mezzanine, views overlooking the restaurant from upstairs, windows that gaze over the Fort Commons, and so much more that caught these two co-owners eyes!
Fun Fact: Chorizo & Co used to be a Spanish deli shop! Stephen and Dave decided to keep the name as a homage to the previous owners and to keep the Spanish-themed menu alive.
____________________
Local Support during the Pandemic
Both Stephen and Dave noticed a major support system from local Victorians over the course of the pandemic, especially during the lockdown. Dave explained that many customers were calling in and emailing asking what they could do to help. From wanting to buy Chorizo & Co merchandise to gift cards, they just wanted to know exactly how they could help out!
____________________
Delicious Menu Options
"We are a restaurant and we want to give you the full experience…amazing drinks and food, impeccable service, a beautiful space. It's the whole encompassing points of what we should be doing!"
The two co-owners explained that giving customers a dynamic experience is very important to them. On top of this, they value a commitment to quality. Chorizo & Co operates to specialize in all areas of food, bar, and atmosphere to give anyone who walks in a unique experience! Dave and Stephen also love making beautiful, fun drinks! Being that both these co-owners have so much restaurant know-how, they want to ensure they are offering an eclectic array of options. One of the pros of operating in their small space is they really get to know their customers so they can delve into what they think people should try out! They further explained that because of this background, customers put their trust in Dave and Stephen to help them pick the best options for their differing tastes. With their 20+ years of industry experience, customers can count on them to make them the best drinks and eats!
____________________
Sense of Community Downtown Victoria
When asked about a sense of community in the downtown area, both Stephen and Dave agreed they definitely felt this, especially among all the restaurants! Being that they have built so many wonderful connections with other owners in the downtown district, it is amazing seeing them come in to enjoy their offerings at Chorizo & Co! They shared that this really shows how much of a community downtown Victoria can offer when everyone wants to support one another.
"It's pretty neat when you look around at our restaurant and see that almost everyone owns a small business in downtown Victoria."
____________________
Advice for other Small Downtown Business Owners
As many business owners are appearing across downtown Victoria, receiving some wisdom from long-standing owners can be very helpful! Dave and Stephen emphasized the importance of sticking to your principles and standards. Keeping these two values in place can make a business go extremely far. Beyond this, when it seems like things are getting hard, do not waiver! Stephen explained that this can be detrimental to a business and you have to keep pushing to make your business work.
____________________
Make sure to check out Chorizo & Co on 807 Fort Street! You can also view their takeout options at Tutti Victoria!
Thank you to Dave and Stephen for being a part of Small Business Month and sharing your voices as beloved downtown Victoria business owners! View our other blog posts for more incredible local business interviews.