Downtown's Tattoo Parlours
Downtown Victoria has many wonderful tattoo parlours, which all boast fantastic artists in every style! Whatever design, style, or imagery you want, there is the perfect artist for you here. Many of these fabulous tattoo artists have online portfolios and photos to help you in your search.
Like with our other small businesses, COVID restrictions have affected Victoria's tattoo parlours greatly. They need our support right now to be able to stay open. Don't forget that posting on social media about your favourite parlours and artists is a fantastic and easy way to lend them your support!
Painted Lotus Studios
WEBSITE | FACEBOOK | INSTAGRAM
Painted Lotus Studios began creating unique tattoo artwork in 2009. They are a custom tattoo studio, dedicated to providing every client with a personalized, safe, and positive experience. Their artists are all incredibly talented. Check out their online portfolios for help finding the right artist for you!
View this post on Instagram
Tech Noir Tattoo
WEBSITE | FACEBOOK | INSTAGRAM
Owned by experienced artists, Bobby Tripp and Miles Kanne, Tech Noir Tattoo strives to break free of preconceptions about what a tattoo parlour is. They offer their clients a stylish, modern, and friendly environment and a fabulous experience. They take a clean, modern approach to their craft, with a unique open concept and a flair of Art Deco.
View this post on Instagram
Universal Tattoo
Universal Tattoo on Wharf Street first opened in 1978 and has been offering high-quality artwork and customer satisfaction ever since. They have a relaxed and friendly environment and practice the highest standard for sterilization in every aspect of their work.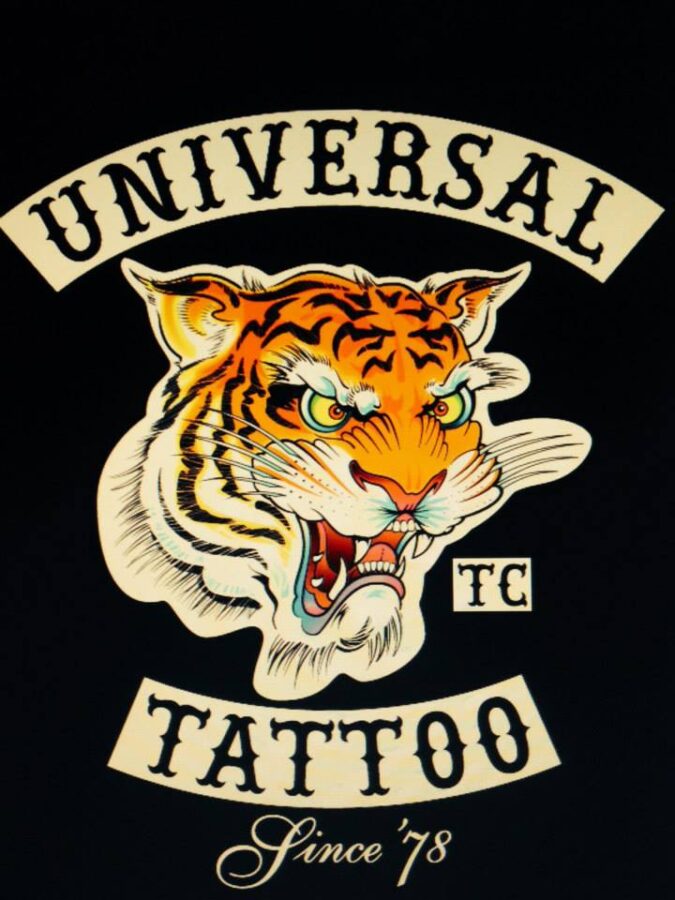 Black Cat Tattoo
Black Cat Tattoo was founded in 2016 by Cate Webb. It is an inclusive tattoo shop, which also features products by local artisans. The shop first opened in Fernwood but moved downtown in 2020. Their new location may be bigger but it is just as welcoming and wonderful as it has always been.
View this post on Instagram
Lucky Fortune Tattoo
WEBSITE | FACEBOOK | INSTAGRAM
Lucky Fortune Tattoo is located in historic Chinatown, just past Fan Tan Alley on Pandora Avenue. They offer services in all kinds of tattooing. Big or small, they would love to see you! Send them an email for an appointment, it's that easy!
View this post on Instagram
Empire Tattoo
Empire Tattoo has been creating beautiful custom tattoos since March 2011. They have a series of house Artists, as well as hosting short- and long-term Guest Artists throughout the year. Their designs are all one-of-a-kind. Check out their artists' portfolios to get a feel for their different styles and to find the right person for you.
View this post on Instagram
Union Tattoo & Piercing Studio
WEBSITE | FACEBOOK | INSTAGRAM
Union Tatto & Piercing Studio was established in 2007 by artists Leroy Adrian and Greg Murphy. With seven talented tattoo artists and one skilled body piercer, they offer custom designs in every style! They provide free consultations to help you design the perfect tattoo for you.
View this post on Instagram