Buying Less Fuel
The Effects of Fuel-Based Vehicles
The effects of cars, trucks, SUVs, and more on the environment are great.
When we burn fossil fuels, like gasoline and diesel, we release harmful chemicals and other greenhouse gases (GHG), which cause the atmosphere and the planet to warm. These GHG include carbon dioxide (CO2), methane (CH4), nitrous oxide (N2O), and hydrofluorocarbons (HFCs).
In 2017, the Government of Canada estimated that there were approximately 18 million passenger vehicles on Canadian roads, which makes them a major polluter of the environment and a big contributor to air pollution. They emit various air pollutants, from GHG to particles, including volatile organic compounds (VOCs), nitrogen oxides (NOx), particulate matter (PM), carbon monoxide (CO), and sulphur oxides (SOx). When both nitrogen oxides and volatile organic compounds react, they result in ground-level ozone, a respiratory irritant. Ground-level ozone is also a major component of smog.
To break it down, passenger vehicles contribute the following amounts to our national transportation emissions:
approximately 21% of nitrogen oxide (NOx) emissions
approximately 51% of volatile organic compound (VOC) emissions
approximately 4% fine particulate matter (PM 2.5) emissions
Alternatives to Fuel-Based Vehicles
Choosing alternative modes of transportation, such as cycling, walking, and riding the bus, is a fantastic way to reduce both our own personal environmental footprints and that of our city and our country as a whole.
Buying less fuel is one of the best and more tangible ways to live more sustainably and help the environment. It doesn't mean you need to get rid of your car, but try using it less often. Plan out and be intentional about your car trips. Try doing your errands in one trip if you can. Or better yet, try a different mode of transportation!
Here are some of the fabulous downtown businesses that can help you use less fuel and find the right vehicle alternative for you:
Biking
Ride the Glide
WEBSITE | FACEBOOK | INSTAGRAM
Ride the Glide is a family-run business that began as a Segway shop in 2011 and has grown to include a wide selection of electric bikes and scooters. They offer rentals and sales as well as a 5% Green Transportation Rebate on all regularly priced models!
View this post on Instagram
The Pedaler
WEBSITE | FACEBOOK | INSTAGRAM
The Pedaler is Victoria's original guided bicycle tours, including Canada's first craft beer tour by bike. They can customize your tour to fit your interests, skill level, and time commitments. Located at Huntington Manor, they also do bike rentals and repairs!
View this post on Instagram
Giant Victoria
WEBSITE | FACEBOOK | INSTAGRAM
Giant Victoria opened in 2017 and is locally owned and operated by a team of knowledgeable and friendly staff. They have everything from helmets to accessories to bikes, including high-end mountain and electric models. Also, half of their stock is from the brand, Liv, which is dedicated to the female rider.
View this post on Instagram
Broad Street Cycles
WEBSITE | FACEBOOK | INSTAGRAM
Broad Street Cycles is a full-service bike shop, which carries a selection of unique, high quality, and hard-to-find bike brands. They also customize and repair bicycles, as well as selling accessories and clothing for your biking adventures!
View this post on Instagram
Bishop's Family Cycles
WEBSITE | FACEBOOK | INSTAGRAM
Bishop's Family Cycles is a family business with a focus on the specific needs of the family and of young cyclists. They carry a wide assortment of bikes, including children's, e-bikes, cargo bikes, bucket bikes, and long-tail bikes, as well as helmets, safety and high-visibility clothing, and other great accessories. Family biking is safe, easy, and fun when you shop with Bishop's!
View this post on Instagram
Shared Transport
Modo
WEBSITE | FACEBOOK | INSTAGRAM
Modo is a fantastic Car Share service and co-operative, with driving networks in Victoria, Vancouver, Nanaimo, and Kelowna. For a modest monthly fee, you can use their vehicles for all your shopping, day-trip, and other transportation needs whenever you need to. Their fleet includes cars, SUVs, minivans, and more. It's super easy, and saves you money on maintenance, fuel, and storage, as well as helping the planet!
View this post on Instagram
BC Transit
WEBSITE | FACEBOOK | NextRide VICTORIA
BC Transit has a huge fleet of buses across the province, including new heavy- and medium-duty Compressed Natural Gas (CNG) vehicles like the one pictured below. They care about the environment greatly and want to help Victoria and BC reach our environmental goals. Their GPS-based schedule system, NextRide, is a great tool to help you find the route and stop you want, as well as a real-time ETA for the bus.
Riding the bus is a great way to reduce the number of cars on the road, save on fuel, and help care for the planet. BC Transit buses will be FREE on Earth Day. That's April 22nd!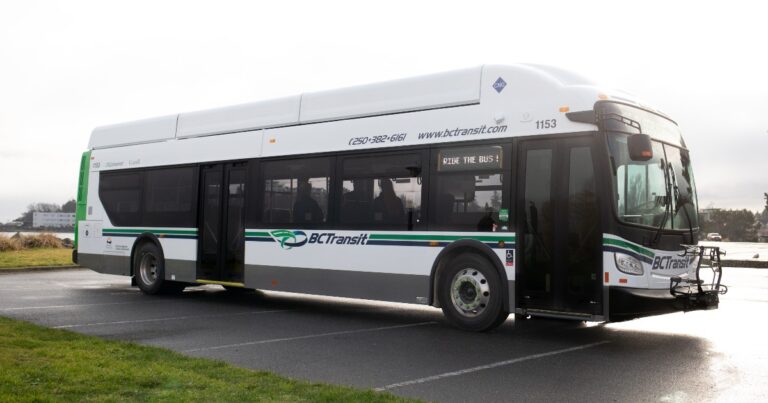 For more information:
If you're looking for more information on the effects of transportation and fuel on climate change and the environment, check out the following links!
https://www.canada.ca/en/environment-climate-change/services/air-pollution/sources/transportation/cars-trucks-vans-suvs.html
https://www.nationalgeographic.com/environment/article/environmental-impact
https://www.epa.gov/transportation-air-pollution-and-climate-change/carbon-pollution-transportation
https://www.epa.gov/greenvehicles/fast-facts-transportation-greenhouse-gas-emissions
https://www.epa.gov/ghgemissions/global-greenhouse-gas-emissions-data