Rising Economy Week 2020
Produced by the South Island Prosperity Partnership, and co-hosted by the Pacific NorthWest Economic Region (PNWER), #RisingEconomyWeek2020 was focused on bringing our region together to build back a more resilient, vibrant and prosperous economy. With an online conference set-up, they included keynote speeches, disruptive ideas, engaging panel discussions and more.
It featured leading thinkers, disruptive ideas, trend insights, economic outlooks, panel discussions, and idea-building workshops, with the goal of moving the needle on our regions' economic recovery.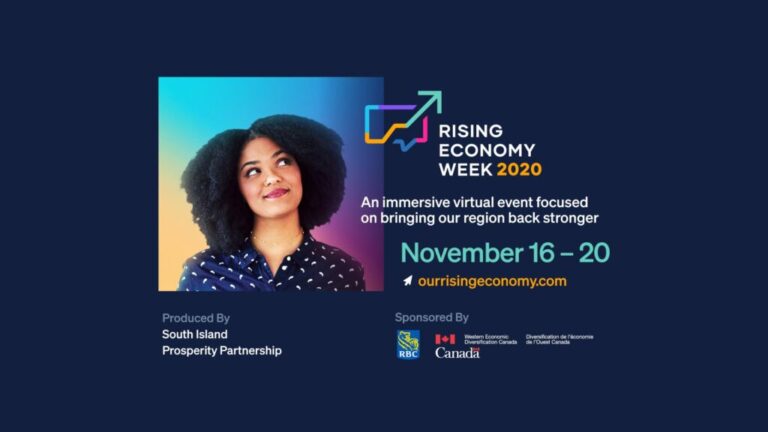 The Green Recovery: How Do We Build Back Even Better?
This panel discussed the potential of a clean and green approach to the future and how we can nurture that goal through innovation and investment. Thanks to One Planet Cities programme, a division of One Earth, who sponsored this session!
Introductions
The moderator for this panel was Bruce Williams, the CEO of the Greater Victoria Chamber of Commerce. His background includes work as a public figure, broadcaster, and diverse roles on senior management teams, both in non-profit and professional environments.
The panelists were John Cook of Greenchip Financial Corporation, Nikki MacDonald of The Winsor Group of Companies, Andrew Pape-Salmon, an adjunct professor at the University of Victoria, Jill Doucette of Synergy Enterprises, and Yamila Franco of Nyoka Design Labs.
Pushback on Green Technology and Investment
Investing in green technology and innovation is not new. There have been companies and individuals interested in developing research and technology, both for the good of the planet and because they understand the financial risks of climate degradation.
Cook said that there was more pushback at the beginning of green tech and that he realized you had to go where investors are willing to succeed in getting people to invest in green innovations. "Others will come to you when you do a good job."
Some benefits of green tech can be harder to see because they are long-term. As we can see from the effects of COVID, there are financial risks and consequences to climate change. Franco said she doesn't "see enough people going towards where we need to be", but we can't let the potential for change of this pandemic to go to waste. This is the time to design our future economy and to make ourselves more financially resilient. It's imperative to be pro-active. For example, with regards to insurance, the cost of prevention is one-fifth to that of paying for reparations to a crisis.
Opportunities for the South Island
In general, we need to figure out what our strengths are here in Victoria and on Vancouver Island. From the CRD's Solid Waste Management Project to the idea of gasification in Esquimalt, there is plenty of potential here. We have the possibility of various ocean technologies.
Building and Construction
This is a busy market. One way to influence other countries, such as China, is to invest in our people, our building workforce. With so many construction projects, renewing building stock and using green materials are great ways to help the climate crisis.
An example of this can be seen in Mayfair Shopping Centre. They are part of a coalition to cut energy use and emissions by 50% by 2030. With the large remodel to the building, they have already cut their energy use by 28%.
Global Manufacturing Plant for Green Buildings
Attracting a global manufacturing plant to the South Island would be another possibility. For example, in the Gaspe region of Quebec, they make wind turbines. There is a city in Oregon of a similar size to Victoria that recently attracted such a project. The question is, can we replicate something like that here?
Advancing Reconciliation
It was Colonialist communities that have degraded so many wonderful natural places and the environment, leading to economic hardships. Indigenous communities have been ignored for so long. That needs to change. We need to understand how to give back to the land and to engage with the natural world and, by advancing reconciliation, we could deepen our understanding of sustainability.
Hydrogen Energy
Hydrogen is a clean fuel, that can be produced from many resources, including natural gas, nuclear power, biomass, and solar and wind power. It can be used in cars and houses, as well as having other applications. It can be used to store, move, and deliver energy produced from other sources and, when consumed in a fuel cell, produces only water.
What could governments do to help advance Green Innovation?
As is stated in Spider-man comics, "With great power comes great responsibility". Governments yield so much power and, therefore, can be a guiding force for investors and others. Here is a list of some things that governments could do to help green innovation gain both social and financial support:
Strengthen the collaborations between businesses and cleantech companies. We need more alignment and partnership between these two sectors to produce support and innovation
Create a way to include peoples and voices in conversations about climate change, technology, and economics, especially those peoples and voices that have been excluded
Help businesses and communities assess the risks of clean technologies and of climate change
Intervene where there's an incentive barrier and help communities align around the long-range view
Help to get ideas and companies from the research stage to the market
Remove barriers from the path to things we want to see, by way of cleantech and innovation
Create an area of innovation for researchers and scientists to access and to share ideas and technologies
Personal Conclusions
The panel discussion remained hopeful in tone and was inspiring for me to hear. We can all help build a better, safer, and greener future together. It will be a challenge but humans are so adaptable and innovative that I know we can succeed if we all work together.
I hope you feel the same sense of hope that I do now that I am armed with these new ideas.