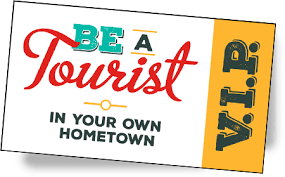 Be A Tourist in Your Own Hometown (BAT) is a 40-year-old tradition that celebrates the many things there are to see and do in Victoria, BC. BAT is an advocacy initiative that is focused on connecting and engaging Victoria residents and their out of town visitors with local tourism businesses. Those experiencing BAT are able to access up to 50 products and services at special rates that are only available once a year during this event. BAT is organized and administered by Attractions Victoria, a local non-profit organization that represents a membership of 41 tourism businesses in the activities and attractions sector.
Offers include attraction admission, activities, tours, and dining experiences. In 2018 the total value of these offers exceeded $750 from 50 participating businesses. Some offers are free of charge while others are deeply discounted. Many of participating businesses such have been participating for many years.
BAT participants represent a cross section of greater Victoria area residents from young families to seniors. While not exclusively, BAT does offer the opportunity for many greater Victorians to visit some of these attractions who otherwise could not afford to do so at regular rates.
BAT has sustained its popularity over the years and continues to be refreshed with new participants. In 2018 BAT took place over two weekends. This proved very beneficial to both VIP Cardholders and business participants. In 2019 BAT will take place on February 22 to February 24 AND March 1 to 3. Find out what offers are available here.