"A flower blossoms for its own joy." – Oscar Wilde
Apparently we shouldn't have bragged about our cherry blossoms. Bundle up! We've got a little more sweater weather coming up. To add a little warmth to your day, how about a little bouquet, or some vibrant plants for your home?
With most trees still bare, February, frankly, could use a little more colour. And of course, for some, Valentine's Day's just around the corner. There are a few fantastic florists in downtown Victoria, to brighten up your office, cheer up a friend or woo your love-to-be or love.
"Orchids don't do well in cold weather. You have to be really careful when it's cold," shares Andrea Posno-Walker, Co-owner of Poppies Floral Art at the Atrium. "Other than that, orchids are an excellent option for gifts, because they're so beautiful and they last a long time."
A passionate flower devotee, Andrea Posno-Walker glows as she shares her wealth of knowledge and love of flowers and plants. She also offers flower arranging boot camps and workshops to help promote the love and appreciation of flowers. "I want this industry to thrive. It's all about the flowers. There's just so many gorgeous ones."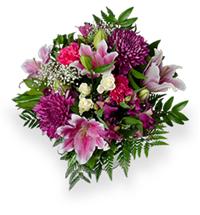 The other fabulous downtown Victoria florists to explore:
Brown's the Florist has been in the community for more than 100 years with an exquisite range of bouquets, gift baskets, plants and finishing touches including Victoria's decadent and iconic Rogers' Chocolates.
Flowers on Top Inc. is located in the heritage "Counting House" on Broad Street and specializes in "fresh cut flowers and indoor plants for all occasions."
Rook & Rose offers a stunning range of rare and wild flowers an an array of curated accessories, such as scented candles, books, prints, ceramics and "floral inspired apothecary."
"People from a planet without flowers would think we must be mad with joy the whole time
to have such things about us." ― Iris Murdoch
"For the most part, people don't buy flowers for themselves. It's special. People like giving gifts, as recognition for caring. But a lot of people don't want more stuff, so plants or cut flowers work well," shares Andrea Posno-Walker. 
Have an idea for a bouquet, or want some inspiration from one of these four expert purveyors? Make use of the 1-hour free parking in the city's parking lots. That's plenty of time to pick up a plant or a bouquet! Also, pro-tip, when you pre-book a bouquet they're not made until the day before. They're always fresh. Enjoy!
"In joy or sadness flowers are our constant friends."
― Okakura Kakuzo, The Book Of Tea