School's back. Camping gear, glamping, cabin or hotel, thank-you, gear stored away. But the fun's not over. In downtown Victoria, there's always something happening…and next week? It's going to be big.
Rifflandia Festival is almost here. In its 11th year, this amazing and dynamic music festival brings well over 130 groups and performers in for four days and nights of raw talent and incredible beats. Over the years this preminent event has been growing, and evolving, securing itself in the hearts of thousands of people of many musical tastes. The day events at Royal Athletic Park are all-ages, but the evenings are all 19+. Downtown Victoria is the site of most of the eleven night stages, such as Capital Ballroom, Lucky Bar and Copper Owl. Check out the Rifflandia Festival schedule to explore this year's not-to-be-missed lineup.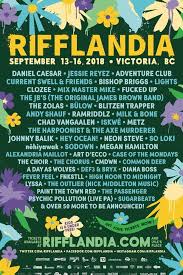 But it's not just about the music. It's also about the community. Our community. Your community. Check out Wristband Connect to learn what Victoria business deals you can enjoy just for wearing your wristband. From 2 for 1 pizzas at Fiamo Italian Kitchen to a free day pass at Club Kwench, from sandwich deals at Rise & Grind to drop-in yoga deals, not to mention shoe discounts at Baggins and 20% off at many other great stores! The Rifflandia community is grassroots and embraces many downtown Victoria businesses. Spend some quality time exploring your city as you head out for music you love and music you are don't know yet, but you are about to love.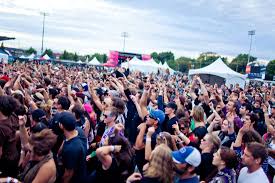 And then there's Winlandia. As I mentioned, there's always something happening. This Rifflandia component is about prizes! Enter to win, again, with your wristband (don't take that off, it's taking you so many places), at a number of local businesses. The prizes are fantastic. Who doesn't want a Roast box for four? Or a class to learn to make your own macaron with Bon Macaron Patisserie? Or $100 for The Joint Pizza? So many prizes.
Okay. I think I've made my point. I haven't touched on a few of the gems I've come across, listening to new-to-me names like Sophia Danai,  Jessie Reyez and The Sorority. But now, you have the schedule, have a listen. Do some digging, you'll be thrilled with what intense talent's almost here.
There are a lot of prizes, a lot of deals, and a heck of a lot of mindboggling, soul-satisfying music to take in Sept 11-13 at Rifflandia Festival. And this post just looks at downtown. That's not even where the main event takes place! It's epic and its getting closer. Grab those tickets and those wristbands, and I'll see you there!