"Let's grab a coffee."
"Let's discuss it over tea."
"Why don't we meet at X. It's new and I've been dying to try it."
…Yum, yum, yum. Downtown Victoria has so many tasty options to explore while you meet, interview, reconnect, network and more. But take a look outside, maybe mix it up a little, and throw a sports rental into your meeting/team outing/reconnect/teambuilding. Rent kayaks for an hour, or bikes and take a spin along the water, or chill on a SUP while you see if your minds connect well. Sometimes it's nice not to sit right across the table from someone. Doing something active while chatting can be really effective. It frees up the mind and gets that oxygen in there. Just a thought.
Author Nilofer Merchant gave a TED Talk about this. "Sitting has become the smoking of our generation…So, instead of going to coffee meetings or florescent lit meetings, I asked people to go on a walking meeting …There's this amazing thing about getting out of the box that leads to out of the box thinking."
Want some help with that planned spontaneity? We've got you covered. Here's a complete list of the sport rental companies within the downtown Victoria boundaries.
We'll see you out there…Because we can!
photo credit: Bike Tours Victoria BC
Bikes
Bike Tours Victoria * Accessibility: They have trail-a-bikes 
The Pedaler * Accessibility: They have tandem bikes, e-bikes and access to a trishaw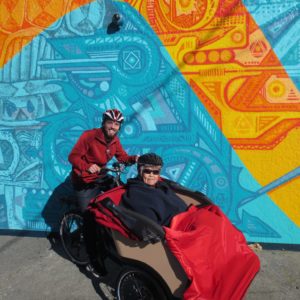 photo credit: Cycling Without Age (trishaw featured)
Cycle Treks * Accessibility: One tandem bike attachment
Victoria Cycle BC * Accessibility: e-bikes
Sports Rent Bikes, SUP, Canoes, in-line skates, etc. *Accessibility tandem bikes and trail-a-bikes
Kayak, Canoe and SUP
Ocean River Sports * Accessibility: wheelchair accessible dock
photo credit: SUP Victoria
Victoria Kayak * Accessibility: wheelchair access and dog-friendly
photo credit: Victoria Kayak
Handy tips for paddling around Victoria: