We all want to experience the joy of giving a gift no one was expecting on Christmas. What is even better is when the person getting the gift could truly use it. Then, not only are you the hero who is great at surprises but you show you know your friends/family well. So, let us give you a few ideas. Some of these stocking stuffers are really practical, some are excitingly new, but all are perfectly suited to the weekend warrior or adventure enthusiast on your list.
1. Tech Wash And TX. Direct Treatment Combo.
This stuff is great. Period.
Any adventurer or weekend warrior is getting out there in the rain and, eventually, their rain jacket or Gore-tex shell is going to need a little TLC. How thoughtful of you to think of the jacket. This inexpensive and underrated gift is the gift that just keeps on giving. Revitalize a vital piece of adventure equipment this year by giving the Nikwax Duo Pack.
2. A Bright Flashlight
Each adventurer is different, but I bet you we can narrow it down to just two flashlight options for you. The Nebo Blast Flashlight is super bright, like 1400 Lumens bright, and completely waterproof. Perfect for the paddler or water baby on your list – or just for that intense camper you know who will be in a hammock in a downpour.
The other awesome option is the Nebo Slyde1+ which, as the name suggests, slides out into a work light. With the magnetic base, this 300-lumen LED flashlight instantly becomes a useful 200-lumen work light that you can attach to anything with the magnetic base. Extremely versatile, plus its practically invisible with its camouflage pattern.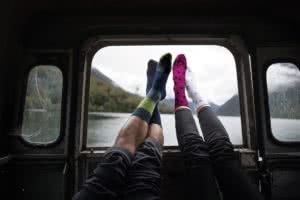 3. Merino Wool Socks
Icebreaker, need we say more? These amazing socks will keep your feet dry and warm and provide cushion where you need it most. Plus, they have a lifetime guarantee! If you wear a hole in the sock – get new ones. Simple. I mean we are talking the sock's lifetime not your 8-year-olds, but still, socks live a surprisingly long time. Come in and check out the awesome patterns in the store.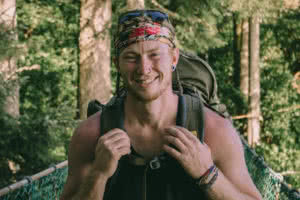 4. Buffs
No, we are not talking about "in the buff" we are talking about wearing a buff, like on your head. Buffs are versatile must-haves for any adventurer. Perfect for washing up or cooling down, when you dip it in a cool stream on a hot day. Keep your hair out of the way after a few days on the trail, out of sight out of mind right? Is it a headband, is it a hat, is it a bandana? No, it's a Buff.
5. Waterbottle
This may seem super boring but a new HydroFlask is one of those gifts no one remembers to ask for. These awesome bottles or coffee flasks can keep hot drinks hot or cool drinks cool, which is as it should be. Plus, they come in some bright and vibrant colours because who said water can't be fun.
6. Tenacious Tape
Okay, so we may have picked this because it is just fun to say. Being serious though, Tenacious Tape is a miracle tape that can fix tears and damage to your gear. It basically sticks to almost anything and is machine washable. A must-have item in any adventurers pack.
7. Chums
Chums are one of those things like Tech Wash. The adventurer on your list probably has a great pair of sunglasses to help them on their missions in the wild. Chums are a great gift to make sure that those sunglasses never fall to their doom. Come see the full selection of styles and colours in store.
8. All Weather Notebooks
We live in a wet place; there are lakes and rivers, rain and puddles, and to top it all off we are surrounded by the ocean. With all of this moisture, writing while on an adventure, or even just outside, can be really difficult. Enter the All Weather Notebooks. These handy notebooks aren't scared of a little shower. Get a pocketbook for the inspired adventurous writer on your list who needs a reliable place for all those great ideas. For the paddler on your list, there is a log book with numbered pages too.
9. Black Diamond Charging Station And Lantern
It is a charging station AND a lantern, plus it is super compact and small. Both the Moji and Apollo can charge your devices and light your late night game of cards out on the trail. This is the coolest little camp and adventure gadget.
10. S-Biners
S-biners are carabiners but s-shaped. Doesn't sound that exciting but it means you can organize what you put on them easier. Plus, they have different sizes, colours, locking options, and materials to choose from to fit each adventures specific needs.
Find all of these stocking stuffers and more at Ocean River Sports located at 1630 Store Street.