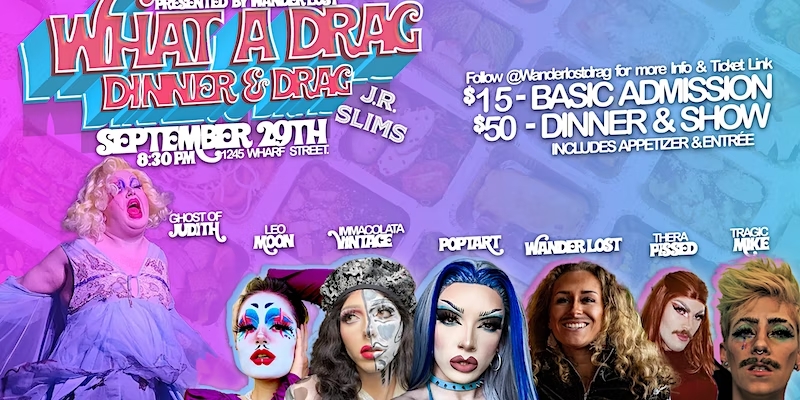 WHAT A DRAG: Dinner&Drag @ JR Slims
September 29 @ 8:30 pm
|
$15 – $50
We are back, back, back again with more Charisma, Uniqueness, Nerve and Talent at JR Slims! Come join us for Dinner & Drag!
Wander Lost presents WHAT A DRAG: Dinner & Drag at JR Slims!
Come enjoy delicious food as well as local drag entertainers as they take the stage and dance the night away!
Basic Entry Tickets available for $15.00. ***Does NOT Include Special Dinner Menu.***
Full Dinner Ticket includes:
Entry into event
Appetizer and Entrée
One hell of a show!
MENU
Appetizer Choices:
Coconut Cauliflower,
Beef Carpaccio or,
Crab Croquettes
Entrée Choices:
California Cut Beef Striploin,
Herb Crusted Pacific Long Cod or,
Wild Mushroom Linguine
Performances By:
POPTART (@pastryslut69)
Immacolata Vintage (@immacolatavintage)
Tragic Mike (@tragicmikedrag)
Leo Moon (@leo.moon.drag)
Ghost Of Judith (@ghostofjudith)
Thera Pissed (@seeyouin2weeks)
Wander Lost (@wanderlostdrag)
Share This Story, Choose Your Platform!