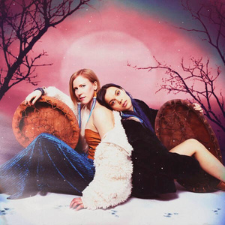 Vilda Finnish Duo & Boeur-Iredale Gray Duo
July 13, 2022 @ 8:00 pm

-

11:00 pm

|

$20.00
Join us for an evening of uniquely intriguing and engaging music from Finland / Indigenous Sami Land & Canada
Show 8pm / Doors 7pm
ABOUT VILDÁ
VILDÁ is an original blend of indigenous Sámi yoiks, grooving rhythms and improvisation. Inspiration has been sought from Sámi people's strong connection to nature, present-day pop as well as the Finnish folk tradition. The result is a unique dialogue that takes the listener to a fascinating journey to the Sámi land – the vast landscapes under the arctic hills and frosty winds.
VILDÁs debut album Vildaluodda – Wildprint (2019, Bafe's Factory) has gained great reviews internationally and was singled out as one of the best albums of 2019 by Songlines Magazine. Since then the band has toured in Canada, Spain, the UK, France, Bulgaria and Scandinavia. In January VILDÁ was announced as a winner of the Music Moves Europe Talent Awards 2021 at the ESNS Festival in Holland.
Hildá Länsman – vocals, frame drum
Viivi Maria Saarenkylä – accordion, live effects
Viivi Maria Saarenkylä is one of the most promising young Finnish accordionists. She has been awarded in many renowned competitions such as Castelfidardo and Coupe Mondiale. She has performed internationally and the many travels can be heard in her music as nuances from different music cultures around the world.
Hildá Länsman was born in a small Sámi village called Ohcejohka in the northernmost municipality of Finland. Having grown up with reindeer husbandry, handicraft (duodji) and a joik (luohti) tradition which spans several generations she connects her background with contemporary world music and academic studies. Hildá is a proud upholder of the Sámi culture and joik-tradition and also a member of Sámi fusion bands Solju and Gájanas.
ARTIST WEBSITE: http://www.saurabooking.com/artist/vilda/
ABOUT ELISE BOEUR & ADAM IREDALE-GRAY DUO
A founding member of indie-folk band Fish & Bird, Adam Iredale-Gray is a versatile guitarist and fiddler with deep roots in Irish traditional music and a commitment to innovation. Fiddler and Hardanger fiddle player Elise Boeur draws from the wells of Norwegian and Swedish fiddle music, melds in fistfuls of arcane influences, and emerges with a multi-faceted sound grounded in Nordic traditions. Usually seen touring with their JUNO nominated quintet Aerialists, this is an opportunity to hear their roots come out in a duo setting, as they dig into tunes on hardingfele, guitar, and raging twin fiddles.
Share This Story, Choose Your Platform!