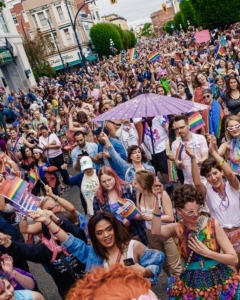 It's time to come out and show the Pride In You! Following two years of cancellations to keep our communities safe from COVID-19, the 2022 Victoria Pride Parade returns to its familiar in-person format.
This year's parade is bigger than ever, featuring over 100 colourful entries, thousands of marchers and 40,000+ spectators demonstrating their Pride and solidarity with 2SLGBTQIA+ communities.
NEW PARADE ROUTE
This year's parade will feature a new route. The parade will marshal in Victoria West before crossing over the Johnson Street bridge into downtown. The parade will proceed southeast on Wharf Street, turn right onto Government Street and right again onto Belleville Street. The parade will march in front of the Legislature before turning left onto Menzies Street. The parade will end at Menzies and Kingston Streets.
After the parade, we invite you to join us at MacDonald Park for the Victoria Pride Festival in the Park.
Share This Story, Choose Your Platform!