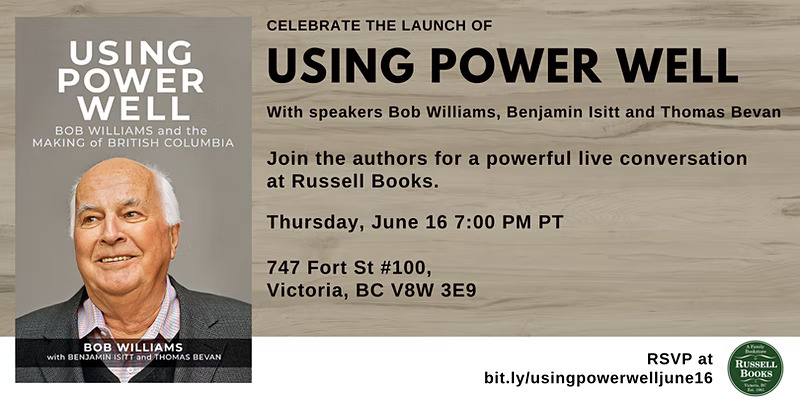 Using Power Well: Russell Books
June 28, 2022 @ 7:00 pm
|
Free
Join Nightwood Editions and Russell Books to celebrate the launch of Using Power Well.
Nightwood Editions and Russell Books invite you to join us to celebrate the release of Using Power Well: Bob Williams and the Making of British Columbia.
Hear Bob Williams, Benjamin Isitt and Thomas Bevan in conversation at Russell Books, Victoria, BC. Thursday, June 16 at 7:00 PM.
This is a free event; all are welcome to attend.
ABOUT THE BOOK
The compelling biography of former British Columbia cabinet minister Bob Williams weaves his political and economical insights with the story of his unconventional life.
In Using Power Well, former provincial politician Bob Williams tells his atypical life story: beginning with his childhood in the working-class east end of Vancouver, Williams goes on to describe his early years as a planner in Delta, BC, his political life on Vancouver City Council and in the BC Legislature—including a major impact on the first NDP government in the 1970s—and his more recent contributions in the world of business and co-operative economics. Williams's legacy is dotted across the physical and political landscape of BC—from the Whistler Town Centre and Robson Square to the Agricultural Land Reserve, the Insurance Corporation of BC and many projects in between. A straight shooter who refuses to mince words, Williams advocates in this highly readable and colourful book for a bottom-up approach to politics and public policy, bypassing bureaucracy in order to use power well.
ABOUT THE SPEAKERS
Bob Williams is a former British Columbia cabinet minister who played a key role in establishing the Agricultural Land Reserve and Insurance Corporation of British Columbia during BC's first NDP government in the 1970s. More recently, Williams was influential in building the Vancity Credit Union into the leading co-operative financial institution in Western Canada.
Benjamin Isitt is a historian and legal scholar specializing in the political and legal history of British Columbia's working class, with previous works including From Victoria to Vladivostok (UBC Press, 2010) and Able to Lead (UBC Press, 2021). He also serves as a city councillor and regional director in Victoria, BC.
Thomas Bevan is an urban planner working to develop affordable housing and living in Vancouver's West End. He grew up in downtown Kitchener, Ontario and has studied cities and real estate values.
Share This Story, Choose Your Platform!