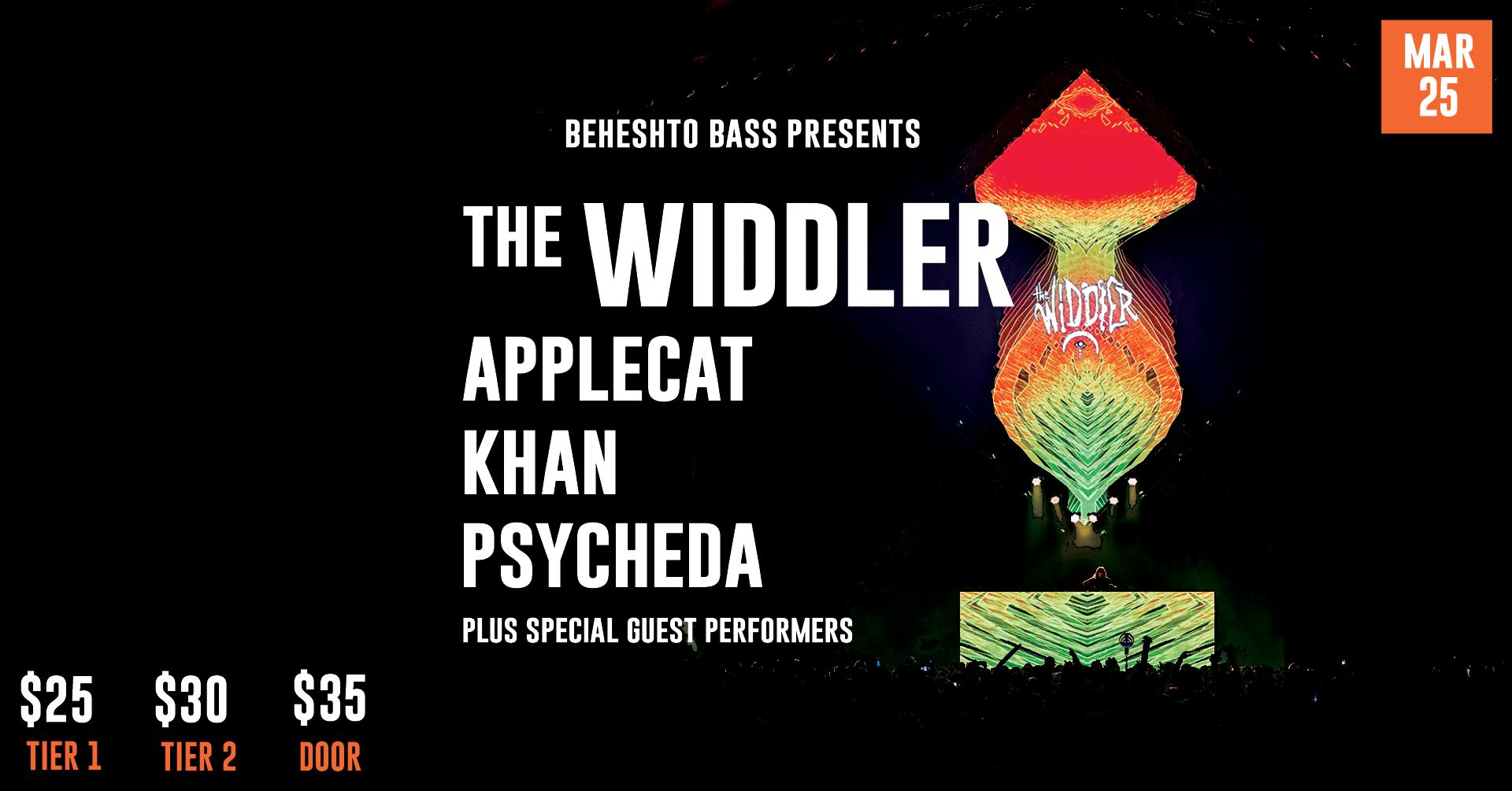 The Widdler & AppleCat ft Khan & Psycheda
March 25 @ 10:30 pm
|
$25 – $35
Come experience a special night of rich bass music, featuring the legendary Widdler and our west coast favorite AppleCat. With supporting DJs Khan & Psycheda and some flow & dance artists that will bring the visual delight.
.:The Widdler:.
Born in Tel Aviv and living in Austin, TX, The Widdler is widely recognized as an innovator and originator of dub sound. Constantly practicing, The Widdler incorporates mix sessions into his daily routine, which translates to his flawless performances at shows; headlining with the likes of Doctor P, Reso, Ajappai, Tipper, Bassnectar, Caspa, Mary Anne Hobbes, Excision, Bukez Finezt, Truth, Downlink, & many more as well as a member of US imprints Dank 'N' Dirty Dubz, MalLabel Music, Deep Dark & Dangerous, & Sub.mission. Taking influence from various genres of music and lifestyle, his tunes comes in all shapes and colors. From the chilled reggae dubs and blue mood atmospheres to the mean menacing throbs of bass and percussion, The Widdler knows how to weave his musical roots with his production that makes each set entirely special. Sit back, light a spliff, and enjoy the sounds of The Widdler.
https://www.facebook.com/thewiddler/
https://www.SoundCloud.com/the_widdler
https://www.instagram.com/the.widdler/
.:AppleCat:.
"A Revolution without dancing is not a Revolution worth having"
Internationally acclaimed electronic musician, and vocalist; AppleCat was raised on the West-Coast of Canada, specializing in Deep Dubstep, Fairytale Bass, Trap, and World influences. On the dancefloor, she weaves a mystic underworld vibe – stating that her intention is to " have us all come out the other side moved in some way – the kind of movement that is far beyond being solely physical."
Grime and poetic grace, with live mashup & reworks, AppleCat blends cinematic sound, with primal bass. This cosmic booty bouncing dubwitch sets bend the perception of "genre" exemplifying her unparalleled "je ne sais quoi."
http://www.SoundCloud.com/applecatmusic
https://www.facebook.com/djapplecat
https://www.instagram.com/applecatmusic
.:Khan:. .:খান:.
A 20+ year veteran of the Canadian west-coast intentional dance scene, Khan's sets are designed to take the dancer on a journey, with beautiful middle eastern melodies & deep bass, meandering thru mystical landscapes. He is a master of the live mix, seamlessly blending loops and layers, weaving epic soundscapes on the fly from the raw elements of his carefully selected tracks, while building the energy of the dance floor to its peak. His mission is to facilitate deep, transcendent journeys that bring dancers to a state of higher consciousness, awakening and deepening into the mystery of the dance, and to spread his conscious groove to as many souls as he can reach along the way. From peak sets to early morning transformations to glorious daytime throw-downs, Khan can bring life to any dance floor. Hailing from the Victoria on Canada's west-coast and a summer festival favorite, Khan's infectious spirit is sure to give rise to some serious magic on the dance floor and beyond.
http://SoundCloud.com/khan
.:Psycheda:.
Cicadas have prominent eyes set wide apart, short antennae, and membranous front wings. They have an exceptionally loud song, produced in most species by the rapid buckling and unbuckling of drumlike tymbals. Most cicadas are cryptic. This particular species has an affinity for dark and deep subterranean beats.
http://SoundCloud.com/psycheda
More Flow and Dance artists TBA
.:Tickets:. 
https://admitone.com/…/widdler-applecat-victoria-8373452
=======================
∆ Tier 1 TICKETS $25 + Fees ∆
=======================
∆ Tier 2 TICKETS $30 + Fees ∆
====================
∆ At the door $35
====================
19+ ID Required
We would like to acknowledge, that this event takes place on the traditional, ancestral, unceded homelands of the Lekwungen people, now also known as the Songhees and Esquimalt Nations. We encourage you to educate yourself and others. And if you can, donate to local causes like the Victoria Native Friendship Center: 
https://www.vnfc.ca/donate
.:Safety & Consent:.
We encourage self-expression through costume, art, music and dance, and expect mutual respect, and appreciation to be shared amongst attendees. We come together to lift each other UP and celebrate everyone's unique identity! Homophobia, transphobia, sexism, and any type of bigotry or aggressive conduct will not be tolerated. The best events are ones where all attendees practice awareness and empathy for all their fellow humans! Please be aware of the effect your words and actions have on those around you, and always strive to conduct yourself in a way that adds to the feelings of fun, safety and security of those around you.
.:Community Support:.
Whether you are attending or not, you can help grassroots alternative counter-culture events like this grow, simply by inviting friends, or posting a link to the event on your social media, along with a personal shout out! Thank you in advance to our extended family of flow art, dance & music lovers out there for helping amplify the vibe!
Share This Story, Choose Your Platform!