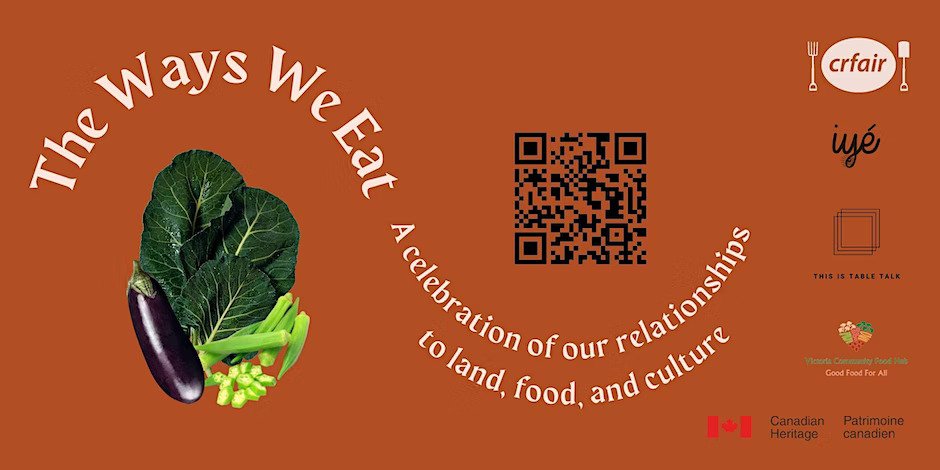 THE WAYS WE EAT: Celebrating our relationships to land, food, & culture
October 26, 2022 @ 6:00 pm

-

8:00 pm

|

Free
The ways we eat is a community celebration series to collectively re-envision and transform our foodways to one based on equity and reciprocity where everyone has access to fresh, local, nutrient-dense, and culturally-relevant food.
Part one is an open invitation to tell stories, break bread and knowledge share.
How do we nourish our minds & bodies during times of strife? What part does food play in our daily lives? Let's celebrate these ideas.
We are all aware of colonial violence has impacted and modified our relationship to knowing and understanding foodways. Throughout this series, we activity & conversation, we will explore the ways in which we access food, land, & cultural practices on Lekwungen territories.
Purpose
What can you expect at the Kitchen Table?
We will eat, share stories and experiences, dreams, as well as our frustrations in the ways we access food. Also, exploring the ways we interact with foodways, and community in order to heal from the oppressive systems that keep us disconnected from our bodies, stories, and wider communities.
We facilitate the articulation of lived experiences and safe spaces for IBPoC food justice advocates, entrepreneurs, food processors to work in reciprocal, respectful, responsible and restorative relationships with all those who trust us to steward and share their stories.
Exploration of what keep us disconnected from accessing , engaging and reconnecting to the land, soil, and stories
About our facilitator
Parker Johnson is a social entrepreneur, creator of the community organization "The Table", in which he facilitates monthly events to promote storytelling and building relationships. Graduate from the University of Victoria studying social psychology and minoring in education.
Parker brings lived experience with 6 years of frontline experience as a youth support worker, assisting at risk youth.
Accessibility
Language: This experiential workshop will be delivered in English
Photos may be taken, if you wouldn't like your photos taken, please let the photographer know.
Food and Beverage
Come ready to eat and participate – tables provided for eating. There will be complimentary tea and refreshers.
Venue Instructions
theDock is located on the third floor of 722 Cormorant Street, across from Victoria's City Hall. There will be ground floor attendant to let people into the venue until 6:10 PM. For those arriving later, we ask that you call 250-814-4022 to have an attendant let you up – there will be a sign at the door.
theDock is a social enterprise created for community and by community providing connection, access to learning, and unique networking events within an inspiring culture.
About the organizers
This event is brought to you in Partnership between different grassroots and community organizations in order to re-envision a pathway for healing through
Iyé Creative is a grassroots collective & social enterprise that focuses on supporting communities to restore their connection and relationship with land, food, health, and spirit.
Our intention is to hold space for and participate in a regenerative revolution where healing, enjoyment, and abundance, are means of breaking through the path of human suffering.
Our work involves providing nutrient-dense, locally-grown produce, strengthening relationships with small-scale farmers, facilitating local, land-based learning, and participating in evidence-based policy development, with a strong emphasis on community consultation.
The Table is a community, resource, and point of connection for self-identifying people of colour. The events take place in public places, (co-working, or event spaces). The goal of these gatherings is for folks to network and share lived experiences.
About the experience
The ways we eat is part of The Palenke Experience a healing-centred community practices as a complement to trauma-informed interventions, events, and services led by the community.
By collaboratively identifying and addressing systemic and structural barriers to sovereignty, such as accessing land and nutritious food, our focus is on creating alternative systems of mutual collaboration where our collective efforts and individual talents contribute to a communal circular economy model.
The Palenke Experience provides everyone with an opportunity to be involved in crafting community solutions as well as advocating for and engaging in policy change.
Share This Story, Choose Your Platform!