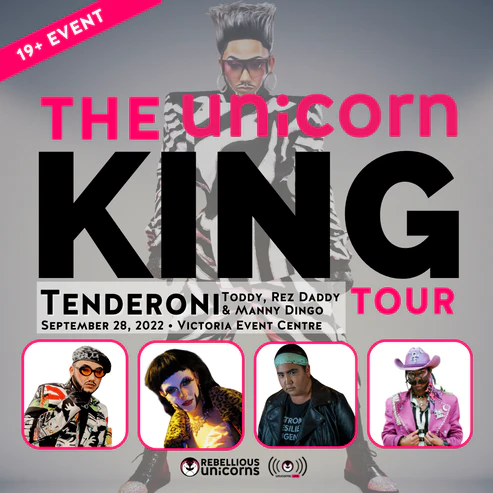 The Unicorn King Tour
September 28 @ 6:30 pm

-

9:30 pm

|

$22.99
Time: Doors @ 6:30PM, Show at 7:00PM
Performers: Tenderoni, Manny Dingo, Rez Daddy and Toddy
19+ Person Event – valid government-issued photo ID is required.
Make way for the Kings, peasants.
Join Tenderoni, Toddy, Manny Dingo and Rez Daddy for a star studded night of performances.
You've never seen a drag tour like this before Victoria, and you might not again. One night only.
The Kings are here. Get ready to bow down.
Featuring the talents of Tenderoni, winner of the 2021 Drag Queen of the Year Pageant, Toddy, winner of OutTV's Call Me Mother along with Toronto's Manny Dingo and Penticton's Rez Daddy, this is a full line-up of out of this world performers.
Ticket Pricing: Varies from $22.99 – $29.99+GST (all ticketing fee's including)
Meet & Greet after the show is available for $10. Digital photos provided
See below for more details around the specific seating options.
About the Performers
Tenderoni
Coming Soon
Instagram
Manny Dingo
Manny Dingo is a Drag King that hails from Haliwood, Nova Scotia. He has been performing since 2015 and started taking up space in Toronto in 2019. He is an powerhouse performer, shy boi, and amature DJ. He serves you a mixture of Prince, Lil Nas X and your favorite fashionable gay uncle. He incorporates gymnastics with voguing, waacking and smooth dance moves across the floor.
Instagram
Rez Daddy
Rez Daddy is looking for honeys to spoil. He's got baby mama drama, blankets on his windows, and a beat up car. Looking to snag? He's your guy. He might even give you a hickey while you're at it. Rez Daddy is gonna wiggle his frog butt and show off his beer gut.
Instagram
Toddy
Toddy is a high energy drag performer, standup comedian and singer-songwriter. Toddy has most recently been featured in OutTV's new drag reality series "Call Me Mother", and was the Season One Winner! Trained as an opera singer, they often find themself at the intersect of classical music and mainstream media. As a comedian, Toddy has been featured on CBCLOL, JFL42, JFL Northwest and the Portland Queer Comedy Festival. They are the number one shrill icon!
Instagram
Twitter
TikTok
We respectfully acknowledge that this event takes place on the land of the lək̓ʷəŋən People, known today as the Esquimalt and Songhees Nations. To learn more about their history please visit their website.
Seating Descriptions:
S1-S5 – Row seating, no tables, step up from main floor
B1 – 4 Stools at 1 high-top table (no backs)
B2 – High stools along the edge of the bar (no backs on stools)
C1-C3 – 4 seats with backs
D1-D3 – 4 seats with backs
E1-E4 – 4 seats with backs
F1-F3 – 5 seats with backs
G1-G2 – 5 seats with backs
H1-H3 – 6 stools at a high-top table (no backs)
M – High stools with no backs
19+ event, government issued photo ID required
Health and Safety Protocols
We respect your decision to wear or not wear a mask at our events.
Accessibility
This venue is NOT Wheelchair Accessible
Bright Lights
Loud Music and/or Sounds
Gender-Neutral Washrooms
There may be the use of fog machines/any other chemicals or smells
If you would like to come but cannot afford a ticket, please reach out at support@rebelliousuicorns.com
Share This Story, Choose Your Platform!