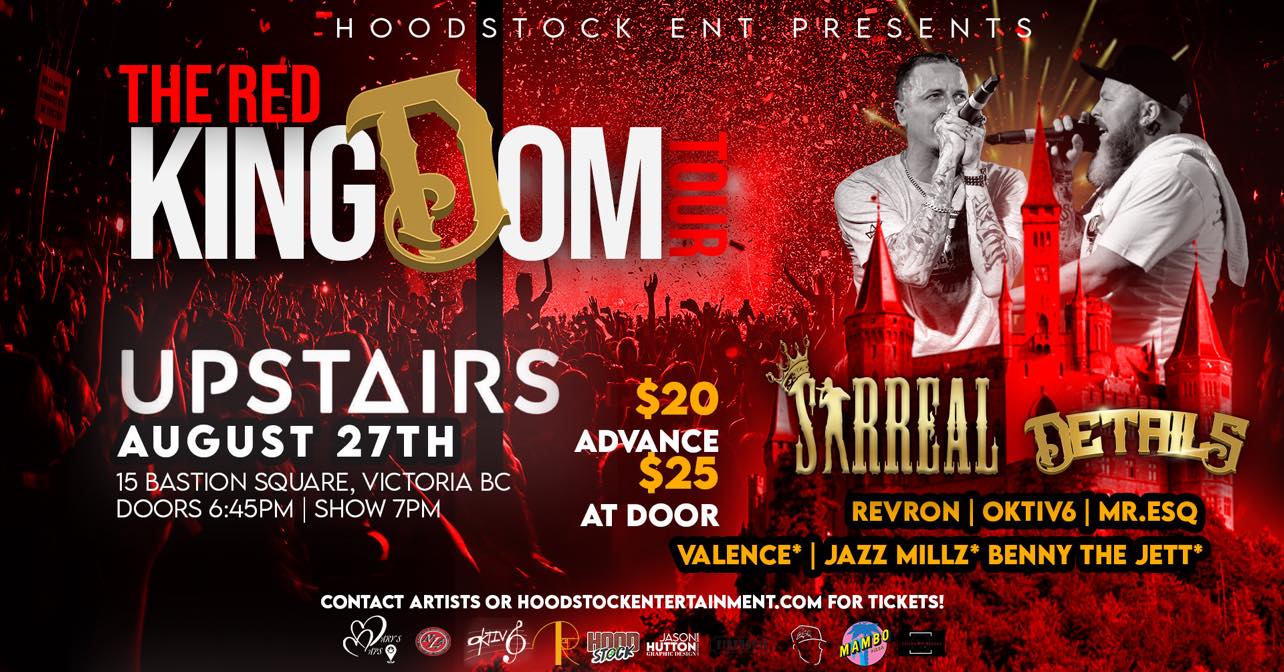 THE RED KINGDOM TOUR with SIRREAL, DETAILS and Guests in Victoria, BC
August 27, 2022 @ 9:00 pm

-

August 28, 2022 @ 2:00 am

|

$22.23
The RED KINGDOM TOUR is set to take place in August & September 2022 across Western Canada with 21+ dates spread across 30 days.
Headliner SIRREAL has recently taken the TikTok platform by storm, holding 1st & 2nd Place ranks as the Country's Top Host on several occasions in 2022. His latest Musical Release 'The RED Album' was due for a tour just prior to CoViD putting a stop to our industry as a whole.
Now back with a rejuvenated spirit & plenty of new music, SIRREAL is set to take his music back to the passionate supporters he calls his FANILY.
Co-Headlining the Tour is Nanaimo Artist DETAILS who celebrates the release of his 3rd Album 'KINGDOM' Friday August 26th on the opening date of the Inter -Provincial Tour.
After creating & founding Island Royalty Apparel during the pandemic, a quality & comfortable brand that embodies Island Life, the longtime emcee has taken a step with HoodStock Entertainment. Efforts to solidify a team mind state with some of the region's top talents has proved successful, check out hoodstockentertainment.com to see the latest.
Making their respective Tour Debuts and providing Tour Support and On-Stage Back-ups are RevRon and Oktiv6. 'Rev' is known for his powerful delivery of well thought out bars, captivating the listener with straight forward energy. He also appears alongside SIRREAL, his 'tag team partner' if you will, ramping up for the release of his first major solo project in 2023.
Keeping the tires on the road is longtime Cut Master DJ Benny The Jett, a fixture in the Island's Music Community & the man chosen to transition this calibre of talent from set to set. He also does it using REAL decks bringing back the art of DJing!
Local Support will be added to each show closer to the show dates, welcome to the HoodStock Era, we'll see you at the 🔝
Share This Story, Choose Your Platform!