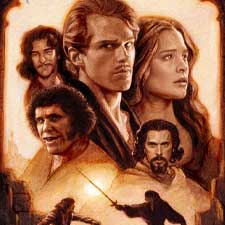 The Princess Bride Quote-along
May 27, 2022 @ 7:30 pm
|
$15
Director: Rob Reiner
"Never get involved in a land war in Asia"
A quote-along with The Princess Bride? Inconceivable! The Princess Bride has entertained generations of film lovers with its gentle charm and endlessly quotable quips, and now you are welcome to quote along with other lovers of this timeless fairy tale! Come celebrate Dread Pirates, Princesses, and Miraclemen, with a special themed cocktail guaranteed to help you have fun storming the castle!
What is a quote-along?
Quote-along? "You keep using that word. I do not think it means what you think it means." Well it means we will screen The Princess Bride with subtitles on, when the time comes to say "My name is Inigo Montoya, you killed my father, prepare to die!", it will leave your lips effortlessly.
Come in costume to celebrate Dread Pirates… castle!
Share This Story, Choose Your Platform!