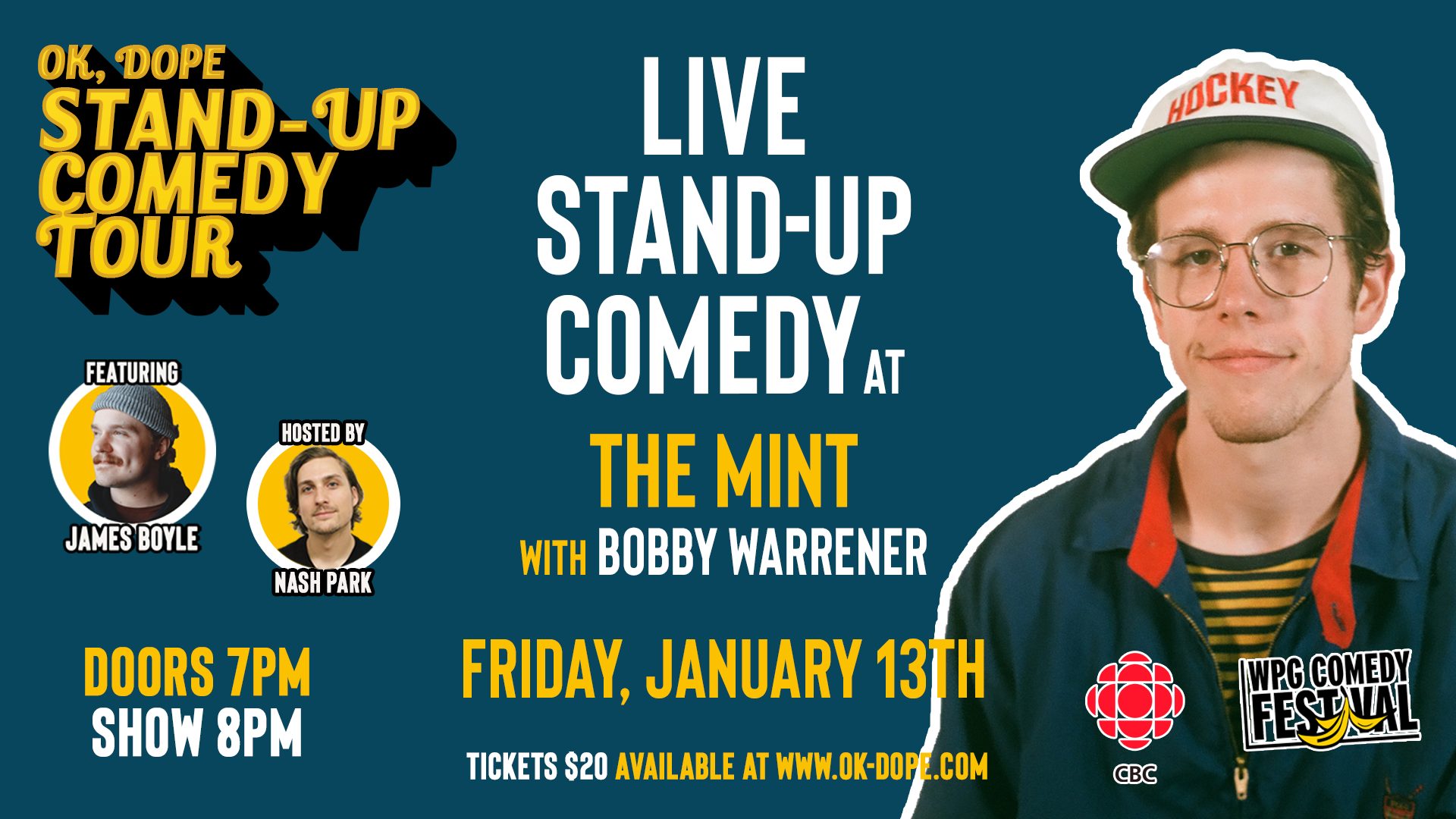 The OK, DOPE Stand-up Comedy Tour live at The Mint with Bobby Warrener
January 13 @ 8:00 pm
|
$20
OK, DOPE is proud to present one of Vancouver's top rising comedians, Bobby Warrener, live at The Mint Friday, January 13th. Featuring James Boyle and Nash Park.
Featuring:
Bobby Warrener: Bobby Warrener is a stand up comedian residing in Vancouver, British Columbia. Since entering the comedy scene in 2015 he has had the opportunity to perform at multiple festivals, do 2 national TV appearances, and tour clubs across Canada. With his rapid fire joke style and laid back demeanour he has quickly become a crowd favourite from coast to coast.
James Boyle: James Boyle is a host and stand up comedian from the strange and mystical land of Whitehorse, Yukon. He's made Victoria his home over the past few years, making people laugh up and down the island. He's performed twice at the Yukon Comedy Festival, as well as many bars and comedy clubs here in B.C.
Nash Park: Nash Park is a stand-up comedian born in the small town in northern BC. After high school Nash moved to Victoria BC and spent years chasing creative projects until he discovered his love for stand-up comedy. After just one taste, he was completely hooked. Since then Nash has been regularly performing his high-energy, hard-hitting stand-up to crowds all throughout BC. Nash is also founder of OK, DOPE, a comedy collective that creates and produces live shows, podcasts, and comedic content. Nash has traveled all throughout BC with the OK, DOPE Stand-up Comedy Tour and is the host of OK, DOPE's flagship production is The Late Night Show with Nash Park, a live monthly show that combines stand-up, improv, and sketch all within the structure of a classic late night talk show. When not on stage you can hear him as one half of the OK, DOPE Podcast.
Share This Story, Choose Your Platform!