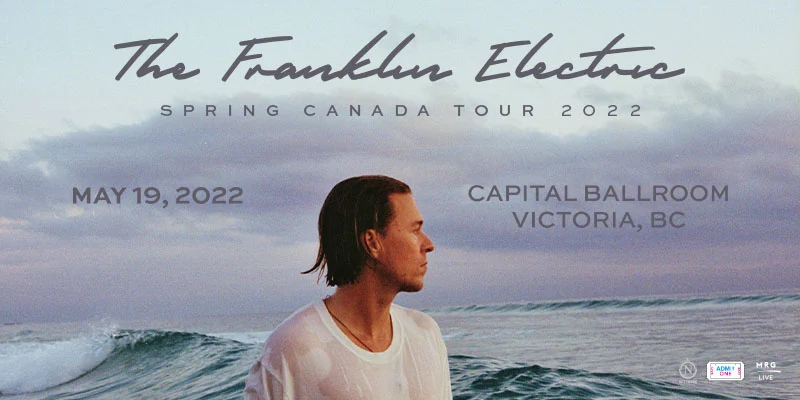 The Franklin Electric, Jon Bryant, Katie Tupper
May 19, 2022 @ 9:00 pm
|
$16.5
Blind faith guides us right where we need to be. While making The Franklin Electric's third full-length offering titled This Time I See It [NETTWERK], founder and frontman Jon Matte allowed such instinctual belief to act as his north star. On a whim during the creation of the album, he ventured into the wilderness of Squamish, British Columbia—an hour or so from Vancouver. He hung out on the Squamish River as Coho salmon, "the size of your leg," swam upstream. While the sun set, he watched a family of black bears from across the river as tears of joy filled his eyes. By the end of the record's creation, he had indefinitely moved to Mexico. In between these adventures, the album had assumed form.
As such, it reflects a period of healing and self-forgiveness set to an alternative folk soundtrack accented by analog warmth and modern energy.
"I was saying, 'Yes', to whatever the universe threw at me, and the songs came out better than I thought," he says. "I was on this transformative trip and self-discovery or something like that.. I let go of ideas and preconceived notions. I just watched the album take shape. That's where I'm at now."
He made it here one step at a time. In 2014, The Franklin Electric came to life on their debut, This Is How I Let You Down. Performing on multiple continents, shared stages with Mumford & Sons, Ben Howard, Half Moon Run, and City and Colour, to name a few. On the heels of 2017's Blue Ceilings, the band's nomination for Breakthrough Group of the Year at the 2018 JUNO Awards. After the In Your Head EP [2019] and In Your Heart EP [2020], he holed up at Afterlife Studios in Vancouver with co-producer John Raham [Frazey Ford, Joshua Hyslop, Jon Bryant] to record what would become the new album. Jon played everything but drums, which Raham handled.
Locking into a distinct vibe during 12-hour sessions six days per week, they "set up stations around the room in order to jump from piano to guitar to vocals to synths." To be COVID-safe, they donned masks half the day and shed them to perform. Following their time together, Jon added "a few trinkets to the songs" out of his home studio in Montreal.
Shortly after, an invitation from a friend brought him to the "spiritual town" of San Pancho in Mexico, while Miro Mackie put the finishing touches on the record in L.A.
"Everything happened in synchronicity," he goes on. "All of this gave me an incredible amount of inspiration."
He capitalized on that inspiration in every song. Gently picked acoustic guitar courses just underneath his understated delivery on the opener "After All," which he calls "a traveling tune that could be inspired by a road trip or by a spirit moving freely through life without the limits of the mind." His vocals ring out as strings wrap around soft strumming on "Always Alone." He adds, "It's about learning to make peace with your authentic self and make decisions from a place that often feels lonely. When you finally develop a relationship with yourself, there's beauty."
On the single "Greatest Love Of All," a high register harmony echoes over a simmering beat and neon synth transmissions, evolving from a folk tune into a cinematic soundscape.
"That one discusses how certain patterns repeat in relationships, which always goes back to my relationship with myself," he states. "We look to our partners and careers for love. However, the 'Greatest Love Of All' leads right back to us."
The dreamy and upbeat "Ten Steps Back" captures the Sisyphean sentiment of "the more you try to get ahead, the more behind you end up." Finger-picked electric guitar and piano drive "Understand" where he "speaks about letting go of the games we like to play in order to make sense of life."
Meanwhile, "Why You Gotta Be" offers a personal reminder to himself as he asks, "Why you gotta be so hard on yourself?"
In the end, The Franklin Electric provides the perfect accompaniment for your journey wherever it takes you.
Share This Story, Choose Your Platform!