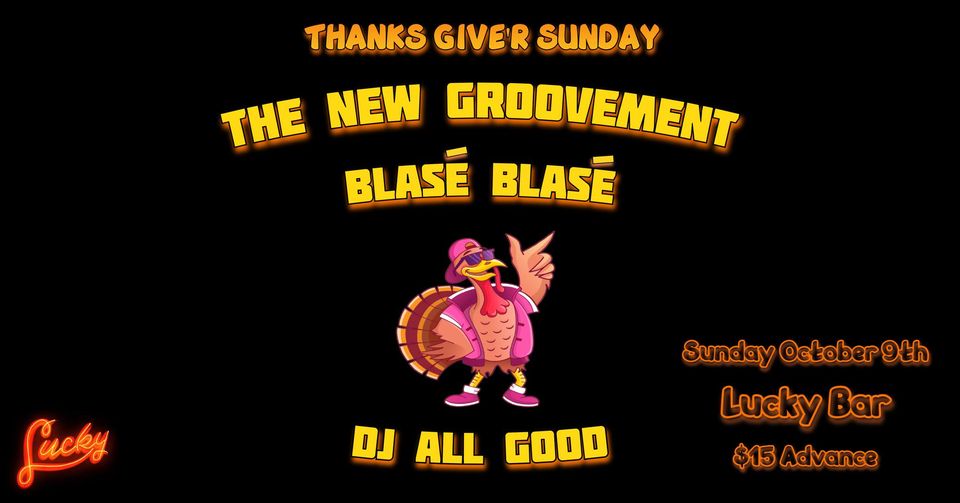 Thanks Give'r Ft. The New Groovement, Blasé Blasé & DJ ALL GOOD
October 9, 2022 @ 8:00 pm

-

October 10, 2022 @ 12:00 am

|

$15
We have a feast of musical talent prepared for you this Holiday Sunday at Lucky Bar. Once yall Jive Turkeys are done tripping on the tryptophan, come on down to Lucky Bar for some funky jazzy good times featuring: The New Groovement, Blasé Blasé & DJ ALL GOOD.
Advance tickets are $15.
This is an early(ish) show 8PM-Midnight.
The New Groovement:
For the last decade The New Groovement has been the funk, hip-hop party machine of Victoria, BC. Featuring a full horn section, congas, timbales, guitar, bass and drums – they'll get you out of your seat and onto the dance floor. With current frontman and emcee Shane Blaq bringing lyricism and a soulful swagger, they are committed to 10 more years of funk. To quote Ed the Sock, "this band should be bigger than it is, not like in roster but in popularity."
The New Groovement has made their mark on BC's music scene, having been nominated for Urban Artist of the Year at the Western Canadian Music Awards, winning Album of the Year at the Vancouver Island Music Awards, and opening for acclaimed acts such as Booker T. Jones, Five Alarm Funk and Busty and the Bass. They are found regularly wowing crowds at the region's biggest festivals, and touring Western Canada. They are played on CBC and were previously featured as the Zone @ 91.3 (Victoria) Band of the Month. The band released their first full-length studio album, The Orange Album, in 2015 and their Tired of Waiting EP in 2018. Their current single "The Wave" is available on all major music platforms, and more singles are on the way.
Blasé Blasé:
Blasé Blasé, "the band so nice they named it twice", is an eclectic group from Victoria, BC Canada featuring Daniela Jackson (vocals), Tejas Collison (bass), Gavin Rose (drums), Guillaume Richards (guitar, arrangement), Jesus Estevez (vocals, keys, production), Isaac Kwiatkowski (Saxophone), and, the unofficial 6th member, Shane Blaq (vocals). Blending elements of live jazz, funk and conscious hip-hop, they have a sound as unique and diverse as its members. Their sound ranges from high-energy funk / disco songs that get the dance floor moving to slower, soulful jazzy tunes, reminiscent of The Roots, FKJ, or the late Mac Miller.
DJ ALL GOOD:
DJ All Good (Peter Poole) is one of Canada's Premier Turntablists
"My Philosophy is to select choice sounds, chop and mix using turntablist techniques, and serve hot & fresh on two vinyl platters."
DJ All Good has repeatedly proven his skills in battle, most recently as the 2020 Canada DMC DJ champion!
All Good has been invited to jam sessions with world champion Djs, including Q-bert, DJ Woody, Brace, Vekked, Shiftee, Craze & Vinroc
Share This Story, Choose Your Platform!